Nutmeg is spending a bit of time on her own this year (and next) as Ginger is away studying or so he says.  So Nutmeg would like to introduce her friend Cinnamon, as a girl still has to eat, explore and drink a bit of wine.
Now about Cinnamon; it's interesting as one could describe her as an old soul.  No not because she is old!!!  Cinnamon is grounded, well balanced and a bit of a freaky artsy type.  An interesting read is Wikapedia's definition here are some key points of interest:
Cinnamon has been known from remote antiquity
The first mention of a particular spice in the Old Testament is of cinnamon
Before the foundation of Cairo, Alexandria was the Mediterranean shipping port of cinnamon
Indonesian rafts transported cinnamon (known in Indonesia as kayu manis- literally "sweet wood") on a "cinnamon route"
Anyway that all goes to prove Nutmeg's feeling that this freaky artsy friend has either lived a long time or had many lives.
What the hell does that have to do with Halibut??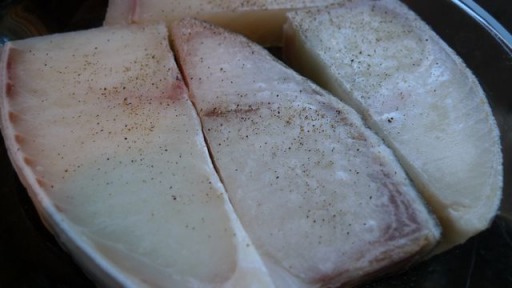 Well the gals went to Divino Wine & Cheese Bistro for dinner last night.  The special was Halibut "sous vide" which did not mean anything to them either.  Basically, it is a boil in a bag technique.  Well the problem was the waitress did a terrific job of selling the gals on the special….but there was only one left.  So Cinnamon had halibut cheeks which taste a bit like scallops although drier and Nutmeg got the special (she did share a bit!).  In any case Divino does not disappoint, packed on a Wednesday night and the heirloom tomato with boccocini salad was really good too!
Thanks again to lovely Cinnamon who picked up the tab!!
Food Travel Tags:
Calgary Restaurants, Divino Restaurant, Restaurant Reviews, Seafood in Calgary