Love it or hate it, February 14 is today. So hug your sweetie or give yourself a special treat. Here is some background:
Saint Valentine's Day (commonly shortened to Valentine's Day) is always on February 14 (yes, boys, that is TODAY) to celebrate love and affection. The holiday is named after one or more early Christian martyrs named Valentine and was established by Pope Gelasius I in AD 496. Traditionally, lovers express their love for each other by presenting gifts (flowers, candy, cards). The holiday first became associated with romantic love in the circle of Geoffrey Chaucer in the High Middle Ages, when the tradition of courtly love flourished. Aphrodite was the mythical goddess of love. Aphrodisiacs were first sought as a remedy for sexual anxieties.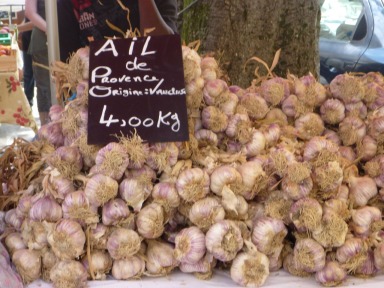 Forget the cheap and cheesy "Hallmark cards" (Nutmeg says they are not environmentally friendly anyway). Let's go right to the food. The following list will answer some questions if you were wondering about aphrodisiac foods:
Almond – a symbol of fertility through the ages
Aniseed – has been used as an aphrodisiac since Greek and Roman times
Arugula – first documented as an aphrodisiac in the first century AD
Asparagus – primarily due to its phallic shape
Avocado – the Aztecs called the avocado tree "Ahuacuatl", or testicle tree
Bananas – mostly due to its form (see above) although it is possible Adam and Eve used banana leaves for coverage
Basil (sweet) – promotes a sense of well being
Chocolate – yes, it is! The Aztecs referred to chocolate as "nourishment of the gods". It contains more antioxidants than red wine.

Nutmeg

wants to remind you that the only "real" chocolate is DARK.
Coffee – an obvious stimulant
Coriander – noted as an aphrodisiac and fertility enhancer as far back as the book of Arabian nights (over 1000 years old)
Fennel – as far back as Egyptian times, it was used as a libido enhancer
Figs – thought to emulate the female sex organs. Whether that is true or not,

Ginger

loves fresh figs roasted with Gorgonzola and prosciutto.
Garlic – the heat in garlic is supposed to stir sexual desires. Just make sure you both have some!
Ginger – in any form (raw or cooked), stimulates the circulatory system.
Honey – used in Egyptian times as a medicine for sterility and impotence
Nutmeg – in Chinese medicine, it is highly valued for its aphrodisiac qualities. Also may have a hallucinogenic effect.
Oysters – documented as early as Roman times (2nd century AD) for their mood-enhancing qualities.

Nutmeg

says they are gross.
Truffles – Greeks and Romans caught on early – the musky scent is said to stimulate and sensitize the skin to touch.
Vanilla – the scent is believed to increase lust
Wine – relaxes and helps to stimulate our senses
Still, wondering whether our not any of the above is true? Nutmeg says enjoy the day and have some fun seeing if the Egyptians, Greeks, Romans and Aztecs were right!
Happy Valentines to all!
Food Travel Tags:
Aphrodisiac Foods, Food Ideas of Valentines Day, food info, Food Nutritional Facts