Ginger has long loved olives, for their salty taste.  Nutmeg's appreciation for olives has been acquired in recent years and certainly more so after spending time in Provence.  The olive tree is probably as old as the earth and may have even been one of the plants in the "Garden of Eden". The Olive Story will give you more details on olives if you are interested. Nutmeg is fascinated by the olive, for its history, the tiny spring buds, the widespread use in Mediterranean cooking and of course because they taste fabulous. The following post is a photo expose and a new favourite recipe in honour of the olive.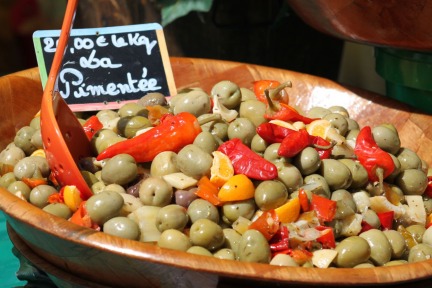 Nutmeg had been told that the olive tree blossom is tiny and can be difficult to see. Faithfully she checked the neighbourhood trees whenever Jade needed a walk. Had she missed the flowers?  No! Finally, one day the trees allowed the tiny buds to open. The flowers are small and quite hard to photograph, Ginger did a terrific job on this one.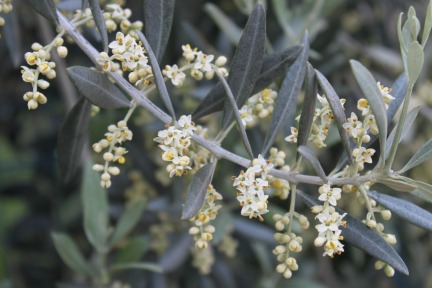 The flowers fall and the fruit starts to develop, here is a photo in June.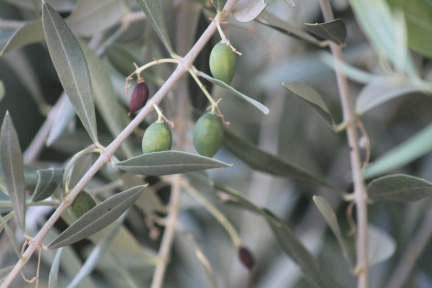 The ripening process takes a long time, well into late November or December, depending on the year.  Then the olives are harvested and turned into oil or prepared for snacking. The process to prepare olives is labour intensive and lengthy, not suitable for lazy cooks like Nutmeg. Instead, she prefers to purchase her olives from local vendors. This recipe for a savoury bread comes from Les Quatre Saisons. Nutmeg loves the formula as it is easy to make, the ingredients can be varied and it is ideal for snacking on with a pre-dinner cocktail.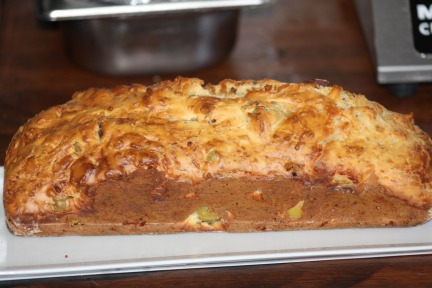 Cake Aux Olives Vertes - Green Olive Cake
Prep time:
Cook time:
Total time:
This is a recipe that Ginger and Nutmeg tried in the kitchen at Les Quatre Saisons. It is very easy to make and a wonderful blend of savoury ingredients. You can play with the elements to suit your taste...black olives, smoked salmon, pecorino. Yummy!
Ingredients
1¼ Cup (300g) White Flour
1 Package (2 Teaspoons) Baking Powder and Soda, in France (Levure)
¾ Cup (150g) Green Olives, pitted
¾ Cup (150g) Smoked Duck Breast, sliced
¾ Cup (150g) Gruyère, shredded
3 Large Eggs
¼ Cup (20cl) Muscat, or sherry
½ Cup (15cl) Olive Oil
Instructions
Preheat your oven to 350F (180C)
Butter and lightly flour a loaf pan
In a bowl mix together the flour, baking powder and baking soda
Add the eggs and mix until well blended and no flour remains
Add the muscat and olive oil, mix well
Add the olives, smoked duck and cheese, mix until well blended. The batter will be relatively thick
Pour the batter into the loaf pan and bake for 45 minutes, until brown on top and a tester knife comes out clean
Remove the bread from the pan and cool on a rack or on one side of the loaf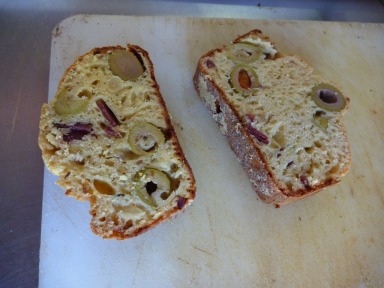 Enjoy your olives start to finish with a nice glass of chilled wine.
Food Travel Tags:
Easy Appetizers, Food info in France, French Food, Green Olive Cake, Provencal Food, Recipes with Olives