Nutmeg is picky about her bananas. The fruit has to be perfect, not too green and certainly not a second too ripe. However, when it comes to banana bread, she has nothing but love for this sweet treat.
Most people have a banana loaf variation that they have perfected over the years, or one handed down from a relative. When this recipe landed on Nutmeg's laptop from cyberspace, she could not resist trying it. A combination of lemons, olive oil, and bananas adapted from 101 Cookbooks, what is not to love?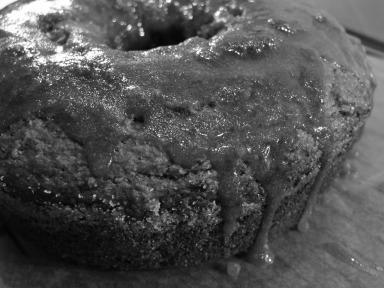 Lemon Olive Oil Banana Bread
Recipe type:
Quick Breads
Prep time:
Cook time:
Total time:
Like most sweet loafs this one is very easy to make. The use of olive oil and lemon make it a bit more contemporary than the one you might have from your great-aunt. The trick with all banana bread is finding that perfect moment when the loaf is golden brown but it is still moist - roughly 50 minutes in the oven in this case. Thanks again to Heidi @101Cookbooks for her inspiration.
Ingredients

2 Cups Whole Wheat Flour
½ Cup Brown Sugar
¾ Teaspoon Baking Soda
½ Teaspoon Salt
⅓ Cup Olive Oil
2 Large Eggs, lightly beaten
1½ Cups Bananas, they should be ripe and mashed
¼ Cup Plain Yogurt
1 Teaspoon Lemon Zest, freshly grated
1 Teaspoon Vanilla Extract
Optional: 1 Cup Your Choice: Bittersweet Chocolate or Walnuts or Blueberries
Glaze:
½ Cup Brown Sugar
4 Teaspoons Lemon Juice, freshly squeezed
Instructions

Preheat your oven to 350° F
The oven rack should be in the centre
Grease a 9 by 5 inch (23 x 13 cm) loaf pan - or in this case a Bundt pan
In a bowl, whisk together the flour, sugar, baking soda, and salt
Add the chocolate pieces (or walnuts or blueberries) and combine well
In a separate bowl, mix together the olive oil, eggs, banana, yogurt, and vanilla
Fold the wet mixture into the flour mixture, do not over mix
Pour the batter into your pan and bake until golden brown
Cool slightly and then move onto a wire rack
Prepare the glaze and run it over the top of the loaf when it is cool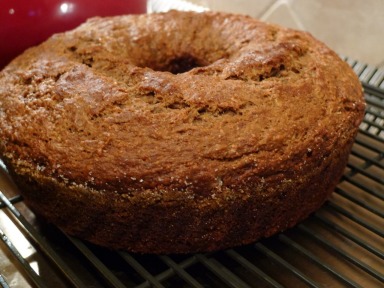 Food Travel Tags:
Banana bread, Banana bread recipes, Bananas, Easy baking recipes, Easy healthy snack recipes, Quick Breads