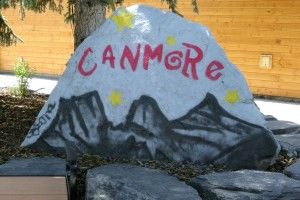 Thursday is market day in Canmore, for the summer months only. New this year, the town closes off the blocks between Main Street (8th) and 10th Street on 7th Avenue. This central venue in front of the Civic Centre, creates a great pedestrian friendly community gathering place. The market starts around 8am, "Canmore time", and runs until about 4pm. Last Thursday, was one of the three days of summer that Southern Alberta has experienced this year, it was a sunny, cloudless 26 degrees Celsius – perfect for market going.
Chili and Hot Sauce visited early in the day and loaded up on BC cherries, Gull Valley tomatoes, local carrots, BC peppers etc…. Nutmeg arrived around lunchtime and insisted on a revisit.
Just last year, this small market was tucked away in a parking lot off 7th Avenue behind the Miners Hall. Now it is mainstream, highly visible and heavily attended. There are local stands including Valbella Gourmet Foods, Nuroots and several handicraft stalls. You can have lunch while you are shopping – Chili indulged in a Bison Dawg – not on Nutmeg's approved list :-(. Glen brings a truckload of BC produce in for this market as well as Cochrane's market on Saturdays. The truth is not everything is local (or near local); oranges, mangoes, pineapple and grapes are obviously from different geographies. The berries, stone fruit (peaches, plums and apricots) are early season but very soon will be top quality Okanagan produce. What was surprising last week, was the quality of the corn. It was advertised as "peaches and cream" which for three easterners was immediate cause for suspect, given the fact it looked like "cow corn". However, Hot Sauce insisted on corn for lunch and all three of us inhaled it with very positive reviews.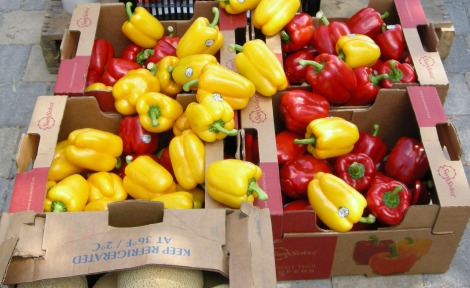 So Canmore's summer market gets top marks and the town gets a two-thumbs up from Nutmeg for creating the pedestrian friendly, community focused venue every Thursday. Get out there and enjoy while our few short months are here…BC berries are still coming.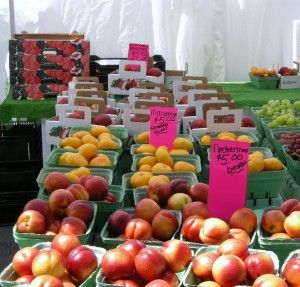 [tfb username='GingerandNutmeg' count='true' lang='en' theme='light']
Food Travel Tags:
Alberta, Alberta Farmers Markets, Canadian Rockies, Canmore, Organic Produce, Travel Alberta