Bearspaw Farmers Market is only open on Sundays (11am to 3pm – see note) from June to October. Cinnamon, Nutmeg and the Market Dog (Jade) went for a drive to check out this market on Sunday. The market is easy enough to find, just follow Crowchild Trail north past the city limits and watch for the directional signs (of course it was helpful that Cinnamon had been there before).  There is a lot of road construction underway, so expect to be slowed down a bit.  There is a parking lot (more like a field) or you can park at the side of the road with your wheels partially in the ditch.  There is a great view back towards the city and South, so take a moment and look around.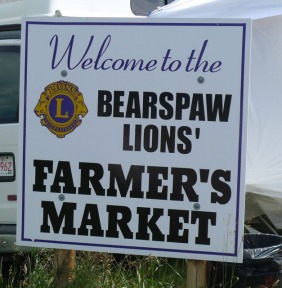 Nutmeg likes this market for a number of reasons there are some different vendors, and it feels like you are close to being in the country.  BUT Market dog was out of luck – no dogs allowed, so she sat in the car and dreamed about market tastes and smells.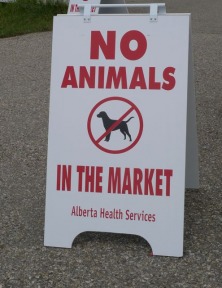 Some of the vendors include:
Dor Bel Seafood (also found in other city markets)
Victoria's Gluten Free Patisserie
Leaf and Lyre – City of Calgary grown greens – their story will come out in a future blog post
Bow Wow's – dog and cat treats
Bowden Chickens – organic chicken
Artisan Breads
And Many more…
There is a good mix of locally grown produce, baked options (including gluten free), jams, honeys and some artisan stands (pottery, painting and jewelry).  If you go to the market late enough the bread-lady practically gives her fresh baking away (four for $15).  Of course, if you go early there is probably more selection…  🙂  This market is fun and worth the drive, you will feel like you have left the city for a short time.
Note:  The website information reads that the market is open until 3pm, Nutmeg can confirm that at 2pm the stalls are been taken down and there is no chance of buying dinner at 3pm.
[tfb username='GingerandNutmeg' count='true' lang='en' theme='light']
Food Travel Tags:
Alberta Farmers Markets, Alberta Organic Produce, Bearspaw Farmers Market, Calgary Area Markets, Food Markets in Alberta, Travel Alberta