I could tell that Nutmeg would not have time to write this post, as they were busy packing bags, boxes, sporting goods and the car. I travel much lighter than they do, Ginger had cleaned my kennel, so I was ready for the voyage back to Calgary.  With the two of them distracted, I thought that I would take this opportunity to share with you a few of my favourite things about the village of Eygalières.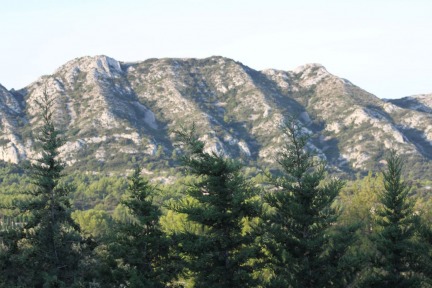 Before I get started, here are a few tidbits of local history and geography. The village of Eygalières is a commune in the Bouches-du-Rhône department. The town is tiny relative to its neighbours with a population of only 1830 people. I have looked everywhere but cannot get an accurate count on the number of dogs and cats; however, I am sure it is close to the number of residents.
Humans have lived in the vicinity since Neolithic times; however, the village site as it is known today actually began to take shape in the 12th century.  There are some marvellous views at the top of the hill, in what Nutmeg calls the old village.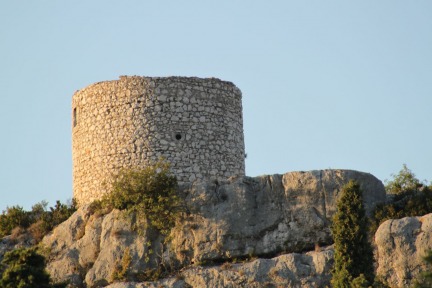 Enough with all that mundane stuff!
Eygalières has been our home for seven months and as far as I am concerned it is a terrific place for dogs and not bad for humans either. Many villages have seen their populations dwindle over the years, resulting in a loss of commercial establishments. That is not the case in Eygalières, where there are two or more of everything. Here, is a run down of my favourite places.
I was first introduced to French bread while we were in Aix en Provence, and we are fortunate to have two bakeries in town. Ginger and Nutmeg both have their preferred establishment. Not me, I like both equally, as long as I can get some snacks.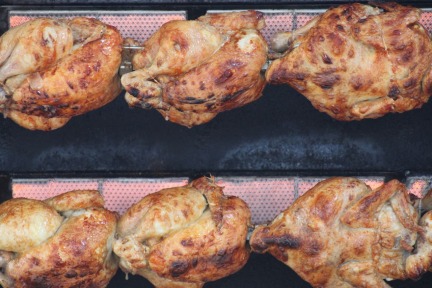 There is one butcher shop that, Nutmeg tells me is particularly good, I have no idea as they never buy anything for me from that store.  There are two épiceries selling fruit and vegetables, these, are too healthy.  I am particularly interested in the local restaurant, bar and café scene. On the adorable main street, there three bars filled with tourists who will usually give me some of their breakfast.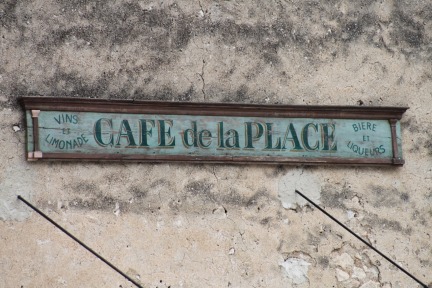 It is a bit hard to sneak away but when I do there are plenty of opportunities for noshing along my way.  There is Gilles Pizza, the bi-weekly pizza trucks, this restaurant where I always get snacks, La Brasserie that Nutmeg likes a lot but they do not feed me, and La Petite Table that has yummy snacks. Ginger is a self-professed gelato authority he tells me the creperie has acceptable product but nothing like in Italy. The Friday morning market, is filled with tempting smells and usually the odd tasty morsel that has fallen to my level. In other words, it is almost impossible to go hungry or thirsty in this little town.
Besides the local food scene, there are some beauty shops for ladies, not for dogs, and too many real estate brokers to count. Outside of town there are at least six vineyards, running trails, hiking and lots of biking. Eygalières is unquestionably wee slice of paradise and an enjoyable place to visit. Enjoy some of Ginger and Nutmeg's photos in the galleries (click here).
This is me tied up after I wandered to the village, one too many times!
Food Travel Tags:
Alpilles Mountains Provence, Eygalieres, Provence Travel, Travel in France