Boutiques filled with shiny objects, and a congested ring road of honking diesel trucks and cars. These are the modern-day realities in a large Dordogne town of 9,300 residents. The town bustles with over 1.5 million visitors a year yet the ancient core of historical Sarlat provides some instant reprieve, begging you to step back in time.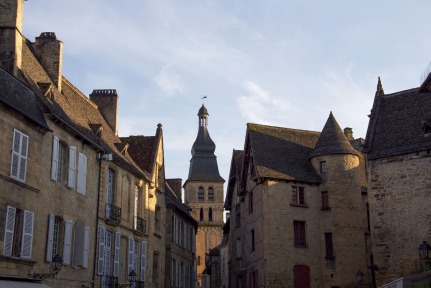 Sarlat was fortunate to receive the first round of French state funding in 1962, for restoration work, to preserve its historical buildings. Over fifty years later, the old town is essentially pedestrian only, allowing tourists the opportunity to visit the medieval buildings and Renaissance structures unencumbered by cars. In reality, Sarlat is considerably cleaner than it would have been in an era when animal husbandry and human waste intermingled its twisted, unpaved streets.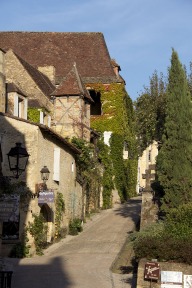 Today, Sarlat has the highest percentage of heritage monuments per square kilometre in Europe. The Saint-Sacerdos cathedral is the bulls-eye of Sarlat, a Gothic style church that took half a century to complete. A Benedictine abbey was the first religious structure on the site. The long passage of time is evidenced by the gravestones carved into a semi-circular stonewall adjacent to the church. Tombs dating from Roman days can be found in this old cemetery, the area is called Jardin des Enfeus. It was the first cemetery of Sarlat.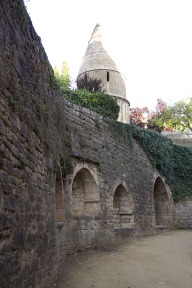 In the shadow of the church, sits an odd suppository-shaped tower that dates from 1147, known as the Lantern of the Dead (Lanterne des Morts). It was built to commemorate the apparent miracles performed by Saint Bernard during the time he spent in the area. The tower is highly recognizable, but can hardly be valued for its architectural mastery.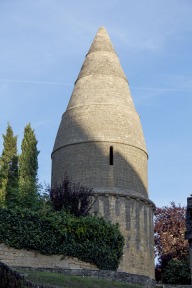 The crooked streets of Sarlat reflect an era before urban planning was given much consideration. Buildings where constructed of ocher limestone over a period of hundreds of years. In some cases, an odd mixture of timber-framed medieval meets Italian Renaissance design in the same building. Even the quickest visit to Sarlat allows you to understand why this town is on the French list of future candidates for nomination as a UNESCO World Heritage site. The historical centre appears to have been frozen in a time, with well-preserved examples of an era when buildings were constructed with steep, pitched roofs of limestone slabs known as lauze.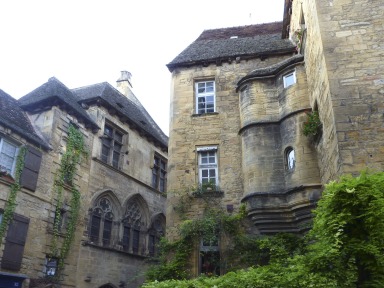 Market and trading activities have long been part of Sarlat's history. A tradition that continues with a daily covered market in the restored Ste-Marie Church and an outdoor venue on Saturdays in Place de la Liberté, in front of city hall.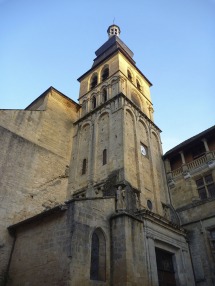 The Gothic-style Ste-Marie Church was badly damaged during the French Revolution. A full restoration project in 2000 added two colossal 17-metre battleship-grey metal doors and a glass elevator housed in what was the steeple's frame. From the top level, visitors can enjoy a 360-view over the old town. During market hours, when the doors are rolled open, shoppers can stroll from the historical streets into the modern era seamlessly. A seated boy, a bronze statue with the best view in town, observes the aimless crowds.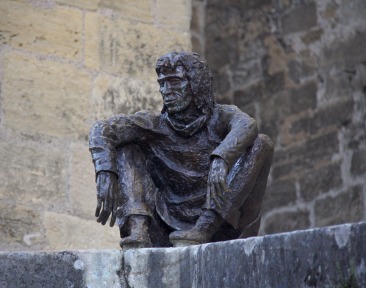 Place des Trois Oies is a little further along, this small plaza is surrounded by several heritage buildings adorned with turrets and spiral towers. A statue of three geese (trois oies) sculpted by F. Lalanne, is set in the square, representative of the importance of geese in the local economy.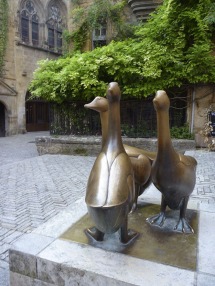 The salamander is not bothered by fire or water – it rises above it. This is a fitting mascot for a city that has witnessed over 2000 years of change and still retains its historical roots.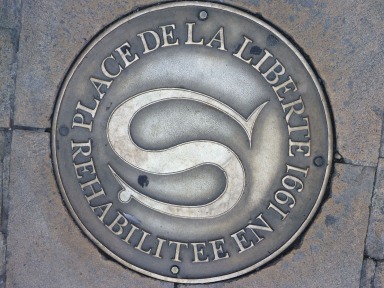 Take a self-guided walking tour of Sarlat – download this GPS-guided article and visit at your own pace.
Food Travel Tags:
Dordogne, Dordogne Travel, GPSmyCity, Sarlat, Travel in France