How can it be Paris eating – buyer beware? Extra charges for bread, expensive bottled water, 15% built-in service charge, "tourist" menus, snooty wait staff…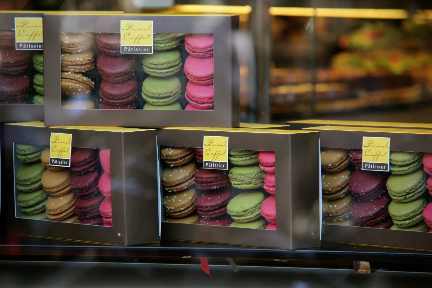 So armed with that knowledge and a list of Zagat rated restaurants recommended by Saffron, Nutmeg and Ginger venture out. Her suggestions are all fabulous from the outside! The lesson? Make a reservation!! Nutmeg and Ginger are zero for three so far (this might be good news for the Visa balance):
La Fontaine de Mars – classic bistro in the 7th
Ze Kitchen Galerie – modern French fusion (Michelin 1 star)
Les Bouqinistes
Not to worry though no one is starving. Ginger splurged on a belated anniversary dinner and took Nutmeg to the restaurant in the Hotel Lancaster (La Table du Lancaster) which is over the top expensive and fabulous. This restaurant is associated with the Maison Troisgros in Rouen, Michel Troisgros, of course, is the influence for the kitchen. The meal from start to finish was fantastic, Nutmeg is going to try to recreate the parsnip soup with shaved beets – Yum! Other choices included;
Melba of scallops and caviar
Harvest of winter vegetables, green cress sauce
Fillet of line-fished bass and mirabelle plums
Tender pigeon and almond fritter, salmis sauce
Cheese course to die for
Chocolates just in case you are still hungry
After about 10 courses each Nutmeg and Ginger had to walk back to the hotel, not to mention they could not afford a cab.
Last night they found a great bistro in the 7th; Fish la Boissonnerie. This tiny restaurant has a small menu with a focus on fish. The wine list is very extensive with many choices by the glass. They serve a great focaccia style bread from the sister restaurant Cosi which is across the street. All the wines are also available for purchase at their wine store. Nutmeg thinks they have the street "cornered". The food was great and Nutmeg gives it a two thumbs up.
More to come!
---
When you are in Paris download a copy of this handy GPS guided App for your smartphone with all sorts of self-guided walking options for the City of Lights.
Food Travel Tags:
Paris Food, Restaurant Reviews, Restaurants in Paris, Travel in France