Need a dinner idea? Wondering what to serve for dinner on Cinco de Mayo in snowy Calgary?  Yes, for those of you who live in places that have normal weather – it is SNOWING!  So it calls for drastic measures; pull out the tequila and the Mexican beer.  Here is a Fish Taco recipe (care of Saffron):

Grilled Fish Tacos
Prep time:
Cook time:
Total time:
This recipe is very easy, you can play with the fish, the level of spice and the toppings.


Ingredients
1½ pounds Mahi Mahi A few Limes
1 Medium Red cabbage
1 Bunch Cilantro
1 Small Red Onion
8 Medium Tortillas
½ Cup Plain Yogurt
½ Cup Mayonnaise
Salt and pepper, to taste
Hot Sauce, to taste
Instructions
Marinate Mahi Mahi in fresh lime juice for an hour
Finely slice the cabbage
Chop cilantro
Dice the red onion
Cut the limes into wedges
Season the fish with salt and pepper and cook in a frying pan for about 3 minutes a side
Mix the yogurt and mayonnaise with some hot sauce, for topping
Divide the fish between the tortillas and serve with the toppings
Serve with your favorite Mexican beverage and enjoy Cinco de Mayo!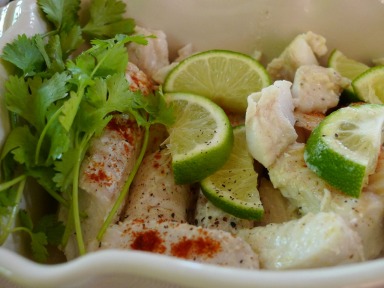 Food Travel Tags:
Cinqo de Mayo menu ideas, Fish Taco Recipe, Mexican Recipes, Seafood Recipes