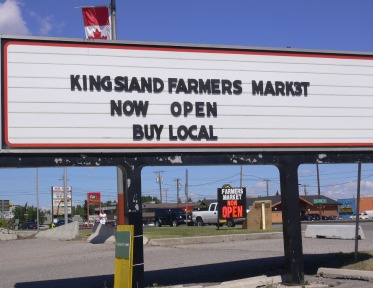 This market is very new on the Calgary scene, it opened on July 7th  (note the spelling on the sign…shy a few letters).   Nutmeg is very excited about the potential for this market, it is centrally located, particularly for those in folks who live in the Southwest.  The Kingsland Farmers Market is located at 7711 Macleod Trail South in the old Shaw GMC location.  The Kingsland Market is open 4 days a week: Wednesday through Friday from noon until 6:30pm and on Saturdays from 9-3pm.  There is site is work in progress, as they are converting the old car showroom and auto body shop into a permanent indoor location for the vendor stands.  So when the weather turns back to winter for good, the vendors will be inside, for now they are outside in the parking lot.  There are about 20 vendors currently with a mix of produce, prepared meals and baking.  Merchants include some that can be found at other markets around town and a couple unique ones:
Twisted Basil – wholesome baking and some fresh veggies
Lund Organic Farm – a variety of produce
The Cucumber Man – he sells more than just cucumbers
A Touch of India – prepared Indian sauces with gluten free options
Dor Bel – packaged, flash frozen fish
Coco Brooks – a large variety of frozen pizzas
Pearson's Berry Farm – yummy baking with lots of Saskatoon berries
Rocky Mountain Kitchens – awesome granola bars with samples 🙂
The Kingsland Farmers Market is definitely worth a visit and several repeat visits as they build traffic and the number/variety of merchants.  There is lots of free surface parking.  The best part of all according to Nutmeg is the "recycled", "re-purposed" use of the site from an abandoned car dealership to a local food market.  Get out there and enjoy this one!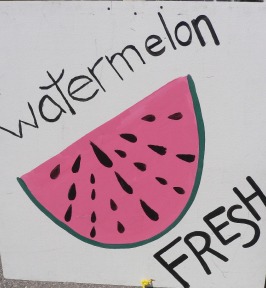 [tfb username='GingerandNutmeg' count='true' lang='en' theme='light']
Food Travel Tags:
Alberta Farmers Markets, Alberta Organic Produce, Calgary Area Markets, Kingsland Farmers Market, Travel Alberta