Nutmeg is not really a brunch person.  Here is why:
Marginal coffee, as you may have gathered coffee is very important to Nutmeg, and generally speaking buffet style eating does not lend itself to good espresso and skinny lattes.
In addition to the coffee issue, the question is what to serve?  It is not breakfast, it is not lunch – hence the dilemma.
If you go out to a restaurant with a buffet it is typically a complex spread that runs the gambit of breakfast food to roast beef.
Ask any parent with young kids brunch is a disaster. They need to eat earlier and there is no way to keep them in their "Sunday best" until mid-morning.
Then there is the issue of timing, not too early, not too late…around 11am is typical, which compromises both morning and afternoon activities.
Apparently the word brunch has been in use since the late 1890's in England, and is in reference to a large meal that is meant to replace breakfast and lunch.   There is no real French translation although le grand petit déjeuner (the big breakfast) is used. If the truth be known the French really prefer the big lunch – more on that at a later date…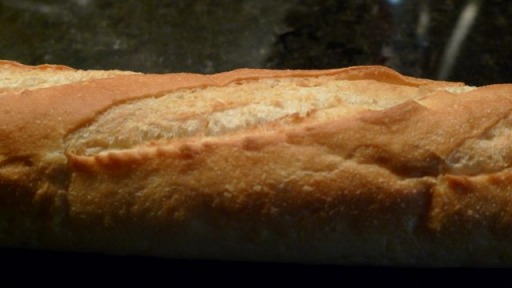 Recently Nutmeg and Sassafras were comparing options for what to serve for brunch on the September long weekend.  They decided that the criteria are as follows:
Must be easy to make (limited number of ingredients and steps)
Can be prepared in advance
Not too sweet
Must be able to scaled up or down to suit the numbers
Ideally uses one dish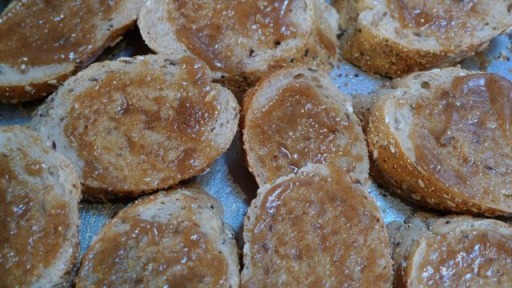 So this is what the ladies came up with, Blueberry Baked French Toast.  Serve with good coffee and enjoy!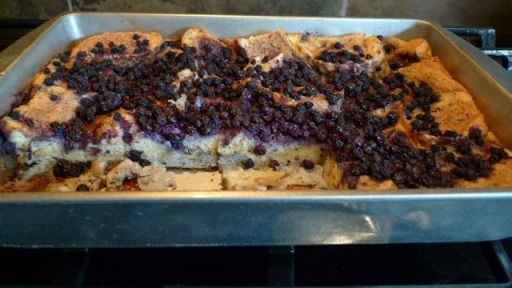 Blueberry French Toast
Recipe type:
Breakfast/Brunch
Prep time:
Cook time:
Total time:
This brunch recipe is easy, make sure to soak the bread for a long time. It is even better as leftovers.


Ingredients
1 Baguette sliced
4 Large Eggs
2 Egg Yolks
1 Cup milk
1 Cup Whipping Cream
¼ Cup Maple Syrup
1.5 Teaspoons Vanilla Extract
2 Cups Blueberries fresh or frozen
½ Cup Butter
¼ Cup Brown Sugar
¾ Teaspoon cinnamon
½ Teaspoon Cardamom or Nutmeg
Instructions
Diagonally cut baguette into ½ inch slices
In bowl, mix butter, brown sugar and sugar, cinnamon, cardamom and salt
Spread cinnamon butter on both sides of baguette
Overlap the baguette in layers in a greased pan
In large bowl, whisk eggs with egg yolks.
Whisk in milk, cream, maple syrup, sugar and vanilla, pour over bread.
Top with waxed paper and small plates weigh down with a heavy pan to absorb liquid
Refrigerate for up to 12 hours (or overnight)
Remove the plates etc.
Sprinkle with blueberries
Bake in 350F degree oven until puffed about 55-60 minutes
Food Travel Tags:
Easy Casseroles, make ahead brunch recipes, Recipes with Blueberries