Nutmeg had the pleasure on a recent sunny Friday to convince restaurant owner Micheal Beamer, to leave his station behind the La Marzocco espresso machine (for serious baristas), for a few minutes and tell her his story about this small business success. Micheal Beamer headed out to Western Canada in the late 1980's.  He made his way to the Rockies for the skiing and the scenery.  With a hotel management degree from Georgian College and a big smile he started work at the famed Chateau Lake Louise.  Micheal's focus on customer service allowed him to move to the position of Assistant Beverage Manager within five years.  During that time, "coffee-culture" was growing south of the border in Seattle and heading North.
Micheal took the big gamble in January 1994 and opened the first Beamer's Coffee Bar location on Bow Valley Trail in Canmore.  This venture was bold for many reasons; Canmore was still a somewhat sleepy undiscovered town, "coffee-culture" might have been brewing in large centres but not quite yet in this small town, and the location was considered somewhat unconventional.  None of this stopped the growth of this coffee bar; the drive through traffic and international tourists help to grow the business to the point that it became the biggest independent coffee house account for Seattle's Best Coffee.
In 2003 Darren Boucher joined Michael as a business partner.  The second Beamer's location on 7th Avenue just off Canmore's main street opened May 27, 2003.  They now use a coffee private roaster "Coffee Concept" in Calgary and feature some very unique coffee blends.  Nutmeg now understands that the first coffee carafe on the line is the real liquid gold and "Kona Fridays" are their special end of the week treat.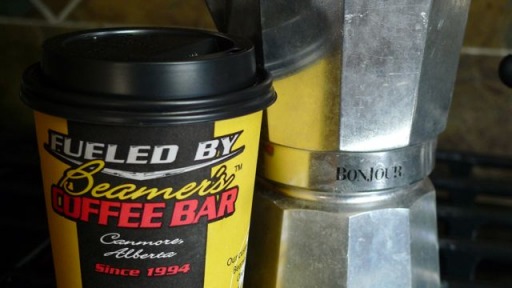 Between the two locations the business employ about 15-18 staff, who are well trained on the art of coffee and efficient service. Beamer's Coffee Bar in Canmore has a very loyal locals following and they are well situated to capture both walking and drive-by visitor traffic. They sell 30,000 kilos of coffee a year!
Michael and Darren are big community supporters, they have specifically chosen Kid Sport Bow Valley as their "pet" charity and estimate that they give away over $10,000 worth of product on an annual basis. In addition, to this charity you can see Beamer's at a number of events throughout the year.
The Beamer's coffee cup is distinct and you can see people all over town enjoying their drinks as they take in the mountain views. Several years ago local Conservation Officer and longtime customer Glenn Naylor started a trend that has literally gone around the world. That is to take a photo of the Beamer's coffee cup in other cities, countries and some really unique places. It all started with one photo on top of Heart Mountain – there are now over 300 hundred photos one can see on their website or on the wall of their establishments.
Nutmeg has loved their coffee and the service you can count on for a long time, now she is even more of a loyal fan.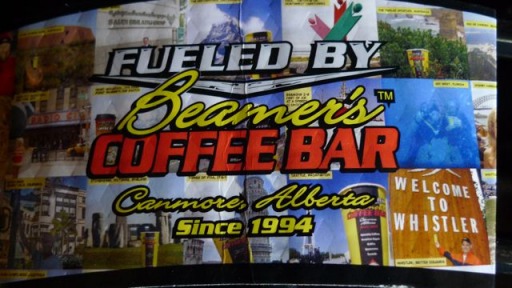 [tfb username='GingerandNutmeg' count='true' lang='en' theme='light']
Food Travel Tags:
Beamers Coffee, Canadian Rockies, Canmore, Coffee Shops, Restaurant Reviews, restaurants