Expresso used to love Caffe Beano on 9th Street and 17th Avenue SW in Calgary, for the coffee and the scene.   Times have changed a bit and rumor has it that he now loves his Nespresso machine more.
Caffe Beano has been in existence and in the same location since 1988.  The owners might have been slightly concerned when Starbucks first opened its doors in Calgary,  in the late 1990's a few blocks away.  Any concerns were washed away by a very loyal following of coffee lovers, who were not swayed by the big shiny Seattle based brand.  The loyal crowd continues to support this local coffee establishment.  So a couple years back the when the barber in the adjacent retail space moved on, Caffe Beano expanded.  Before Nutmeg left for France, she had the pleasure of several good-bye "coffee meetings" with good friends at Caffe Beano.
Their coffee is strong, the expresso is consistent and the lattes are hot. Their brewed coffee goes by names like, "Bru de Jour" and "Dirty Harry", which were on tap on Nutmeg's last visit. Caffe Beano offers some really decent baked goods, with real fruit, most of which are made on site.  The sandwiches are definitely influenced by Janice Beaton (next door):  meatloaf, ham and Gruyere. For non-coffee drinkers they serve a really decent "Indian tea"  (aka Chai but not too sweet).
The unique thing about this place is how little they have spent on the decor, or lack of.  When the additional space (old barber shop) was acquired the wall came down, and in went some bench seating.  However, they left the flooring in place so you need to order, then go upstairs to collect your drink and then downstairs for sugar and such…It's a bit odd but it works. In addition, the awning signage indicates that the barber is still there – maybe he is one of the loyal patrons.  🙂
What is the scene at Caffe Beano? On any given day you will certainly find a diverse crowd. Expect to find students writing papers, top real estate developers and commercial designers, all happily enjoying their favorite cuppa. So go and take part in the Caffe Beano scene.
So now that Ginger and Nutmeg are installed in Aix en Provence, it has taken a while to find a decent coffee spot.  Unfortunately, the French coffee (see previous post) is inconsistent at best.  A "grande creme"  which is essentially a tiny latte at a big price, can be any of the following: very strong, very weak, tepid and only if you are lucky hot.  The good news is we have found a decent spot called La Brulerie in Place Richelme, just next to the daily farmers market.  Thus far the 3 Euro ($4.25 Cdn) "grande creme" has been both strong and hot almost every time.  As we drink our coffees we decide on what we need to buy from the fish guy and the produce vendors at the market, where we are starting to make a few friends.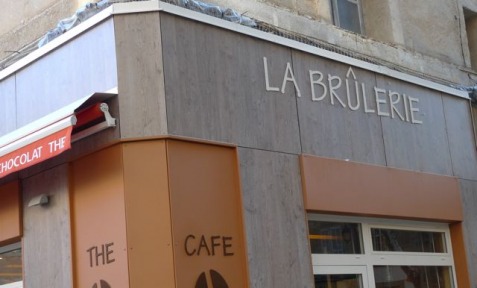 So Nutmeg definitely misses some of her favourite Calgary coffee shops but is likely enjoying her tiny latte as you read this post.
Bonne journee!
[tfb username='GingerandNutmeg' count='true' lang='en' theme='light']
Food Travel Tags:
Cafe Beano, Calgary Restaurants, Coffee Shops in Calgary, Food in Calgary, Restaurant Reviews