Thus far, the 2011 ski-season has not been stellar in most of Europe.  The majority of resort areas are suffering from lack of new snowfall and warm temperatures ("une tempête de soleil").  The net result, is crowded slopes and neige-dure (a nice way of saying hard-packed, icy conditions).  Ginger and Nutmeg have been doing some skiing in the past few weeks, and they thought you would want their feedback on the resorts. Here are a few highlights and overviews from the European ski tour:
Ischgl, Austria:
The tiny village of Yscla, was once a remote farming village, it has been converted into a mega-resort with; 238 km of ski trails, 41 cable cars and other lifts and 32 grooming machines. The owners have spent 200 million Euros upgrading the facilities on the hill in the last 10 years, and it shows. The lifts are new, the lodges are well appointed, and in some cases very modern in design. The combined resort of Ischgl-Samnaun (Swiss side) is one of the largest in Europe, if you believe their web site.  Ischgl has clearly been developed to meet a tourist need, with lots of variety in accommodation. There is a permanent population of about 1500, although it is hard to envision where they actually live, in the sea of hotels.  This resort has a reputation as a party spot and according to Ginger it does live up to that grade.  Here a a couple photos of Ischgl by day and night…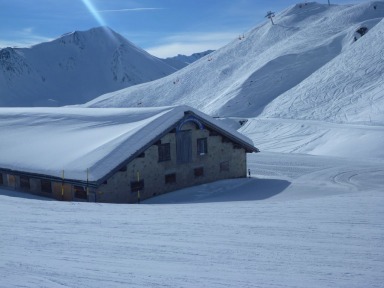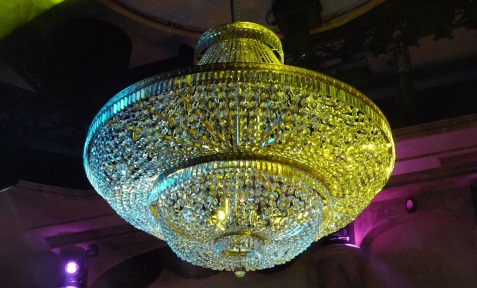 Courmayeur, Italy:
Located on the Italian side of Mont Blanc (Monte Bianco), the village and ski resort of Courmayeur is 22 km from Chamonix. The scenery is as beautiful as the French side, and according to Nutmeg the coffee is way better. A 30-40 minute drive and you arrive in a totally different country and culture.  The skiing in this area started in 1908 and the Society Monte Bianco was formed in 1939. Over the years the area has grown to the current size, with multiple lifts and about 100 km of groomed trails.  The lifts are certainly not up to the Ischgl standard, but are an improvement over some of the options at the hills in Chamonix.  There are endless options for dining on the hill, in fact there may be more restaurants than slopes.  Ginger, Saffron, Sassafras and Nutmeg had a lovely ski day in Courmayeur, following our very experienced ski guide.  If you make the trip to Courmayeur, there are lots of alternatives; regular groomed trails, exciting "hors-piste" (with a guide), a cute village with top quality shopping and nearby cross-country skiing at Val Ferret.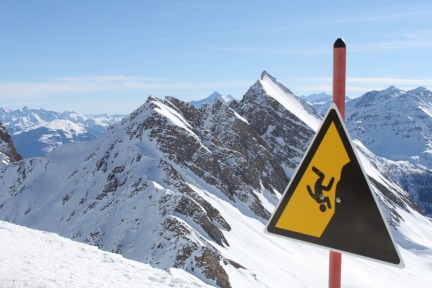 Chamonix, France:
Chamonix has suffered from lack of snow and in recent weeks warm weather, so skiing is confined to groomed, crowded trails. Despite that, Ginger and Nutmeg managed to get out to a few of the valley resorts including; Les Houches, Le Tour, Le Brevent and La Flegere.  The views from all the resorts are outstanding. The on-hill restaurants are generally good quality. However, many of the lifts in the area are a bit dated, if Annecy wins the bid for the 2018 Olympics, Chamonix should benefit with infrastructure upgrades. Skiing in the Chamonix area started in 1920. The area hosted the first Winter Olympics in 1924. The Chamonix area is well-known as a year round destination; with great hiking, climbing, alpine skiing and back-country touring (randonnée).  What Chamonix lacks in snow this year, it makes-up in other outdoor pursuits, good shopping and restaurants.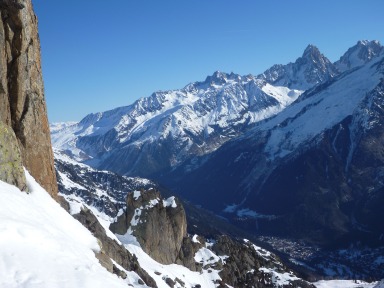 La Thuile (Italy) and La Rosière (France):
This resort in Italy is co-joined with La Rosiere in France (the combined resort is also called Espace San Bernardo). This ski station, which first opened in 1948, was not on Ginger and Nutmeg's radar, they had never heard of it. La Thuile was recommended by a friend and ski guide. The lack of snow and warm weather in January and February, resulted in marginal skiing in the Chamonix area (see above).  The Italian side of Mont Blanc however, lucked into a bit more precipitation. La Thuile is about a 50-60 minute drive from Chamonix, if you go the right way!! Ginger ad Nutmeg did not so it was closer to 90 minutes.  The town is small and unimpressive. The ski-hill signage is limited, so when you arrive for the first time it is not obvious where to go, nor where to park.  This is clearly a destination resort, and more affordable than some others. The restaurants are basic; pizza, pasta, panini and other wholesome fare. Eating is not why you go to this resort – get out on the slopes! The runs are long, the snow coverage is good, the crowds very manageable and you can see forever.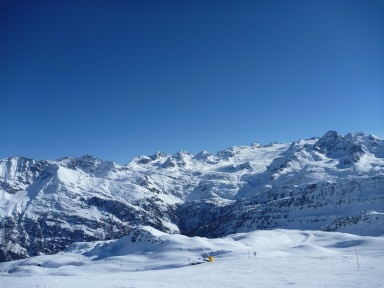 Meribel, Courcheval and Les Trois Vallees, France:
Huge! Enormous! Gigantic! – this co-joined resort covers three distinct valleys. The expanse of terrain is mind-boggling, the area boasts 200 lifts, 600 km of trails and a summit in Val Thorens that tops out at 3420m.  The village base at Val Thorens is a very crowded and over-developed. Meribel is actually three base areas, that move from party spot to quieter venues as you move down the valley. Courcheval is all about bling and "see and be scene".  Overall the area is well serviced by lifts, restaurants, bars and other necessary facilities. There is even a phone "App" that you can down-load for your phone so you can check weather, on-hill facilities, make reservations etc. Too bad about the lack of snow, the views are unbelievable.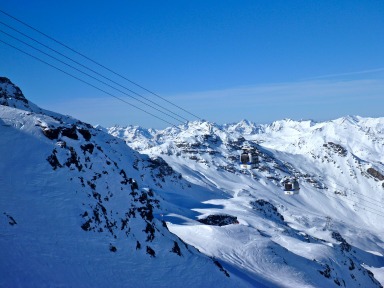 Val D'Isere, France:
This tight valley is very prone to heavy snow, avalanches, mud and rock slides, all of which can make for interesting ski conditions. The village of Val D'Isere surrounds a church which dates from the 17th century. The builders must have known where to place the church, as much of the overzealous development in the 1970s was threatened by mother nature (she may not have liked the architecture :-)).  The village today, is a combination of hotels of all star varieties, rental accommodation and shopping for all tastes. The planning commission has done a great job ensuring adherence to a general building standard, with a nod to past traditions. The region has been occupied since the middle ages, hotel accommodation dates from 1888, and skiing started to take off in the 1930s (first cable car 1938). The area today encompasses several ski areas including Tignes and is known as l'Espace Killy (after Jean Claude-Killy). Hands down this resort was the favourite for snow conditions, terrain variety and village character. The resort symbol/mascot has been the eagle (l'aigle) since 1934, it seems fitting when you see the open vistas and seemingly endless terrain.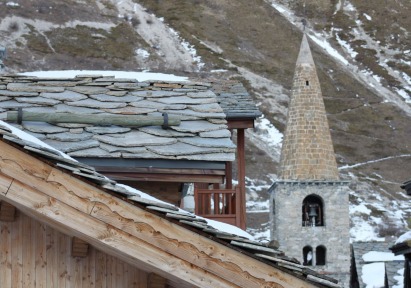 Check out our photos in mountain view galleries.  Enjoy the sun – we did!
[tfb username='GingerandNutmeg' count='true' lang='en' theme='light']
Food Travel Tags:
Austria, Road Trip Planner, Self-Guided Travel in Europe, Skiing in Europe, Travel in France, Travel in Italy