Summer!
Summer is festival time, and France is no exception. The only problem is making a decision, with the overwhelming variety of events. Famous events like Jazz a Juan in Antibes (started in 1960) or Le Festival d'Avignon (started in 1947), which attract large crowds and well-known performers. All the principal cities and many small towns host at least one noteworthy event during the warmer months. Ginger and Nutmeg both love music, although, neither of them can sing nor play an instrument with any level of competency. With the balmy Provencal evenings, they decided to take advantage of some of the local events and listen to the experts. The following is a musical summary for your listening pleasure:
The Festival de Musique d'Eygalières, this event is only four years old, in 2011 they hosted four nights of mostly classical music – alfresco. This is an extremely well organized event, held at the beautiful private residence Mas de la Brune. The evening starts with a seminar or group discussion related to the music that night.Then there is an opportunity for dinner or as they called it a "Picnic Chic", followed by the concert. Check it out (very yummy):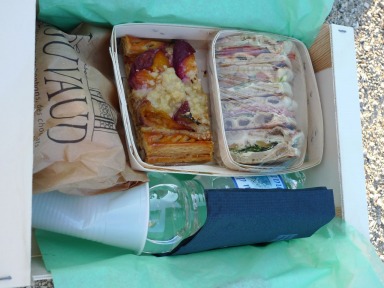 The "Viva Argentina" evening was excellent, a tribute to the music of this South American country. The trio of artists included a pianist, clarinet and soprano.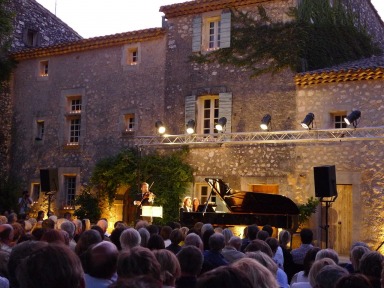 The Festival d'Aix-en-Provence, has been held every July, since 1948. The focus of this festival is oriented towards opera; however, there are also recitals of chamber music, vocal concerts and orchestral sessions. This event is a large tourist attraction for the city of Aix and the surrounding area. Ginger and Nutmeg enjoyed an evening with the world-renowned London Symphony Orchestra click here.
Festival les Eclats à Salon, was held for the eighth year in 2011 at the Château de l'Emperi. The courtyard of this 9th century medieval fortress may not have originally built for the acoustic qualities, but certainly is an excellent venue for a range of theatre, choral music and other musical evenings. This particular concert was a group of four brothers and sisters who have been playing together since 1994, the group is called Les Ogres de Barback. The evening was lively and engaging, as they play over thirty instruments. Click here to watch and listen to Les Ogres de Barback.
The tiny village of Eygalieres is home to only about 1500 people. However, the town's small size is deceiving. This is a place filled with artists, writers, musicians and many aficionados. The season started with the music festival (see above). However, that was just the beginning. Ginger and Nutmeg were treated to a free concert in the church. Over 200 people were listened to a duo of flute and piano. The lovely and talented Julie Scolink organized this concert. You can find her at Mistral Music. You can watch part of her concert here.
Provence has been an inspirational backdrop for artists, writers and musicians for centuries. The famous names are far too numerous to mention. In Eygalieres, there is a unique four night series named Calan d'art, which marries, the artistic mediums of visual art (sculpture, painting) and music. This series is held in private gardens, creating an intimate setting with the musicians, called Les Nuits des Patios. The musical theme was different each night. Nutmeg's favourite was "La Dolce Vita" with Jean-Pierre Como on piano listen here.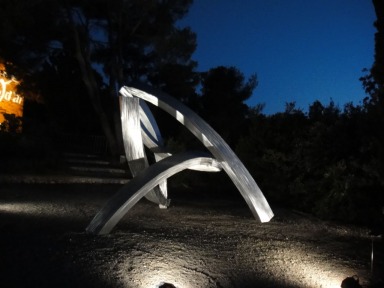 The 31st International Piano Festival was held outdoors in the village of La Roque d'Anthéron. This is a popular musical series that attracts over 85,000 people annually. Ginger and Nutmeg decide to take in the evening of piano duos. Twin sisters, Michelle and Christina Naughton, played the first section. A pair of sisters also performed the second section of the evening. The talent and timing was incredible. Here, is a video of the Naughton twins in action.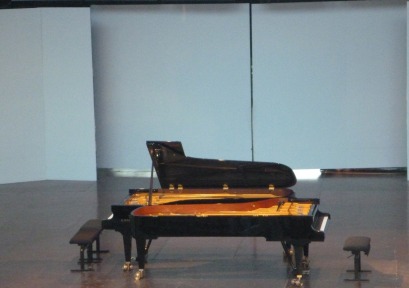 To wrap up the musical tour the evening of Nutmeg's birthday there was the inaugural "Diner Blanc à Eygalières" with the musically talented Sanders Band.
Ginger and Nutmeg are now sitting in silence – Tuned Out!
Food Travel Tags:
Artists, Music, Music Festivals, Provence, Summer Festivals, Travel in France