Ginger and Nutmeg have a dear friend in Aix en Provence who is a proud Breton by origin. Although, Delphine has lived in the south of France for a number of years, she stays close to her roots by running a delightful crêperie in the heart of Aix-en-Provence, called Crêpes Cidre & Compagnie.
One hot day in August, Ginger and Nutmeg had a crêpe-making lesson from the expert, and a brief introduction to another culture. Here, are a few ABCs in order to better appreciate the natives of northwestern France.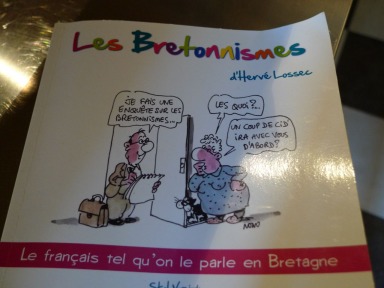 A – Armoric – The native language of Brittany, from Celtic origins. It is still taught in some schools as a third language.
B – Billig – This gas or electric skillet is the essential tool for crêpe making. Delphine uses two gas powered units and can expertly prepare two crêpes at a time. Ginger and Nutmeg could not even master one.
C – Chistr – Cider is the most recognizable drink in Brittany. A drink made from fermented apple juice. The taste can vary from relatively sweet to dry and alcohol content will vary. Visitors in Brittany can even follow a "cider route" through the countryside. Ginger and Nutmeg sampled the dry (brut) Cidre Kerne, very refreshing on a hot day.
D – Delphine – She welcomes her clients with a smile, and in her lovely little restaurant, she only serves the best quality. Many of her ingredients are specially ordered from Brittany. She is extremely generous in her portions and does not skimp on the good stuff.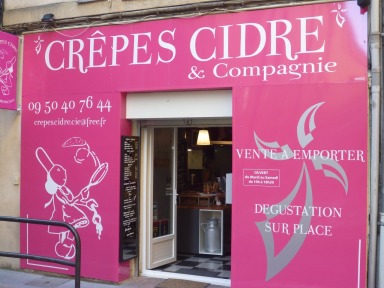 E – Eggs – These are used in both the sweet and savoury crepes, fresh are best.
F – Flour – The type of flour used in the crêpe batter is the key to an excellent versus a mediocre crêpe. Real savoury crêpes from Brittany are made with sarrisan flour or black wheat flour (blé noir). Also, called buckwheat, it is suitable for those who are on gluten-free diets.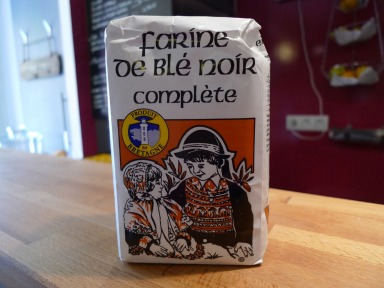 G – Galette – A galette is a savoury crêpe often filled with ham, cheese, spinach, onions or other delicious ingredients.
M – Milk – A bit of whole milk is needed in the batter.
P – Pancake – Although, similar in theory, a crêpe is wafer-thin and almost never served with maple syrup.
Q – Quick – This is an understatement, you need to be able to pour batter, spread on the skillet with the rozel and then start to turn over the crêpe before it overcooks. A skill developed over years, obviously not mastered in two hours.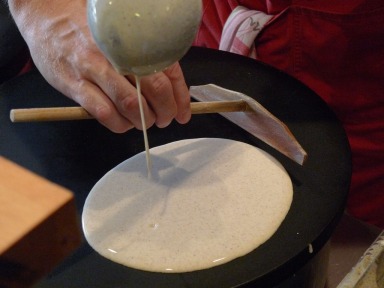 R – Rozel – This is a T-shaped wooden instrument that is used to distribute the crêpe batter evenly on the billig. It might seem easy, but both Ginger and Nutmeg can attest that working with liquid on a hot surface it is nearly impossible unless you are a pro.
S – Spatula – Not just any spatula, you need one with a very long, thin blade.  It is used to lift the edge of the crêpe and then hook the dough for flipping. Practically impossible for Nutmeg, even with the right tool!
T – Tampon Graisseur – This is a hand held tool that is used to clean off the skillet top and to add enough butter (or equivalent) to ensure the batter does not stick to the hot billig.
W – Whisk – The batter must be well blended to create the perfect consistency. A whisk is an essential tool to mix the dough sufficiently.
Ginger and Nutmeg had a lot of fun, learned a few things and enjoyed a small trip to Brittany without leaving Aix en Provence.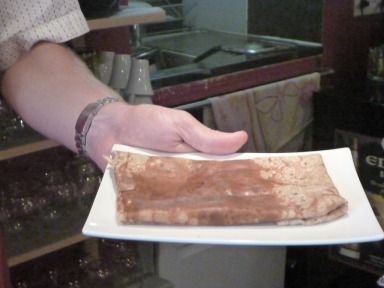 [tfb username='GingerandNutmeg' count='true' lang='en' theme='light']
Food Travel Tags:
Aix en Provence, Food from Brittany, Food info in France, French Food, How to make real French crepes, Provence Travel