France is without question a country of fabulous food, great variety in local cuisine and easy access to fresh produce.  However, France is not known for Asian cooking and Nutmeg has had the odd craving for a little curry.
One of Nutmeg's favourite restaurants is the Crazyweed Kitchen (click to see previous blog post) in Canmore. Her friend Hot Chili also loves the restaurant and has accused Nutmeg of always ordering the same thing off the menu.  That is not 100% correct, but it is true that the Seafood Curry Bowl that is on their menu is one of Nutmeg's all-time favorites. This delicious dish is almost a stew, perfectly seasoned and wonderful anytime of the year. Ginger and Nutmeg are currently living 8049 kilometers from Canmore, so a visit to the restaurant is not possible at present. As a result Nutmeg has taken matters into her own hands and made her variation of the Seafood Curry Bowl using local ingredients. This recipe has been tested on Ginger a few times, and even served at a dinner party to rave reviews.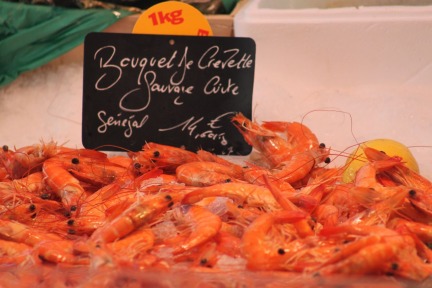 Seafood Curry Bowl
Prep time:
Cook time:
Total time:
This is a really easy dish full of color and flavours. Try experimenting with the fish and spicing to your taste. Serve with Basmati rice and a great wine. The recipe usually makes enough for two plus leaf-overs for lunch.


Ingredients
2 Tablespoons Olive or Canola Oil
1 Can (200ml) Light Coconut Milk
1 Can (250ml) Crushed Tomatoes
1 Fillet (250-300ml) White Fish, de-boned and cut in bite size chunks 8 Large Shrimp, shelled and de-veined
8 Large Scallops, cleaned
2 Medium Carrots, cleaned and chopped
1 Medium Onion, diced
2 Large handfuls Spinach Leaves
2 Teaspoons (or to taste) Chili Sauce
2 Cloves Garlic, peeled and crushed
1 Tablespoon Cumin, dry powder
1 Tablespoon Mild Curry, powder
1 Tablespoon Coriander, dry powder
Salt and Pepper, to taste
Instructions
Heat oil is a heavy bottomed stock pot
Add onion, carrot, garlic and cook until the onion is soft and the carrots are starting to brown (about 5 minutes)
Add cumin, curry and coriander, cook for about 1 minute to let the spices sweat
Add crushed tomatoes, chili sauce and coconut milk, mix well and allow to simmer for about 5 minutes
Add the spinach, fish, shrimp and scallops, cook until the seafood is cooked about 5 minutes
Food Travel Tags:
Canmore, Curry, Curry Bowl, Easy Asian Recipes, Recipe, restaurants, Seafood Curry, Travel