Insult to injury is what I would call this post. First of all Ginger and Nutmeg leave me alone for two nights, while they go to a fancy hotel. Apparently, the hotel would not accept Black Labradors, and that is the story that Nutmeg is sticking to. Then, they went hiking in the reputedly beautiful Gorges du Verdon (allegedly as I was not there). Then the worst part! They had lunch with the fastest dog in France, Dabir a Saluki, in Banon.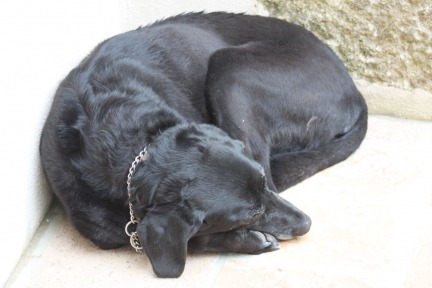 Well given they abandoned me, I thought I would use Ginger's computer to do a little research. What the heck is a Saluki? Well first of all they look and act like royalty, justified by their reputation as the Royal Dog of Egypt. The Saluki breed is a greyhound. Apparently, they have been around for quite some time as pets, as similar animals were found in tombs in Egypt dating from 2134BC. Dabir is from noble roots, and he is fast, he has won the Champion de France de racing twice!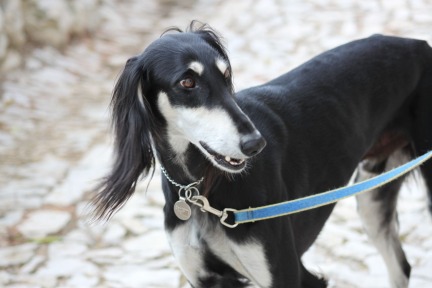 He lives in the village of Banon, which of course I have never been to but Nutmeg says is particularly attractive. The village, located in the Alpes de Haute Provence has just over 1000 residents. The hilltop town (village perché) is known for lavender and a specialty goat cheese that is wrapped in chestnut leaves.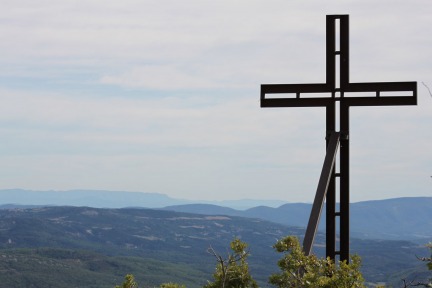 According to Nutmeg, the view of the Luberon, from the old village is remarkable. The old town rests on a hilltop at 800 meters and is situated between the famous Mont Ventoux and Mont Lure. During the lavender season, the fields below Banon are brilliant shades of purple and mauve.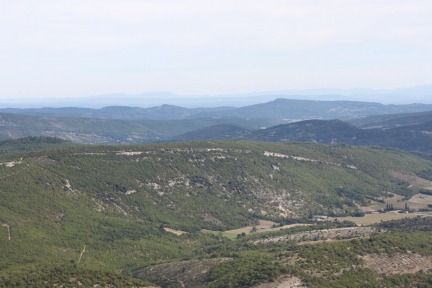 There has been a settlement in Banon since medieval times. The remains of ancient ramparts are still standing today. At the very top, of the village is an old 12th century church that is now used for art exhibitions. Should the walk to the church not be enough exercise, there is a cross located on a hilltop overlooking Banon. The view from this point stretches forever.
Well, Ginger and Nutmeg arrived home, full after a sumptuous lunch and pleased with all that they had seen in the few days without me!