I was in BIG trouble!
The day after Christmas, I wandered away from my backyard in search of a few turkey dinner leftovers.
Now really, who could blame any black Labrador for that?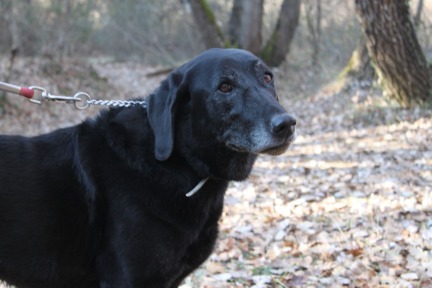 The happy news is I am back home safely, although Nutmeg is still a bit mad at me.
I thought I should share our Lost Dog Checklist below (includes some web links) in case your dog or cat follows a similar trail.
The list is not an official city list but we hope it helps others find their dogs and other lost animals.
Do not panic – I actually do not know that I am lost. Although, I might be wondering where you are.
Call ASAP – the City of Calgary Animal Services @ 311. They will ask you to file a report with all of the embarrassing details; breed, age, weight, colour, tattoo, microchip etc.
Follow the checklist – on the Calgary Humane Society web site and register on their PetLynx site. You can do this anytime…before your pet is lost.
Call the vets – in your area to let them know in case your animal is hurt or someone brings them in.
Make lots of posters – the posters do not need to be professionally done, include all my information and how to get a hold of you. Print many copies and then give them to neighbours, put them in the dog parks, attach them to posts, trees and anything else where people might see them.
Say Hi to your neighbours – let them know that your pet is missing.
Place ads in the local papers/media – The Calgary Herald 403-235-0511, The Calgary Sun 403-250-4222 and Shaw TV 403-716-6010 offer free online ads for lost pets.
Social Media – make use of Facebook, Twitter, SMS, blogs and any other sites to get the message out.
Dog Walkers – these are the people who are out almost everyday walking the neighbourhood parks. Use Google for your local area to get a comprehensive list.
Local Community Associations – your local community may have a website or email distribution list.
Do not panic and don't give up!
Please note: this specific list is for Calgary. Your local area will have similar organizations and communication tools.
Ginger and Nutmeg would like to say THANK YOU once again to all their family and friends, from near and far who offered their support through a few stressful days. And I would like to thank the nice family who took me in and fed me a few leftovers.
[tfb username='GingerandNutmeg' count='true' lang='en' theme='light']
Food Travel Tags:
Calgary Humane Society, City of Calgary Animal Services, Lost Pet Checklist