The village of St-Maximin-la-Ste-Baume is located in a valley a short 30-minute drive south of Aix en Provence. Vineyards surround the town and just to the south is the Massif de la Ste-Baume. The town was named after St Maximinus, who reportedly converted the residents to Christianity and where a 6th century parish church was built and named in his honour. The church was later demolished when the basilica was constructed.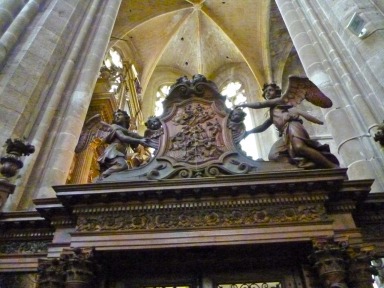 The tombs of Mary Magdalene and St Maximinus were discovered in 1279 on the site, and Pope Bonifacio VIII acknowledged the relics. Construction of the basilica started in 1295 under the direction of Charles of Anjou. The town experienced several periods of settlement and devastation so the construction only ended 236 years later in 1532. During the French revolution, the basilica was saved by the presence of Lucien Bonaparte (Napoleon's younger brother) who turned the facility into a food depot.
A visit to the Gothic Basilica of Mary Magdalene is intriguing; however, this was not actually the draw for Ginger and Nutmeg. Their interest lay in seeing the Hotel Le Couvent Royal this Hotel and Spa is housed in the old convent buildings. The beautiful cloisters are now used for events, such as concerts. The visit was on a rainy February day, when their outdoor plans had to be re-arranged. The scale of this Gothic structure and the meticulous 20th century restoration work is impressive.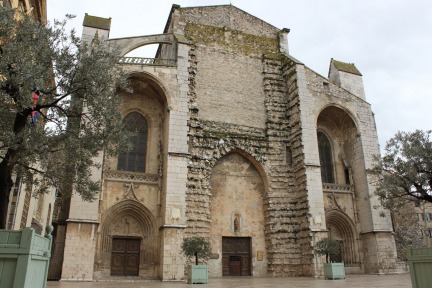 Ginger and Nutmeg had lunch at the hotel restaurant based on a tip from a friend Provence Confidential. The food was decent quality, and the prices were reasonable.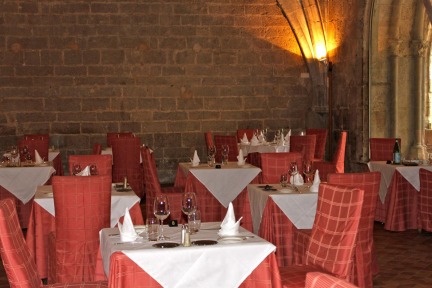 Food Travel Tags:
Hotel Le Couvant Royal, Provencal Food, Provence Travel, St Maximin la Ste Baume, Travel in France