The Swiss town of Davos is home to the World Economic Forum (WEF), which was first established in 1971, under a different name. Now, WEF meetings are held every January, attracting international business and political leaders.
Ginger and Nutmeg jumped at the opportunity, to visit the legendary ski town.
NO, they were not presenters at the WEF they were going to the 43rd running of the Interbourse.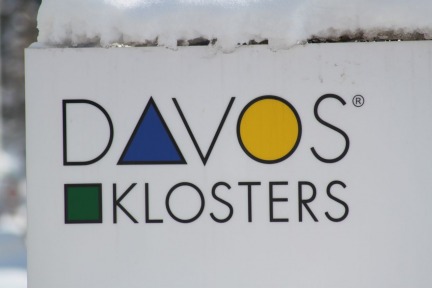 The Interbourse is an annual ski event designed for investment industry types, to blow off a little steam. Given the nature of the high stress field these folks claim to need an entire week of training, teamwork and hydrating to get ready for the giant slalom ski race. This event started as a bit of "friendly" rivalry between three stock exchanges in 1969. Now, it attracts 400 participants who meet in world famous resorts, to ski and amuse each other.
This ski week offers something for everyone, except sleep. This year, there was a nighttime dual slalom race, which started with famous forerunners including Marc Girardelli of Austria. The race was hard fought and finally won by a Canadian. The evening concluded with a spectacular fireworks display set to music. Other ski events included a speed race, guest race and the giant slalom event. Off ski festivities included boozy lunches and a Bollywood party.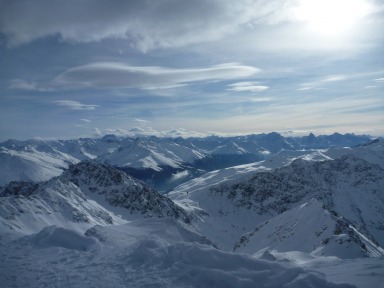 Ginger and Nutmeg stayed with their teammates in a former sanatorium, now a discrete hillside hotel. The former use of the location may have had some influence over everyone's nocturnal sleep patterns. Then again, maybe it was the jet lag and Wiessbier (white beer) consumption.  Thomas Mann wrote a book "The Magic Mountain" that was set is this location.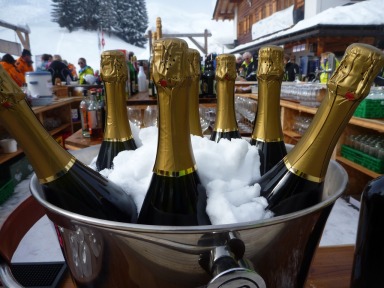 Once a small resort best known as a good place for patients suffering from tuberculosis, Davos today, has a permanent population of 11,200 with beds for another 22,000 visitors. This small city has not been successful in maintaining much of the traditional architecture. The church steeples and older gingerbread adorned buildings share the streets with the modern Congress Centre, Valliant Arena, and Kirchner Museum.
Klosters on the other hand remains cloistered in a time warp. Accessible via one road, one train line or longest ski run in Europe, at 12 km from the top of Weissfluhgipel. This village of fewer than 4,000 people remains exclusive.
Traditional food in the area includes, fondue and schnitzel. However, given the international nature of visitors to Davos it is possible to find everything from goulash to Szechuan chicken on the slopes. With 110 km of trails and 55 lifts, the area offers something for all levels (beginner to extreme skiers) from family friendly, to bars with hot tubs.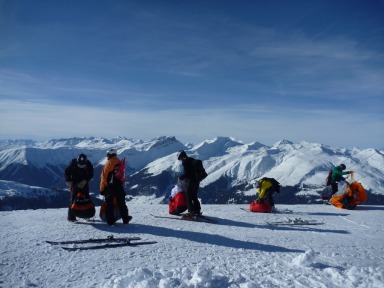 As is typical in an Interbourse week, days of skiing and late nights in the bars are a recipe for winter colds and frayed nerves.  Nutmeg had had enough of the former sanatorium on the hill, and she decided they should relocate downtown to the modern Grischa Hotel. Centrally located, this hotel offered welcome relief from their staid accommodation. The final evening in Davos, was certainly more urban in character, cocktails in a stylish bar and sushi, in a lounge.
Nutmeg may return to Davos, one day, when Ginger is presenting at the WEF.
More Davos winter photos can be found here.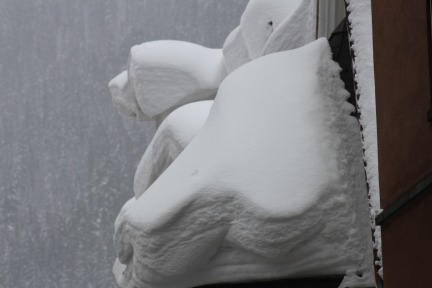 [tfb username='GingerandNutmeg' count='true' lang='en' theme='light']
Food Travel Tags:
Davos, Skiing in Europe, Skiing in Switzerland, Thomas Mann, Travel in Switzerland