Ginger's whole family was in Canmore to celebrate belated birthdays and the New Year ahead. The house was full and there was lots of buzz around the first day of kiddie ski lessons. Just try to imagine 500 kids starting ski lessons on the same day.
Nutmeg awoke that morning with a minor version of the modern day plague – a head cold. She chose not to battle the kids and parents at the hill, but rather to stay home quietly with Jade and wait for the chef to arrive.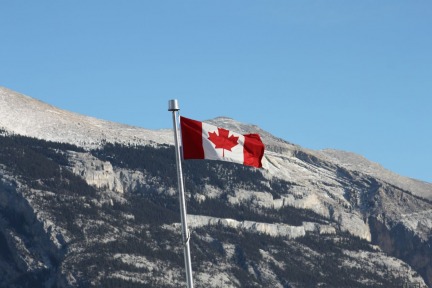 One could question, whether she was really sick, or just wanted some quality time with a master cook.  As it turns out, she had a private cooking lesson of sorts with Chef George Bayne.
Chef George, born in London, England now lives in Canmore with his family.  His culinary expertise and techniques have been acquired in commercial kitchens from Wales to London, Barbados to Montreal, Vancouver to Canmore. Diners in Canmore are fortunate, to have a personable chef who is focused on quality organic products, living right here in the Canadian Rockies.
Chef George arrived mid-afternoon and began to prepare for the evening dinner. Over the next several hours Nutmeg "peppered" him with foodie questions.
What is your favourite thing to cook? Roasting meats; lamb, beef, pork, chicken and even some game meat.
What kitchen tools do you "never leave home without"? A round walnut cutting board, it is about twenty years old, my Peugeot pepper mill and my ceramic Kyocera knives.
Is organic food truly worth buying?  Yes, look for quality organic vegetables and reasonable, local produce in season. Canmore has an excellent weekly market in the summer months, where vendors offer excellent quality fruit and vegetables from B.C. and Alberta.
Have you noticed a change in the food industry in Canada? Yes, in the last ten years consumers are paying attention and willing to pay for quality food. The local producers are focused on natural products. Even the large supermarket chains are starting to buy from local sources, which will help foster the continued growth of this industry.
What are some of your favourite Alberta producers?
Pasu Farms – for their fabulous lamb
Spring Creek – hormone free beef
Sunworks Farms – organic, free-range chicken
Broek Pork Acres – pasture fed pork
Chef George cooks with an ease of someone who has spent lots of time in the kitchen. He is currently working on a number of gourmet "foodie" projects. The most recent of which is a series of specialty cooking classes at the Paint Box Lodge in Canmore – check these out as seating is limited and some classes are already sold out.
The group arrived back from the ski hill to a house smelling of George's delightful creations. The menu, which received rave reviews, was as follows:
Roasted Cauliflower Soup with Red Pepper Coulis
Warm Chevre Toasts on Organic Greens with a Raspberry Coulis
Fresh Atlantic Salmon with Pear and Sun-dried Cranberry Chutney, served with Rice Pilaf and Veggies
Homemade Apple Tart and Whipped Cream
Chef George's delicious soup recipe follows: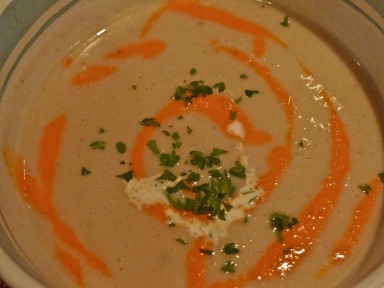 Roasted Cauliflower Soup with Red Pepper Purée
Prep time:
Cook time:
Total time:
Canmore's organic chef George prepared this soup in an easy 60-minute period. It is delicious and warm on a cool winter night. Roasting the cauliflower brings out the taste and the red pepper puree adds some great colour contrast.
Ingredients
1 Tablespoon + optional 2 Tablespoons Butter
1 Medium Onion, roughly chopped
½ Teaspoon + Salt
1 Clove Garlic, crushed
1-2 Whole Cauliflower Heads, remove outer leaves and cut into florets
2 Cups Chicken or Vegetable broth
½ Teaspoon Ground White Pepper
¼ Teaspoon Grated Nutmeg or Pickling Spice
1 Cup Heavy Cream
2 Tablespoons Parsley, finely chopped
2 Whole Red Peppers
Instructions
In a 375-400F oven, roast the cauliflower florets and whole red peppers for about 45 minutes.
The cauliflower should be thoroughly cooked and the skin on the peppers should be blackened.
Allow the peppers to cool slightly, remove the outer skin and the seeds.
In a blender, purée the peppers.
As you are roasting the veggies start melt 1 tablespoon of butter in a large stock pot on the stove.
Add onions and salt. Cook, stirring occasionally and adjusting heat so onions are cooking but not browning, until onions look starchy and a bit creamy, about 5 minutes.
Add garlic and cook until fragrant, about 1 minute.
Add roasted cauliflower, stir to combine, cover and cook 3 minutes.
Add broth, bring to a boil, reduce heat to maintain a steady simmer and cook until cauliflower is tender to the bite, about 10 minutes.
Purée soup with a hand-held blender or, whirl in batches in a blender or food processor until smooth (place a kitchen towel over blender to prevent potential burns).
Stir in pepper and nutmeg. (Note: At this point the soup may be cooled, covered, and frozen for up to 4 months.)
Add cream and cook over medium-low heat until hot. Do not boil.
Meanwhile, if you want to add the parsley butter swirl, melt remaining 2 tablespoons butter and stir in parsley and roasted pepper coulis
Serve soup hot, with a swirl of parsley butter
Food Travel Tags:
Alberta Organic Produce, Canadian Rockies, Canmore, Cauliflower, Cooking classes, Organic Chef, Soup, Travel Alberta