Sassafras is native to eastern North America, not France.  However, she works for an airline and she has made it a personal quest to visit Europe regularly.  With Ginger away in Calgary for 10 days, Nutmeg thought that a little time with her girlfriend in Provence would be enjoyable.
The trip did not quite start as planned, Sassafras' arrival was delayed due to an airline strike.  Then her in-country train connections took longer than the transatlantic flight.  Despite, those minor hick-ups, she arrived on a beautiful summer day, for a lot of cycling and a bit of culture. Nutmeg had packed a 7-day agenda into 5 days; here is a summary of her visit: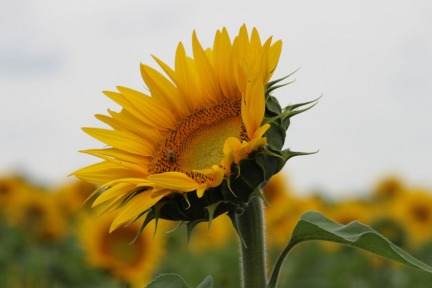 Day one was a hilly loop ride that included Les Baux de Provence.  Sassafras might admit several months later that she loved the views from the top of the hill at Les Baux. However, that day she was less than convinced.
Day two was an easy, flat ride including a stop in St Remy for the Wednesday morning market. The ladies lucked out as the forecast was for thundershowers. As they left the house, there were a few drops of rain, but not enough to stop Nutmeg or at least not until she found a large plane tree that they could use as shelter.  The shower passed, and they had a delightful visit to the market.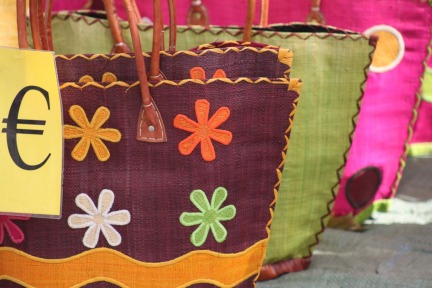 Refreshed after lunch and a swim, the ladies visited the Jardin de l'Achimiste.  This attractive garden is part of the property of Mas de la Brune. The building was constructed in 1572 as a retirement home.
Day three Nutmeg billed this as a big day, she is quite certain that Sassafras could have been convinced to stay by the pool. Instead, they headed out for Mazan with their bikes.  The ladies rode the highly impressive Gorges de la Nesque road.  This steady uphill climb is not steep but certainly seems never ending by kilometer 18!  A nice lunch in the village of Monieux (population 250) and a ride back to the car – almost all of it downhill!  Stunning views and well worth the effort.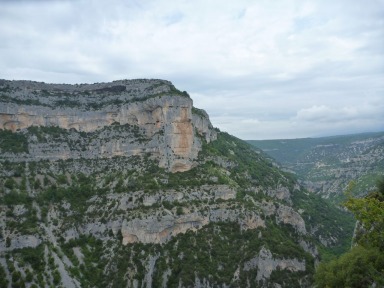 Day four Sassafras particularly liked this one.  A visit to the local market, local cafe and a short hike.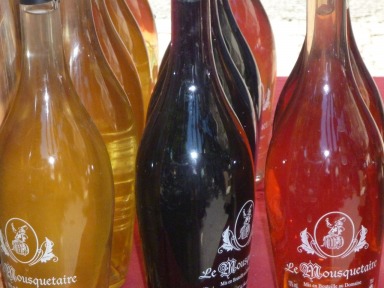 Day five time to head home but not before one last quick bike loop past the local vineyards, olive trees and fruit trees.
Five days passed in a flash, with Sassafras happy to have made a brief acquaintance with Provence.
Anyone interested in a week with Nutmeg in Provence?
Send a comment as both Sassafras and Ginger have found better things to do.
Food Travel Tags:
Biking in Provence, Markets in Provence, Provence Travel, Travel in France