It may not be the same garden that Frances Hodgson Burnett wrote about in her 1911 novel The Secret Garden. That garden with all its hidden corners was in Yorkshire. The Jardin de Tim is a discrete Bed and Breakfast located in Eygalières in Provence, which opened to the public in 2010.
The original building dates from 1870 at the time Francis would have been 21 years old. The old village structure was first constructed as a bergerie (sheepfold), only later converted into a private residence. A Swiss family owned the property for many years. When the matriarch passed away, the descendants chose to sell it to a Parisian.
In a small Provençal hamlet, that real estate transaction was certain to get the locals talking over their morning café. What exactly would the northerner do with one of the heritage village houses? It turned out that the new owner has exquisite taste. A complete renovation produced a spacious, modern home within the old structure.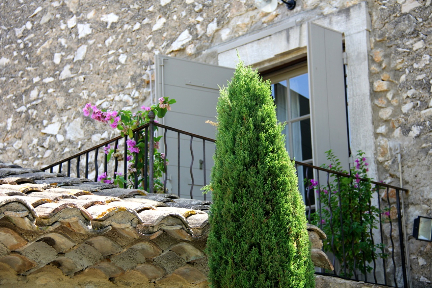 Throughout the next decade, the house was not being utilized as much as he had envisioned. Convinced that a location in the heart of the village should be full of life, even if he was not there, hatched the idea of a B&B. Working with a small renovation budget a creative team including Pascale Brunet (zubalu.hom@gmail.com) of Zubalu Home Design turned offices in to bedrooms and added playful, decorative touches.
There are five bedrooms each equipped with modern plumbing, air conditioning and other comforts. The sandy yellow walls and grey tile floors create a contemporary feel Asian. The artwork carefully selected for intense detail, yet simplicity threads the rooms together. Crisp white bed linens refreshing on a scorching summer day are punctuated with splashes of fiery red, cooling blues, and calming chocolates.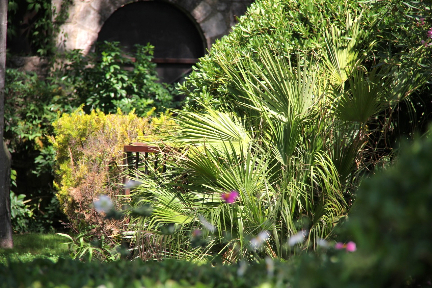 From Rue de la Republique, the main street in Eygalières, you would be hard pressed to pick out the Jardin de Tim from the other buildings. Yet just over the wall, the secret unfolds, a lush green garden filled with flowers, herbs and sculptures, semiprivate spaces bordered by hedges, a crystal blue pool for lounging and a shaded terrace for le petit déjeneur or a glass of rosé.
To enter the Jardin de Tim, you need a key much like Mary Lennox did, to enter the untended garden in The Secret Garden. Once inside the walls, the Zen of this village sanctuary will embrace you. Book soon here the secret is out.
Have you read the book?
[tfb username='GingerandNutmeg' count='true' lang='en' theme='light']
Food Travel Tags:
Eygalieres, Jardin de Tim, Provence Travel, Travel in France