For readers who know Ginger and Nutmeg well, the following statement will not be surprising.
When it comes to pairs dancing, Ginger insists that Nutmeg leads and Nutmeg insists that someone should!
Although, they both love to dance when it comes to the classic dances like waltz, tango, salsa they are frankly way out of their element.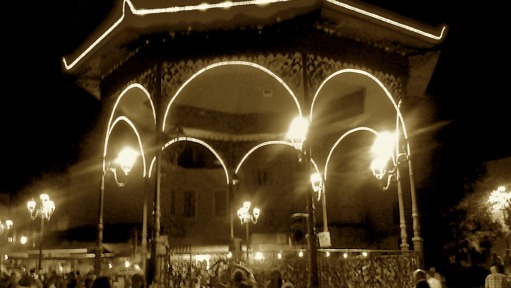 On a beautiful summer evening, they enjoyed an outdoor dinner with friends in Salon de Provence. The street was closed to traffic for a musical evening. Energized by their enthusiastic fans, the Jim Sanders Band, played tunes from the 1960's to the latest hits, for nearly three hours.
During a break, Nutmeg and a friend went to investigate what was happening nearby at the kiosque à musique, a band shelter in the heart of Salon. There has been a bandstand in this location since 1900, although the current one was installed in 1993.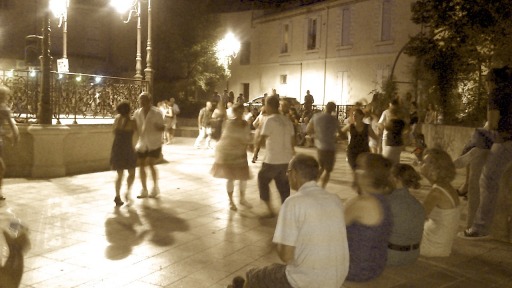 The scene was remarkable for a North American with no classic dance skills. On every flat surface, around the bandstand were 300 spectators tapping their toes to the tunes. On the dance floor, there were easily 100+ accomplished dancers.
Check out Ginger's video clip here.
Sylvie Magnan is an exceptionally talented dancer and instructor. She began her dancing career with ballet at the age of five. Propelled by a love of music and dance by eighteen she had gained proficiency in all the couples dances including Tango, Paso Doble, chacha, waltz and later Latin dances like Salsa, Bachata and so on.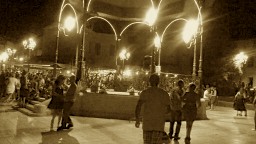 Teaching for several years now, Sylvie has developed an enthusiastic following of avid dancers. For the last four years, in favourable weather, she organizes the outdoor dance evenings at the kiosque à musique, during the rest of the year the events are held inside large halls.
With her professional experience in dance, rhythmic ballet and synchronized swimming one might wonder who could keep up to Sylvie. She is married a talented sportsman who is a world champion and Olympian in the discipline of fencing. Needless to say, this is one active couple. If dancing in the streets is not your thing they also organize several outings a month on motorcycle, bike, kayaking and hiking.
According to Sylvie, the dance steps are not complicated. According to Nutmeg it will be a long time before she masters the rhythm of the ChaCha. You can read more about Sylvie and their programs here: style-vie-dance.com.
Can you dance?
What about the classic dances?
Or do you have two "left feet"?
Food Travel Tags:
classic dance, Dancing, Provence, Salon, Travel