Close your eyes.
Is there a particular aroma or flavour that instantly evokes Christmas in your mind?
*
**
***
****
Cloves
Cinnamon
Mulled wine
Rum eggnog
Smoky log fires
Fresh Pine bows
Warm chestnuts
Buttery shortbread
Striped candy canes
Oven Roasted turkey
Warm cranberry sauce
Fresh baked gingerbread
What
About
Florida
Citrus?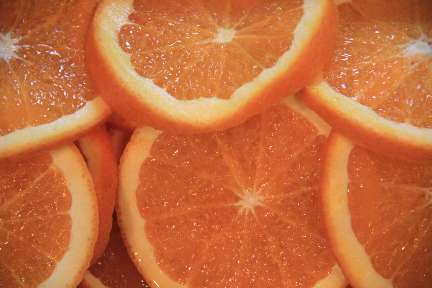 Every December Nutmeg's mum sends a holiday package filled with giant succulent pink grapefruits and juicy oranges. This sunny parcel is a reminder that there are climates where it is not mandatory to have snow at Christmas.
The following recipe is dead simple and is guaranteed to make your home smell like Christmas.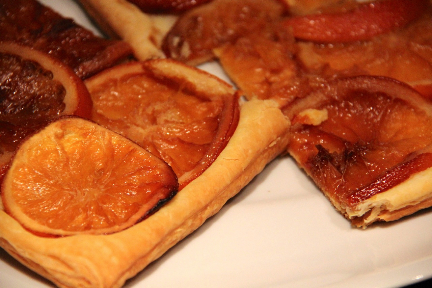 Oven Roasted Orange Tart
Prep time:
Cook time:
Total time:
This recipe is adapted from Saveur Magazine - the link is here if you want to make the crust yourself
http://www.saveur.com/article/Recipes/Roasted-Orange-Tart
. The oranges turn remarkably soft with the baking and your house will smell delicious.
Note:
you could try this recipe with other citrus or a mixture of types. Feel free to experiment with other pastry such as filo or puff pastry.
Ingredients
6-8 Whole Oranges, choose a variety with a thin skin such as Valencia 4 Tablespoons Liquid honey
2 Cups Fresh orange juice or French apple cider
¼ - ½ Cup Sugar
1 Large Prepared pie crust, in France pâte feuilletée
Instructions
Preheat oven to 325°
Slice the oranges in thin rounds and remove any seeds
Arrange half the orange slices in an overlapping pattern in the bottom of a roasting pan
Drizzle with 2 tablespoons of honey
Repeat with remaining slices and balance of the honey
Pour orange juice (or cider) over oranges
Cover pan with aluminum foil, and roast about 1½ hours - you want the rinds to be soft
Remove pan from oven and increase heat to 375°
Sprinkle oranges with sugar and roast for about 40-50 minutes, uncovered, the fruit should be soft and the edges browning
Prick the prepared crust with a fork
Bake the empty pie shell for 10-25 minutes until golden brown
Remove the crust from the oven
Arrange the orange slices in a pretty pattern on the crust and drizzle with the pan juices
Allow tart to rest for 1 hour before serving
What is your favourite Christmas scent?
Food Travel Tags:
Christmas Baking, Easy baking recipes, Easy sweet tart recipes, Recipes with Citrus