It was a solo visit for Nutmeg. Ginger had no interest in the Souleiado fabric museum in Tarascon. The display provides a historical overview of their fabrics and methods of textile printing.  The lighting in the small museum could be improved, and the information provided could be more explicit. The history of Indian fabrics in Provence is long, with imports starting in the late 16th century.  These brightly coloured and heavily patterned cloths were cherished when they first arrived. French production of Indian patterns started in Marseille in 1648. Initially, the output was of poor quality in comparison to the imports. However, as designers and printers mastered the trade, their capabilities expanded and the quality of products improved over time.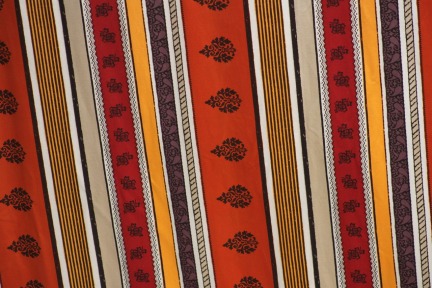 Today, in the Bouches-du-Rhône (Rhone River Delta), the traditional costumes are still proudly worn for festivals and celebrations. The ladies dresses evolved through the 18th and 19th centuries following Parisian fashions, at the time. These striking dresses worn by women of the region have maintained a similar form, to that which had evolved by the end of the 19th century. The beauty and elegance of women in the region of Arles is illustrious, even in literature from antiquity. The ritual of the dresses is deeply ingrained, starting with young girls who wear ordinary frocks and bonnets (up to 8 years old) for the special occasions. As young women at 15-years of age, they participate in the Festo Vierginenco, after which they start wearing the complete outfit, including the headdress with a velvet ribbon.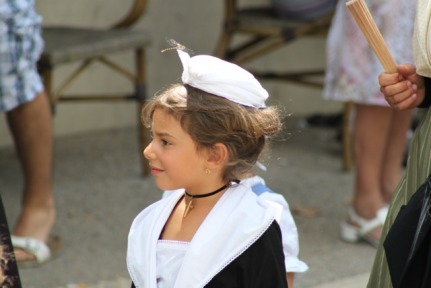 At spring and summer events, throughout the area one can see examples of these beautiful dresses.  The very heart of reverence for this tradition is in Arles. A practice that started in 1930 continues today, with a Queen of Arles who is elected every three years, to serve as an ambassador for the city and to maintain the heritage.  The first Sunday in July, in Arles, it is a custom that the ladies show off their best costumes and parade down the Avenue des Lices.
There is nothing haphazard about this outfit. The whole ensemble is actually composed of several individual pieces:
A full-length dress, with several underskirts including the "secret" one.
The Eso (top) and a delicate lace scarf are worn together and specially fastened to form la chapelle.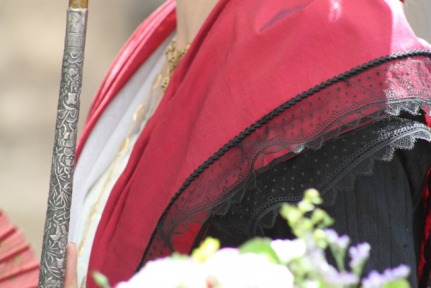 Ladies wear their hair up in particular rolls with a classical hat.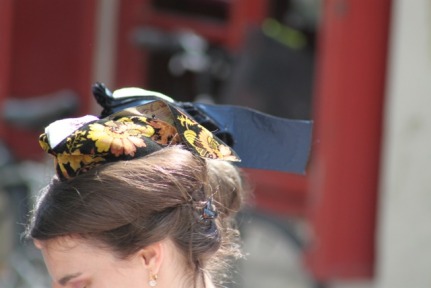 Accessories such as parasols, jewels, hat pins, purses and coats are all in keeping with the designs of the fashion.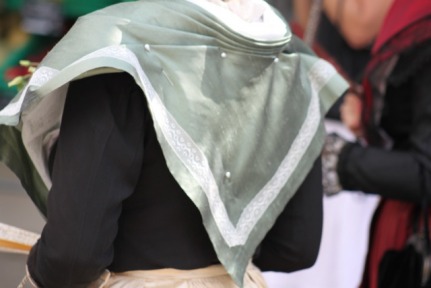 Christian Lacroix, the famous fashion designer was born in Arles. His inspiration for clothing design started at a young age when sketching the traditional costumes.  Although, one would be hard-pressed to maintain that his designs today, look anything like the 19th century costumes. What is clear is that the fabric and traditions of Provence continue to be evolved and celebrated. If you have not totally glazed over at this point:
Food Travel Tags:
Arles, Fabrics, Provence, Souleiado, Tradtions