Nutmeg is uncertain if sculptors Ursula Hanes and Donni Buffalo Dog were visionary or slightly crazy when they purchased a five-acre property on the outskirts of the hamlet of Aureille, in Provence, the year was 1993. Their interest was not in the house. It was the 600 square-meter mothballed chicken and rabbit coop that had grabbed their attention.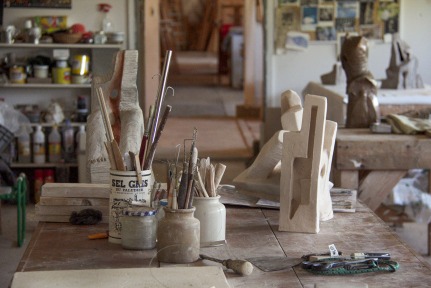 It took months, maybe years, of physical labour and countless gallons of white paint to convert the putrid space into a series of airy studios where artists can work unfettered. The founders long ago smoked out the negative spirits by burning sage. Now, the blinding Provencal sun filters gently into the studios with their lofty ceilings where resident artists unleash their talents.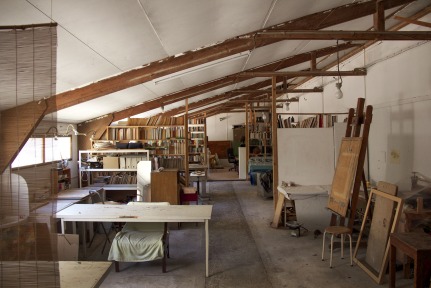 From May 1st to early October each year, Ateliers Fourwinds welcomes artists from around the globe, whose talents cover all mediums of artistic expression from painters and sculptors to writers and photographers. There is room for six artists in residence. The atelier (studio) building encompasses four large spaces with enough room to allow each creator to work independently and unencumbered by others. Shared experiences and collaborative energies transpire during casual discussion while someone prepares a meal or a coffee in the communal kitchen.
The goal at Fourwinds is to offer both established and emerging artists, as well as students, flexible studio facilities, creative dialogue, a refreshing amount of solitude and a group that recognizes the value of their work. While in residence, the artists live in small wooden cabins situated around a crystal-blue pool, where the lifeguards are two of Ursula's sculptures. Their stoic marble bodies soak up the sunny rays.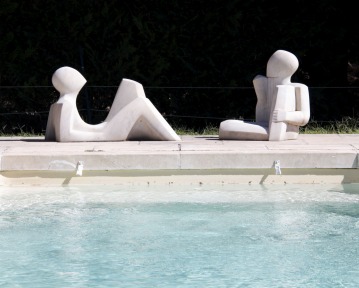 Ursula a transplanted Canadian has made her home in Provence for more than twenty years. She studied in Toronto, in the U.K. and at Columbia in New York City. Ursula's work was greatly influenced by English sculptor Henry Moore, and his method of creating flowing human forms from plaster cast and bronze. The Art Gallery of Ontario houses the world's largest collection of Henry Moore sculptures.
It was Henry Moore who recommended that Ursula should go to Rome to study at the Italian academy. This chapter of her life working in the marble yards near Carrara and meeting sculptors in the bronze foundry was nothing less than magical.
William Zorach was one of Ursula's teachers in New York. His approach of allowing his sculptures to "speak" without heavy detail, simplifying lines and glorifying natural forms, continues to resonate in Ursula's work.
Returning to Toronto in 1954, Ursula spent a busy period as the president of the Sculptors Society of Canada and a member of the Royal Canadian Academy of Arts. However, the travel bug had hooked her, after 1969 she travelled around Europe and North Africa. Ursula met Donni Buffalo Dog in 1982 in San Juan Bautista, California. Shortly after that they moved to Italy to work.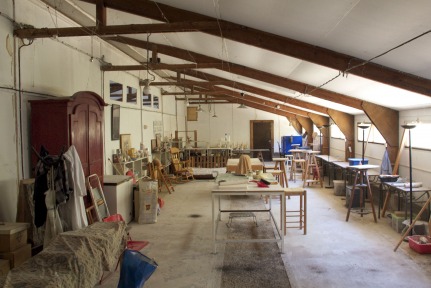 Ateliers Fourwinds after twenty years of operation continues to evolve. Artists in residence must submit a project plan before being accepted for their stay, which can run from a few weeks to a couple months. However, once they settle into their Provencal surroundings, the olive groves, the sparkling sunlight, the limestone peaks of the Alpilles; they may just alter their original plans. The team at Ateliers Fourwinds understands perfectly, as even after twenty years Ursula continues to be amazed by the natural beauty in the area.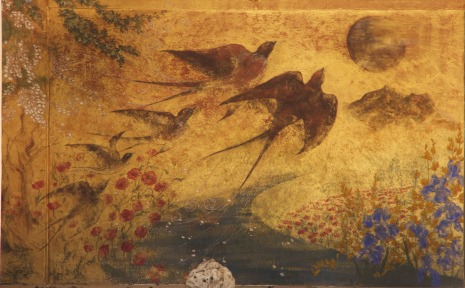 Come October, once the visiting artists have left, Ateliers Fourwinds offers specific instructor led short-duration courses in painting, sculpture and other mediums for interested students from the local area. The future vision for Ateliers Fourwinds is to continue improving upon and evolving their existing offerings.
Food Travel Tags:
Artist Retreat in Provence, Ateliers Fourwinds, Aureille, Provence Travel, Sculpture Studios in Provence