Nutmeg has finally convinced Ginger that snowshoeing is an acceptable form of exercise. AND if you take the snowshoes off before you reach the ski lodge your buddies will not even notice that you did not spend your day freezing on the chairlift and skating down the icy slopes.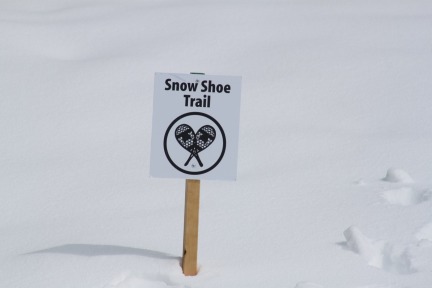 For Ginger, it is all about being able to sleep-in and actually has nothing to do with the fitness component.
After a winter day outdoors, there is nothing better than a hearty bowl of warm soup and a savoury pumpkin feta muffin.  Well maybe a substantial glass of red wine would be better.
This recipe was inspired by a blog that Nutmeg follows religiously 101 Cookbooks. Heidi is a foodie, a traveller, a writer and a photographer. Her recipe (below) for Pumpkin Feta Muffins has been slightly adapted.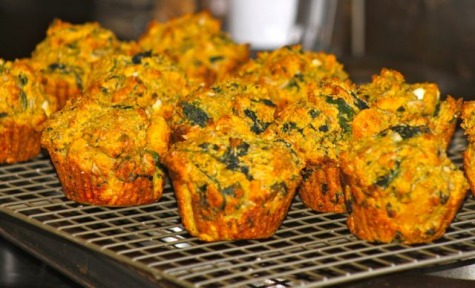 Pumpkin Feta Muffins

Recipe type:
Savoury Muffins
Prep time:
Cook time:
Total time:
These muffins are moist and savoury. Great with a hearty soup or as a side with a tomato based dish. Adapted from a recipe in Martha Goes Green by Rosie Percival and Ruth Friedlander and 101 Cookbooks.
Ingredients
1 Tablespoon Unsalted Butter, to grease the pan
2 Tablespoons Olive Oil
2 Cups (260g) Cubed pumpkin or butternut squash
1 large handful (approx 2 Cups) Spinach, chopped
2 Tablespoons Cilantro, chopped
½ Cup (100g) Feta, in cubes (goat feta works too)
2 Teaspoons Dijon Mustard
2 Large Eggs
¾ Cup (180ml) Milk
2 Cups (260g) Whole Wheat Flour - or a mixture of flour (1.5 cups) and cornmeal (.5 cup)
4 Teaspoons Baking Powder
1 Teaspoon Sea Salt
Pepper, to taste

Instructions
Preheat oven to 405F / 200C
Grease a 12-hole muffin pan and set aside.
Sprinkle the olive oil and some salt and pepper over the squash
Toss well and turn onto a baking sheet or roasting pan
Arrange in a single layer and bake for 20 - 25 minutes or until cooked through entirely
Allow to to cool
Transfer the squash to a large mixing bowl along with the spinach, cilantro, pumpkin seeds, Parmesan, feta, the mustard
Gently fold together
In a separate bowl beat the eggs and milk together and add to the squash mix
Sift the flour and baking powder onto the squash mixture
Add the salt and ground black pepper
Fold together just until the batter comes together, do not to over mix
Spoon the mixture into the prepared pan
Bake for 15-20 minutes or until the tops and sides of the muffins are golden, and the muffins have set up completely
Let cool for a couple minutes then turn out onto a cooling rack

Let Ginger know what do you think of snowshoeing, in the comments section.
Food Travel Tags:
Banff National Park, Easy Baking, Easy Healthy Recipes, Pumpkin Muffins, Savoury Muffins