In classic Ginger and Nutmeg fashion, a planned 11:00 departure with a leisurely lunch on the beach was in reality 13:30 before the car was loaded and they were headed to a one-time secret cove.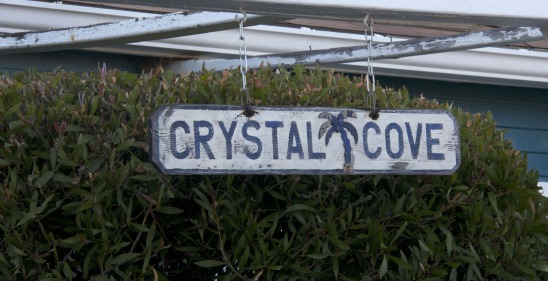 Crystal Cove is situated just off the black-tarmac lanes of California Highway 1. Occupying a three-mile stretch between stylish Newport and Laguna Beaches is a park with sublime views of the Pacific Ocean. The powdery, sand strip is obscured from sight as it sits below 80-foot cliffs. However, it is hardly sheltered, buffeted by tidal surges, on-shore winds and the odd fast moving storm system.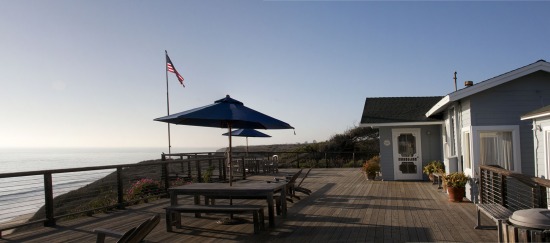 The naturally formed cove, towering cliffs and seemingly endless low-tide beach would have been a desirable location for summertime fishing. Remains of fish bones and shells revealed in old middens – food refuge dumps – are archeological evidence of native bands that lived in the area some nine thousand years ago.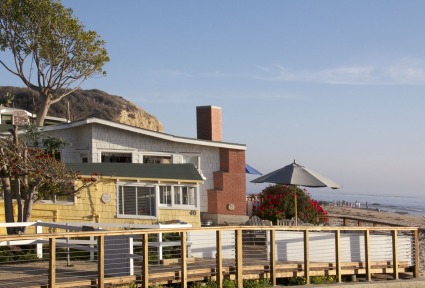 The parcel of land directly above Crystal Cove was previously known as Rancho San Joaquin. Three sheep farming families, Irvine, Flint and Bixby, purchased a 50,000-acre tract of land from Jose Sepulveda in 1864, when he ran into drought-induced financial troubles. In 1878, James Irvine bought out his partners and consolidated a land holding of 110,000 acres into the Irvine Company.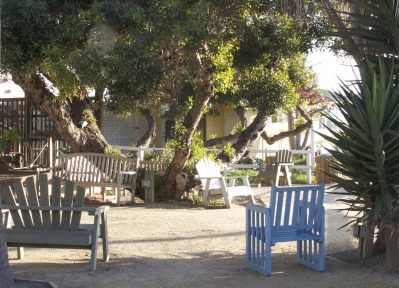 It took non-natives longer to catch on to the magic of the area. In the early 1920s, Hollywood film producers discovered this picturesque setting only 60-miles from the studios. Crystal Cove offered an unspoiled setting for movies, with tropical-based scripts, without the expense of filming in the South Pacific. Rustic beach cottages were constructed with thatched roofs, added inspiration for movies in exotic locales. Here is a list of movies that were filmed in the Cove:
• 1918 "Treasure Island"
• 1923 "Stormswept"
• 1928 "Sadie Thompson"
• 1929 "The Isle of Lost Ships"
• 1934 "Treasure Island"
• 1951 "Two of a Kind"
• 1974 "Herbie Rides Again"
• 1988 "Beaches"
The sunny, windswept beach attracted families for extended annual summer stays. Holiday season was marked by the appearance of cars loaded with beach chairs, umbrellas, cots, camp stoves, surfboards and plenty of mixers for cocktails. Originally, folks would just pitch tents and camp.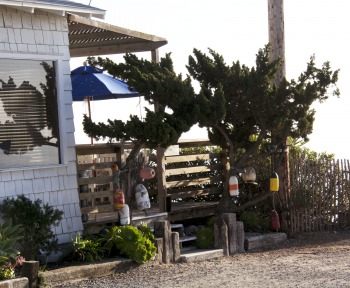 During the 1920s and 1930s, 46 cottages were built along the beach. Utilitarian single-plank cabins were constructed from scavenged materials. The first shelters were built in 1927 with wood planking from shipwrecked Esther Buhne, off Balboa Point. The weather-beaten bungalows with thatched roofs were barely more comfortable than tenting.

James Irvine was a naturalist and his son James Jr. shared the same philosophy. James Jr. established a charitable foundation to manage the company lands after his death. In 1939, the Company served notice to Crystal Cove tenants. Previously relaxed year-to-year agreements were converted into 10-year leases and any existing structures belonged to the corporation.
Irvine's strong conservation ideals limited construction to the 46 original cottages. This saved the Cove from ravenous developers with projects that reshaped coastal grasslands and sage scrub brush into high-end housing and retail projects. In 1979, the Irvine Company sold its land holdings to the State of California and Crystal Cove was listed in the National Register of Historic Places – it is now known as Crystal Cove State Park.
Cottage tenants were given 22-years to vacate their units, by July 2001, the structures were barren. The State awarded development rights to a builder with plans for a luxury seaside resort. Incensed by the prospect of losing the charming spot where her family had created memories Laura Davick proposed an unconventional idea – leave the cottages in place and allow overnight rentals. The non-profit Crystal Cove Alliance was created in 2003 with goals of preservation, restoration and education.
In just over ten years, 29 cottages that have been lovingly restored and 17 more that are on the books, once sufficient funding has been secured. You can donate here.
Food Travel Tags:
California Travel Guides, Crystal Cove, Crystal Cove Alliance, Crystal Cove State Park, Irvine Company and Crystal Cove