Forget magret de canard and moules frites – couscous served with its savoury slow-cooked stews is popular in French cuisine. It was voted France's 3rd favourite meal in a study conducted for Vie Pratique Gourmand (2011). There are references to couscous consumption in France that date as far back as 1630 (Toulon) and 1699 (Brittany).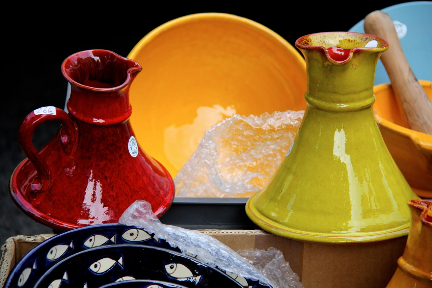 This North African staple first emerged from Morocco in the 13th century. A traditional couscous is made from a base of semolina grains that are steamed. Once cooked, couscous is typically served with either meat or fish and a warm vegetable broth on a shallow communal platter called a gsaa. In some countries, chutney, chickpeas and harissa may accompany the couscous.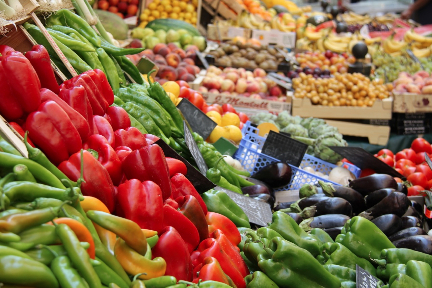 The Berbers, often considered the inventors of couscous, called it seksu or kesksu. Couscous was originally made from millet. The shift in popularity to semolina as a base occurred sometime in the 20th century. However, it is possible to find couscous made from cornmeal in Brazil, or pearl millet in Senegal, and there are even variations made with barley.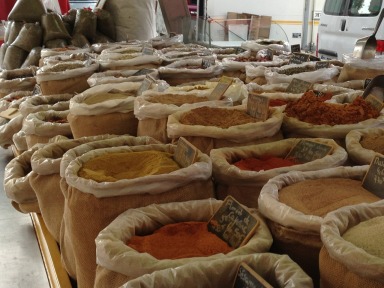 Couscous is simple pasta made only from flour and water. Tiny couscous grains are formed when the semolina is sprinkled with water and then rolled by hand in a circular motion. The couscous maker adds flour to keep the granules from sticking together and repeats the rolling process until each ball is of the correct size, the pellet size is tested with a sieve. Then are these tiny spheres dried in the sun. Hand-made couscous is heated in a couscoussière, similar to a large double boiler. The couscous is wrapped in cheesecloth and steamed, and at regular intervals the granules are rubbed to so they do not stick together. Instant couscous has eliminated the lengthy preparation except in the most traditional households.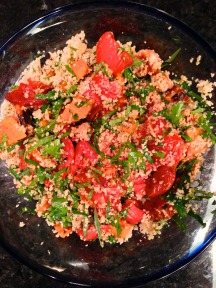 Although a trip to North Africa or France sound exciting, you can find the ingredients for couscous in your local grocery store without having to spend Moroccan dirham (MAD money) on airfare. There are thousands of variations of couscous, this one is a terrific summer salad or a perfect for a trail-side snack.
Vegetarian Couscous with Butternut Squash and Oven-dried Tomatoes
This vegetarian couscous recipe makes for a great side dish or lunchtime salad with some greens. If you want to serve it as a main course, you may wish to add the chickpeas for some extra protein.
Ingredients
12-14 large, ripe plum tomatoes cut in half lengthwise
6 T. olive oil
2 T. balsamic vinegar
2 T. muscovado sugar
salt and pepper to taste
2-½ c. butternut squash, peeled, seeded and diced
1 large onion, peeled and sliced
1 t. ground cinnamon
2 t. ground cumin
1 package instant couscous
pinch saffron threads
1-½ c. chickpeas from a can or bottle, drained (optional)
3 T. fresh tarragon, chopped
3 T. fresh mint, chopped
3 T. fresh flat-leaf Italian parsley, chopped
1-½ T. lemon zest
salt and freshly ground black pepper
Instructions
Preheat your oven to 300F.
Brush the tomato halves with 2 T. olive oil and balsamic vinegar.
Season lightly with muscovado sugar, salt and pepper.
Spread out on a baking tray, cut side up and bake for as long as 2 hours; the tomatoes should shrink and start to lose their moisture.
Remove the tomatoes from the oven and increase the heat to 350F.
Toss the diced butternut squash in 2 T. olive oil, salt and pepper.
Spread a single layer on a baking sheet and bake for about 20-25 minutes, until the squash starts to soften.
In a frying pan, heat the remaining 2 T. olive oil on medium and sauté the chopped onion for 2-3 minutes, until translucent.
Add the cinnamon and cumin and cook for another 2 minutes.
Remove from heat and set aside.
Prepare your couscous following the instructions on the package for four people. Add saffron threads to the boiling water.
If you're adding chickpeas, combine them with the couscous as you're fluffing the grains.
Mix the roasted tomatoes, squash, and onion mixture together in a bowl with the fresh herbs and lemon zest.
Add the vegetables to the couscous, trying not to over-mix.
Season to taste.
Serve warm or as a cold salad.
Food Travel Tags:
Easy Couscous Recipes, Food info in France, French Food, Travel in France