Ginger and Nutmeg hosted a July 4th dinner party while in Provence, in honour of their US friends.  The menu included traditional and non-standard elements.  Although the intent was to celebrate the US holiday, the menu might be considered a melange of Mexican, American, and French.
The menu was as follows (with some photos):
Fresh Guacamole dip with tortilla chips
Tomato mozzarella salad with avocado dressing
Shrimp boil, with corn and potatoes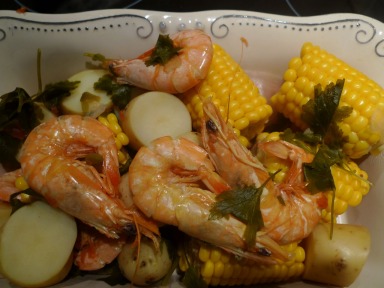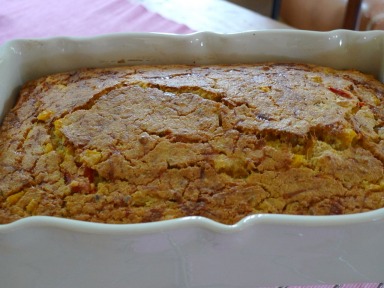 The Panade aux Pommes is not a classic American apple pie.  The panade is a shallow pie dish filled with a mix of sweet and tart. It is beautiful and delicious. Provence in the fall, is a bounty of tree-fruit, in particular apples and pears of all sorts of varieties.  The French make wonderful deserts, fruit compotes and often fruit can be found in hearty dishes. The following recipe is from a friend  Gyhslaine Martin-Castellino who is a wonderful cook. The recipe is very easy and tasty – Enjoy!

Panade aux Pommes
Prep time:
Cook time:
Total time:
This pie is low in sugar and a great balance of tart and sweet. The instructions for the pastry are included. However, if you buy ready-made pastry at the store it will save a lot of time.
Ingredients
¼ Cup Unsalted Butter at room temperature
½ Cup Sugar
1 Large Egg
1 Cup All Purpose Flour
1 Pinch Salt
¼ Cup + a bit more Sugar
7 Medium Apples, golden are recommended
1 Whole Organic Orange, for the zest
Instructions
To make the crust
Blend butter and sugar until well mixed
Add the flour and salt and combine well
Let the dough rest for about 30 minutes, while you are preparing the filling
Roll the dough out to about ⅛ inch in thickness
Cut a circle of dough to fill the bottom and the sides of a pie baking dish
Cut the rest of the dough in strips for the top of the pie
To make the Filling:
Peel and grate the apples
Add the sugar and orange zest and mix well
Place the mixture in the pie dish on the pastry
Then arrange the dough strips artistically on the top
Bake for about 55 minutes at 350 degrees Fahrenheit, until the pie is golden brown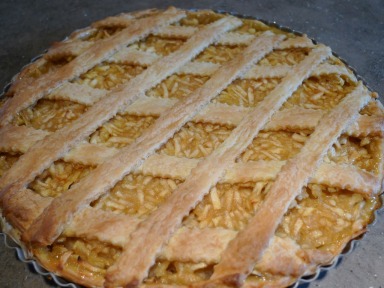 Food Travel Tags:
Apples, Easy sweet tart recipes, French Recipes, Healthy Apple Recipes, Panade aux Pommes, Pies, Tart