The idea for this hike came from a friend at the International Hiking group of Provence. The twosome needed to find a short hike that was not too far from the house, so they would have enough time to get the car to the mechanic.
Nutmeg consulted her "Must Do" list for Provencal activities; it was February so a day at the beach was not rising to the top of the chart. Not too far down the list, was this walk, les Gorges de Régalon a short, challenging hike that was close to home. (Walking in Provence West Guidebook).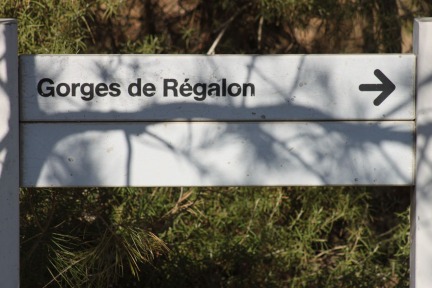 Les Gorges de Régalon is located between Cavaillon and Mérindol, in the Vaucluse. The circuit is only 9km and certainly offers a bit of everything. The walk starts at the easily accessible parking, which is free in the off-season. The first stretch is a walk along a creek bed and then passed a small olive tree grove. Immediately after the olives, the trail heads straight into the gorge. The direct path is evident as the canyon walls close in, and there is little choice but to scramble along the rocks and follow the narrow corridor.  This is not a hike for those with claustrophobia and unequivocally not on a wet day.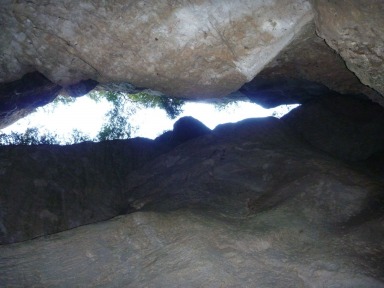 After about 40 minutes, you emerge from the clenches of the cool rocks into sweeping views and a wider path. The path becomes a fire road and continues gradually upwards. The vistas are fantastic, limestone cliffs, green pines, scrub brush and the remarkable aroma of herbes de Provence growing in the wild.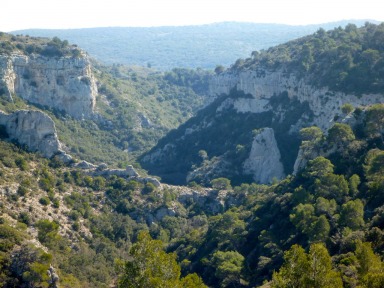 The highest point of the hike is approximately halfway through the walk, a nice spot for a break.  Stop for a few minutes, to reflect on the fact that the topography was likely established 6 million years ago, as the Alps were formed. The sand underfoot in the canyon remains proof that the Mediterranean waters used to lap the rocks in this area, some 2 million years ago.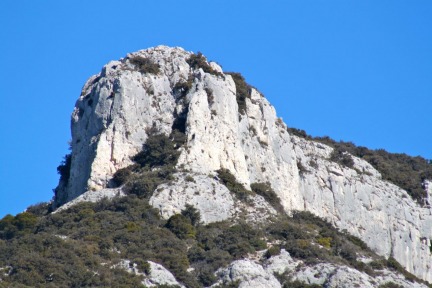 The second half of the circuit includes a gentle descent to an old farm la ferme des Mayorques and then a steep, narrow, rocky section. Nutmeg was a little sad that she had not brought her hiking poles for this stretch of the walk. The final section is on a road, part of which is paved.  The entire hike is 9km, takes about 3.5 hours; there are lots of signs and paint flashes to indicate the way. You can find some more detail here.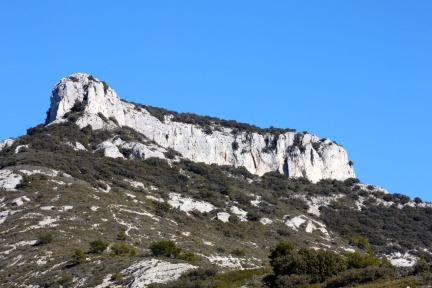 Ginger and Nutmeg had an enjoyable afternoon, including a picnic lunch with a beautiful view over the Luberon valley. They arrived back at their car to be told by a lady that, in fact, the hike was closed, maybe that is why there were no other hikers on the trail. 🙂
We hope you enjoyed the photos.
Food Travel Tags:
Hiking in France, Provence Travel, Randonnee in France, Travel in France