Bastille Day (La Fête Nationale) commemorates the 1789 storming of the Bastille in Paris. Two years running, our village attempted to host fireworks on the 14th only to be stymied by the wind. Leave it to the Parisians to have their traditional parade on the Champs-Élysées. Eygalières was going to party the night before.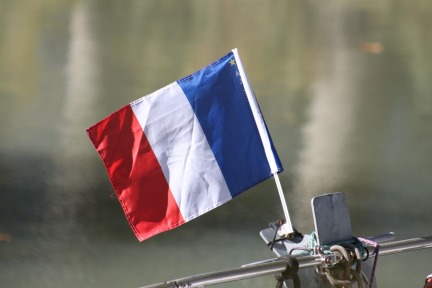 18h: Sounds of the band testing their equipment – CHECK!
20h: On Rue de la République vehicle traffic was replaced with long rows of communal tables and chairs. The tables were scarcely occupied, but the bars and cafés were full of clients socializing over the apéro hour. Bar patrons understood it would be a while before la Grande Paella. Nutmeg's group selected some seats and ordered some rosé.
The evening is called la Grande Paella with good reason; the enormous sizzling skillet requires 4 men to carry it from the fire to the serving table. Each pan, heaping with saffron rice, red peppers, chicken, sausage, prawns and mussels is able to serve about 40 healthy dinner plates.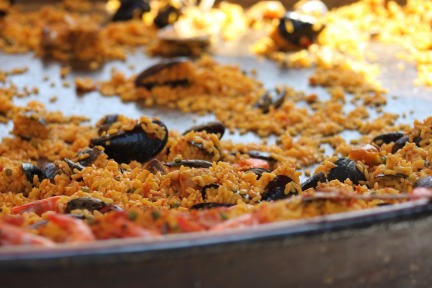 21h: The meal service starts with the entrée, half a cantaloupe and a shot (if desired) of Porto. Nutmeg is not typically a melon fan, but willing to be converted when the Cavaillon fruit is sprinkled with a little fortified liquor.
The crowd is a rich melange of village residents, tourists and folks attracted from neighbouring towns. The dinner costs only nine Euros, and that includes the entrée, a heaping plate of steaming paella, baguette, ice cream, wine and water. Although, the cuisine may not rank amongst the finest of French epicurean delights, it is hard to argue with the affordable price point.
The streetscape on this evening is diverse. The nine-Euro crowd dine in a convivial manner drinking wine out of plastic cups and swapping stories with friends and recent table acquaintances. Less than two strides away, restaurant tables are anointed with white cloth coverings and glass stemware. The restaurant crowd at tables on the terrace observe the scene from a slight distance.
There is no dress code for la Grande Paella. The range of garments is as vast as the crowd is diverse. Those who came directly from the beach are barely covered up. Those who plan on dancing are in summer casuals. Older couples enjoying a night out are dressed up. And the "see-and-be-seen" set is easily spotted still wearing their dark sunglasses, extremely short dresses and impractical stiletto heels.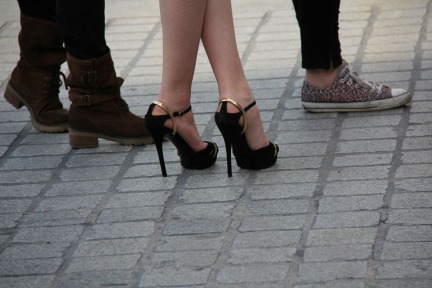 Through this crazy blend of humanity, local dogs roam freely looking for food scraps and a bit of loving. Scruffy dogs and the well groomed alike seek strategic spots for servings of leftover paella.
22h: The band starts to rock the crowd.
24h: Nutmeg started typing this post as there was NO chance that the band going to wind down anytime soon. The music still going strong, the dancing girls now on their 8th costume change and the crowd are begging for more music and less clothing… only in Provence according to our French friends.
1am: Nutmeg could not decide whether to take a sleeping pill or put on her shortest dress and join the ladies.
2am: Everyone is happy that le quatorze juillet celebrations were over for another year.
Food Travel Tags:
Paella, Provencal Food, Provence Travel, Spanish Food, Travel in France