Fault lines, droughts and dust storms are the realities of the California desert where nothing can be too permanent or too real.
Pioneertown may look like a Wild West frontier town from gold rush days, but it in reality it was created in 1946 for western-themed Hollywood movies. Complete with facades of banks, jails, saloons and stables this veneer of a town was the stage set for over 50 movies through the end of the 1950s.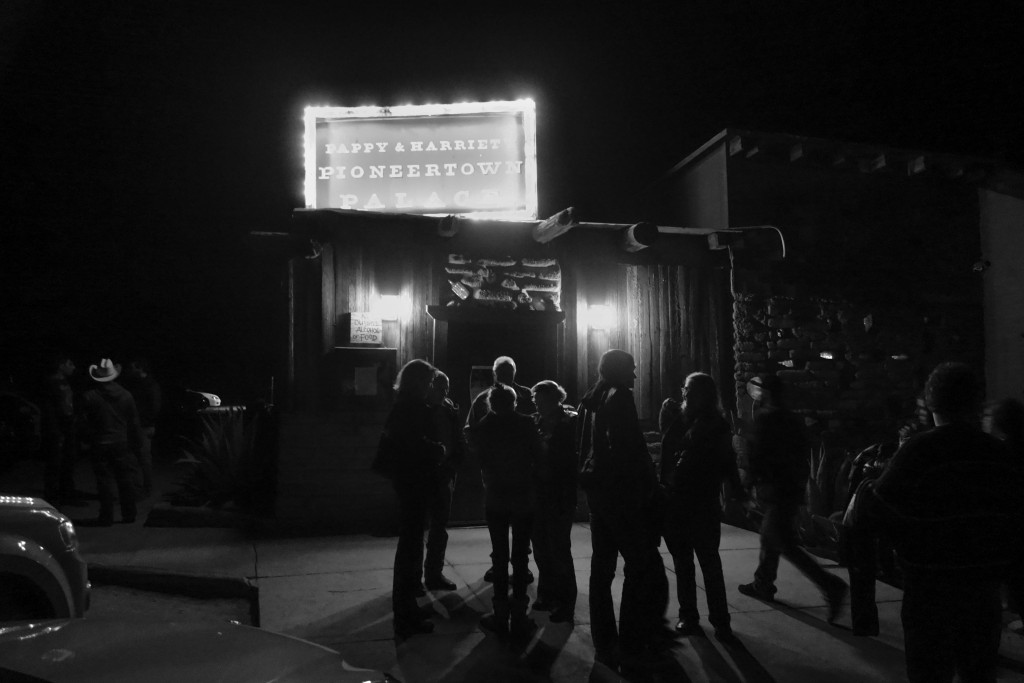 La Cantina was one of Pioneertown's well-photographed backdrops. In 1972, Francis and John Aleba purchased the building and converted into a real-deal biker bar – The Cantina. The next chapter (1982) for this watering hole was ushered in by their daughter Harriet and her husband "Pappy" hence the name Pappy & Harriet's Pioneertown Palace.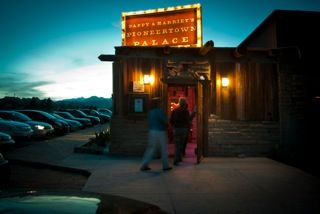 There were a few more ownership iterations until two New Yorkers – Robyn Celia and Linda Krantz – purchased the club in 2003. Robyn says they had a vision and "We bought it with credit card loans!"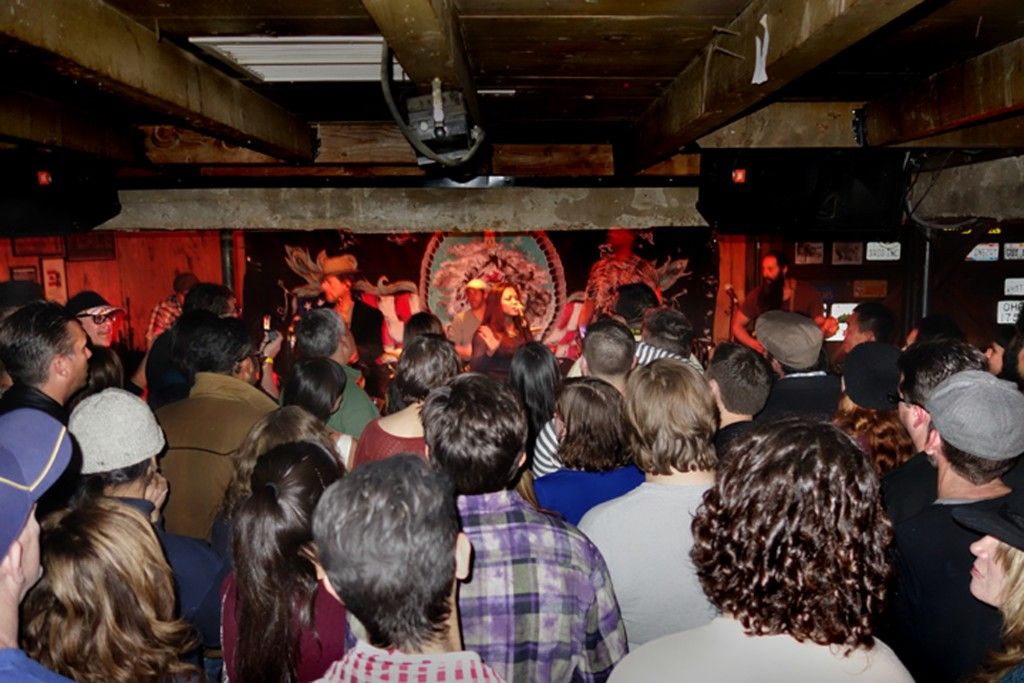 Needless to say, interior improvements were not a priority for these two ladies whose collective goal was to reignite the bar's legendary live music vibe.
It takes a few moments for your eyes to adjust to the dusty lighting inside the timber-framed structure. As you begin to look around you might notice that the walls appear to be standing only with the help of hundreds of vintage license plates affixed to every surface. You might also consider your luck that it is not raining during your visit as the corrugated tin roof has a few holes. You might wonder who scratched their lover's initials into the wooden bathroom stall or who buys the Pappy's trucker hat from the retail inventory.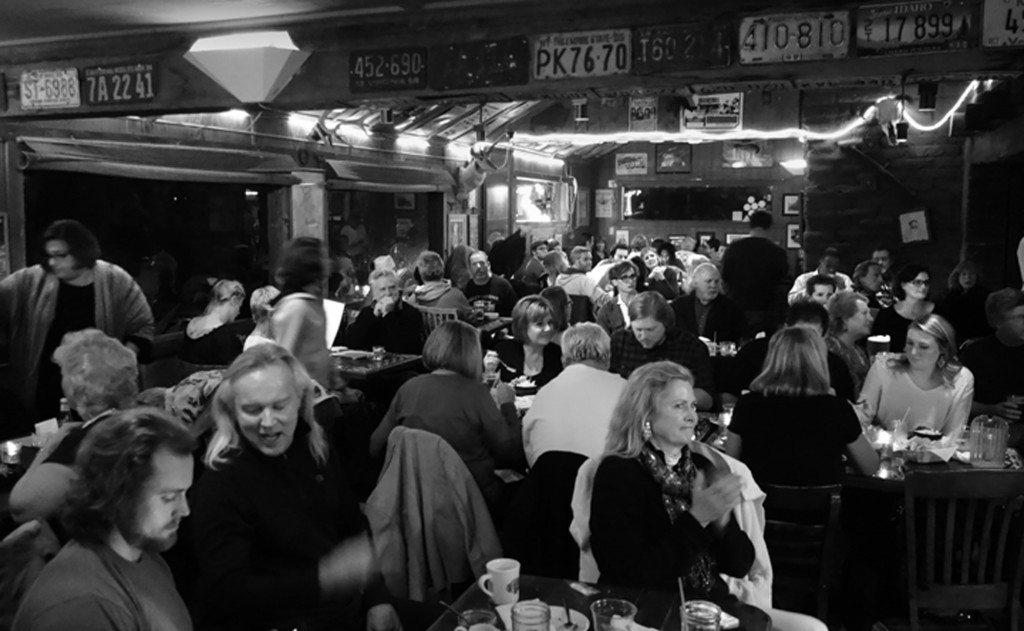 G&N were invited to join a group on a road-trip to Pappy & Harriet's. The group's excuse was the remote possibility of a big name act from Coachella Valley Music and Art Festival showing up unannounced for the Open Mic Night.
Folly?
Not at all!
This is a bar that has hosted Robert Plant, The Arctic Monkeys and Rufus Wainwright…
If you plan a trip to Pappy & Harriet's you need to make a reservation – remote does not equal sleepy. On a Monday night, Nutmeg noted that the Robyn and Linda have recreated a buzzing club scene where long hair, body tattoos and piercings mix with an eclectic variety of amateur music. The kitchen staff and servers are flying to fill orders for everything from kale salad to burgers. Robyn confirmed that the two top menu items are the ribs and the organic flat iron steak.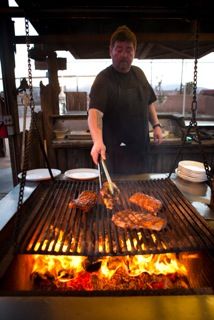 Before Pappy & Harriet's, Robyn was in a band, and she paid her bills by waitressing, and Linda discovered Pioneertown while she was in the film industry. Now, they are running a western time warp with capacity for 350 inside and 1134 outside and have successfully rebooted the rowdy music scene.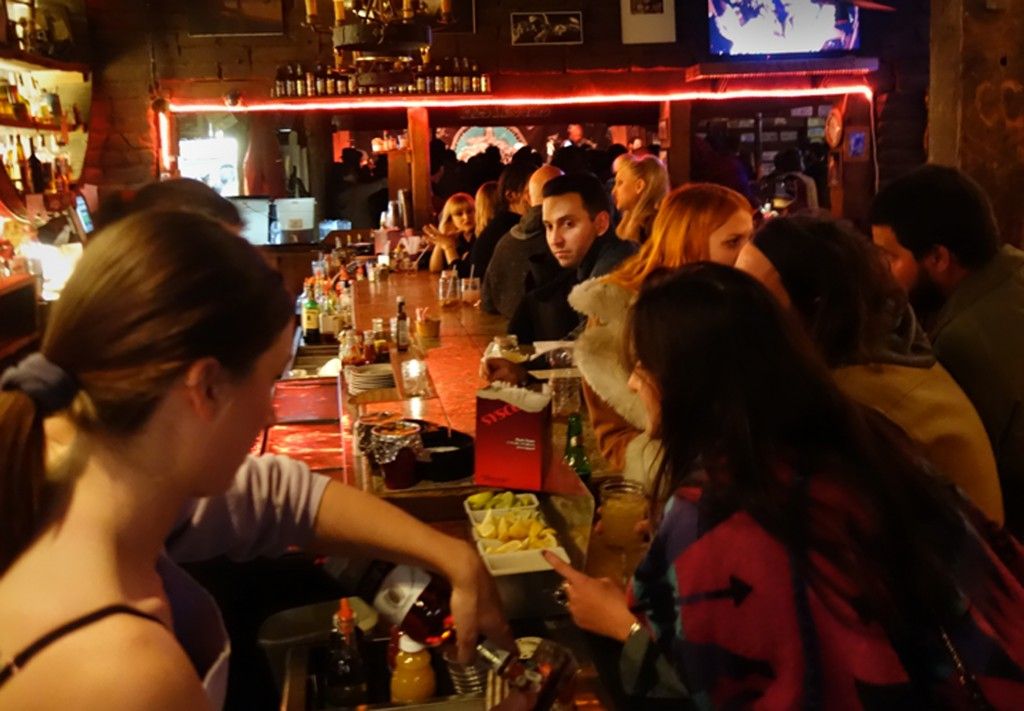 Image Credits: All photos were provided by and published with the permission of Pappy and Harriet's
Food Travel Tags:
Bar, California, Pappy and Harriet's, Pioneertown