Today, your GPS or smartphone might just lead you to the middle of nowhere – East Jesus. This artist's colony is a couple of dusty miles away from Slab City, a squatters' settlement that feels like an Imperial Valley desert metropolis once you reach this commune, literally at the end of the road.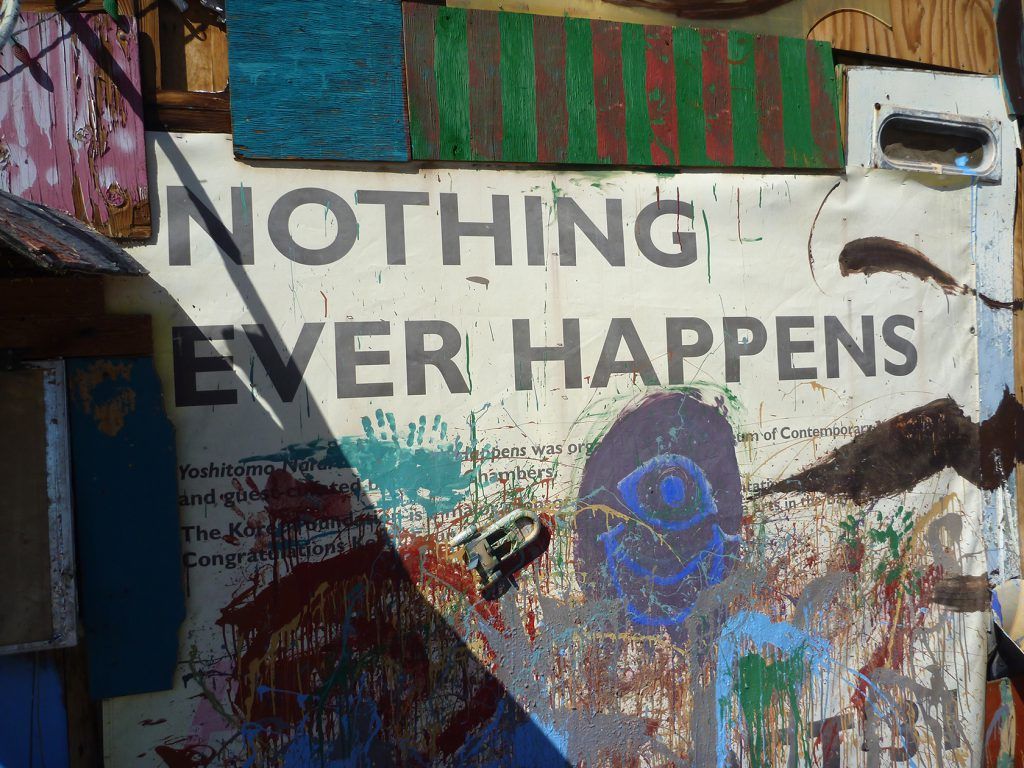 East Jesus attracts contemporary artists who choose to work with other people's junk and discarded materials. Today, the non-profit Chasterus Foundation manages the creative direction and boundaries of this open-air art installation in the desert. Charles Stephen Russell left the corporate world and headed to the California desert in 2007 with a shipping container full of sculptures and what some might consider garbage.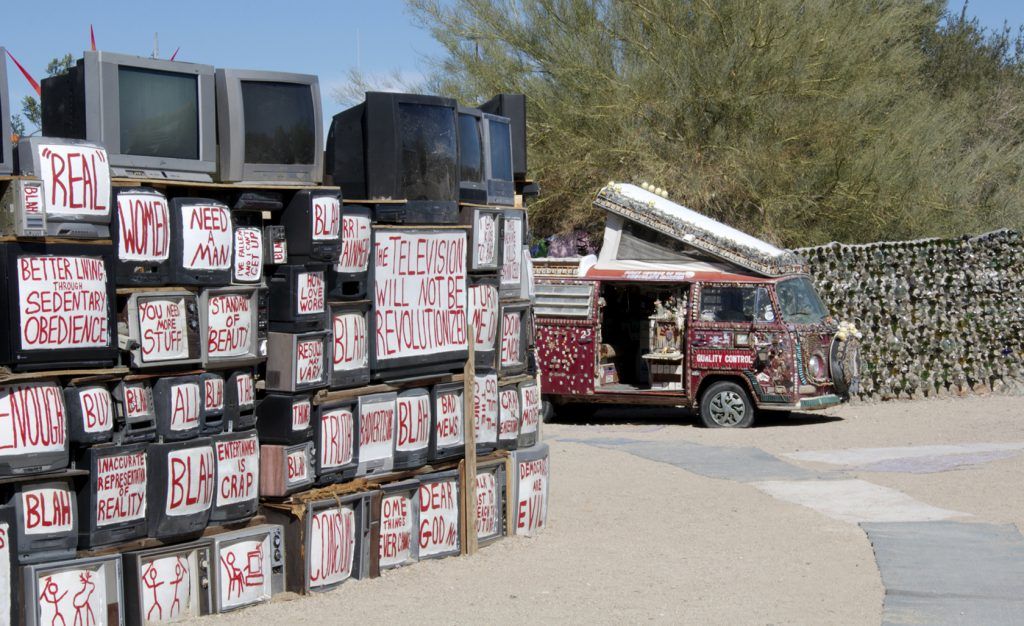 His vision was a collective for artists where they could live while experimenting with their chosen art form. A place to promote sustainability by recycling and reusing discarded materials for contemporary art, and an open-air studio with few (if any) boundaries. Russell has subsequently passed away, but his legacy survives in the rotation of resident and visiting artists, and a steady supply of discarded goods.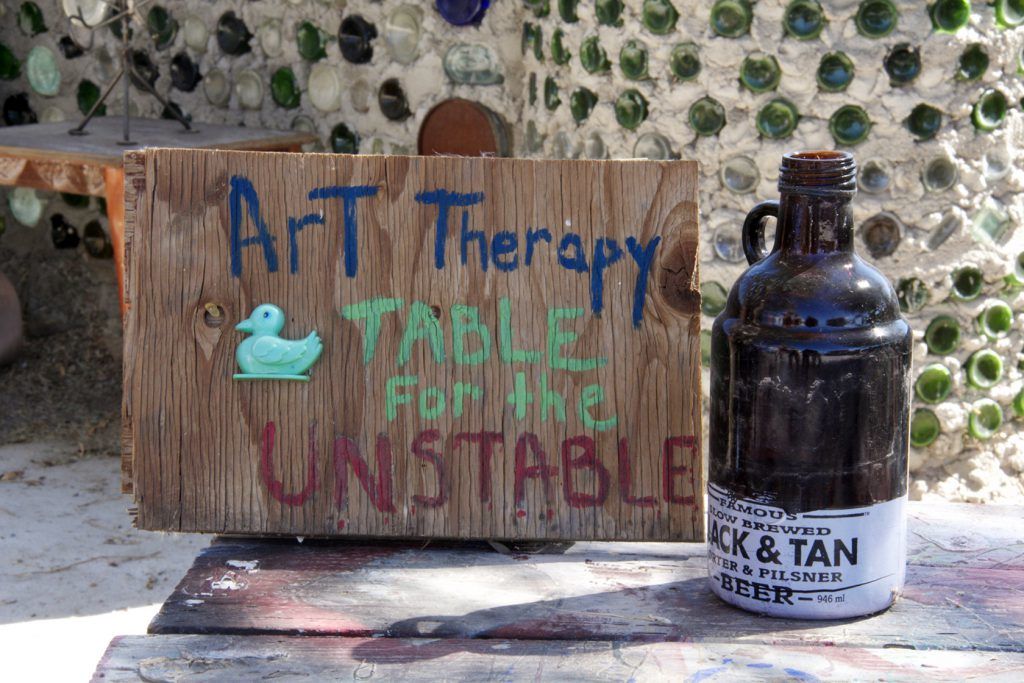 You can visit the East Jesus Art Garden at your own pace. The Art Garden's pathways are not lined with petunias, but rather with pebbles. Force yourself to wander slowly, as it takes some time to observe the detail in the sculptures. The giant alligator (?) is easy enough to identify, but it takes a few seconds or more to realise that his "skin" is made of plastic grocery bags. At first glance, the Tower of Barbarella is whimsical, once your vision narrows to the mix-master whisks you start to appreciate Royce Carlson's creative re-use of other everyday items.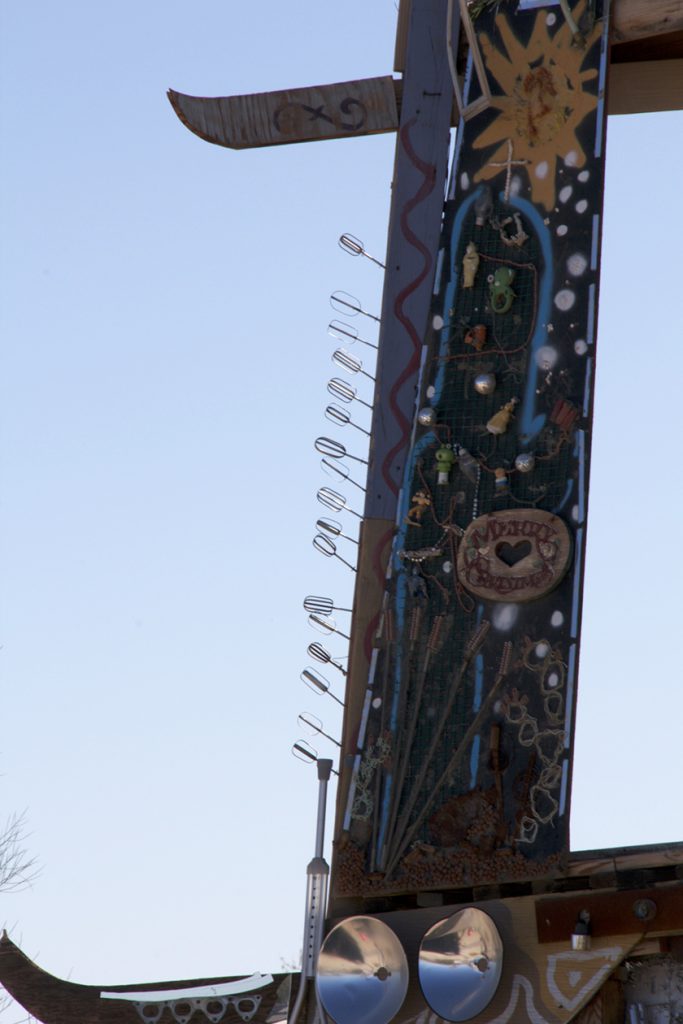 For the full list of the Art Garden installations click here.
However, the heart of East Jesus lives behind the Bottle Wall, and to visit the artists' shared living quarters, you must be escorted. G&N's guide goes by the name of wizard – fitting for someone who might have walked straight off the pages of a J.R.R Tolkien book.
Behind the glass bottle and cement divider, is a labyrinth of tented, semi-shaded rooms. There are few walls; most spaces simply bleed into the next one. The two toilets (men's and women's) – out houses – are the only fully enclosed exceptions. There is a bar, a kitchen, a BBQ area, a workshop (for tools) and a lounge.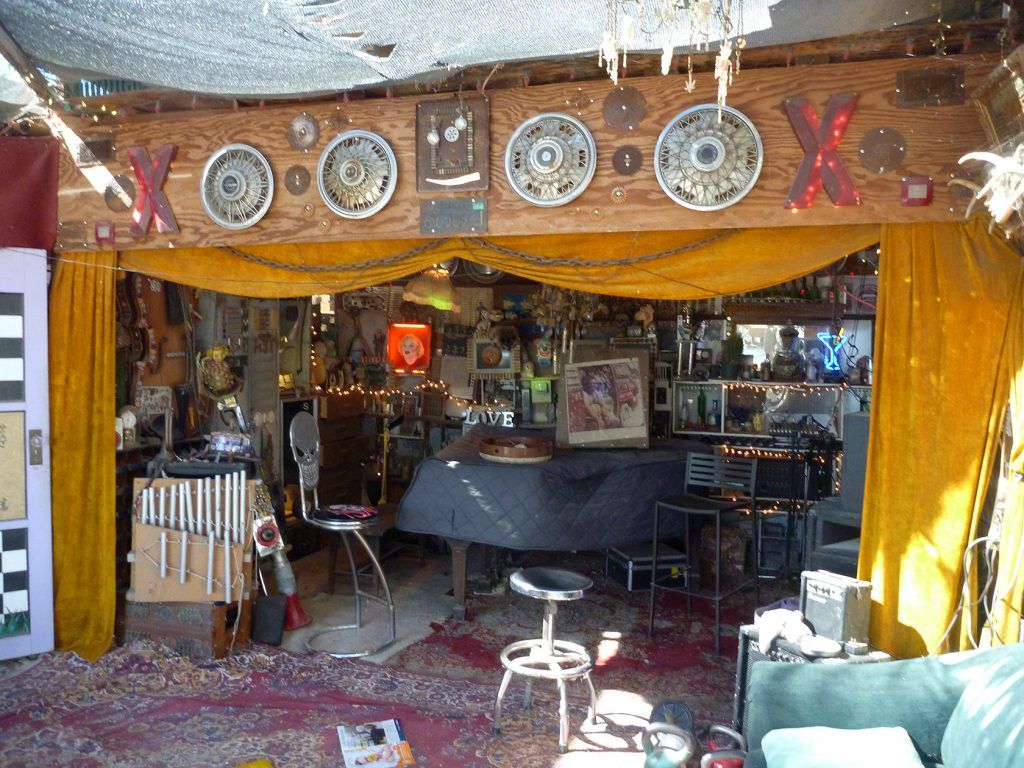 Equipment at East Jesus runs on a combination of solar and wind generated power. The soul of the site lies in the collection of the artists who are present working in this implausible location in the middle of nowhere.
However, times might be a chang'n at East Jesus
We have the opportunity to purchase the land East Jesus sits on. We must raise $90,000, or we risk having the land leased out from under us. Help us preserve and protect East Jesus with a tax-deductible gift.
To donate follow this link.
Images: the images in this post are personal and not used for any commercial purpose.
Food Travel Tags:
Artists, California, Contemporary Artists, Desert, East Jesus