Finally, G&N landed "down-under" on a 30-day Australian "bucket list" trip – it had been a 25-year discussion.
Described by friends as "Vancouver without the mountains" and "Stockholm with more people," Sydney is Sydney without any comparable. Not entirely sure what to expect of the five-million person (not including visitors) metropolis the twosome stumbled out of their Darling Harbour hotel to explore the highlights. Late morning, after the 20-hour transit including a 16-hour flight leg the only thing on Nutmeg's mind was finding a strong flat white coffee (maybe two).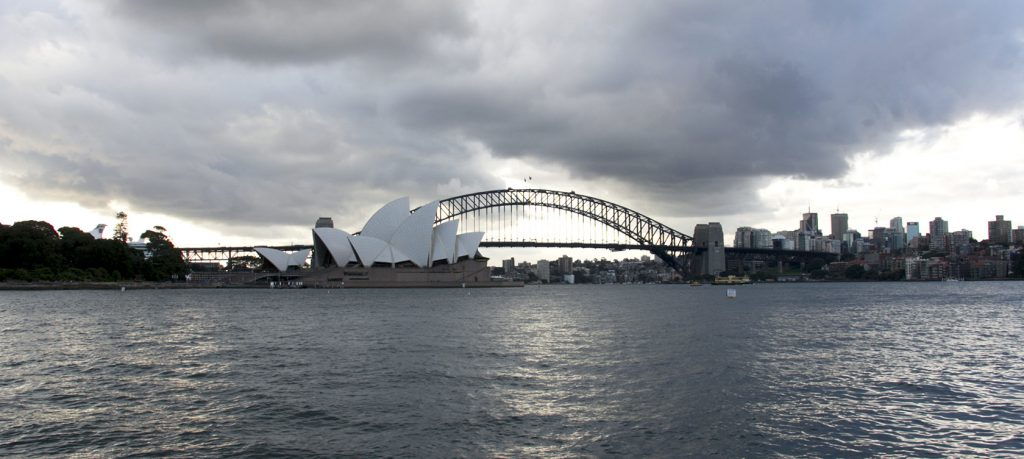 At lunch-hour in the financial capital, you could be the last pin standing in a bowling alley with a 10-pound ball careening your direction. G&N were buffeted by runners squeezing in their mid-day fitness regime along Sydney's beautiful waterfront and designated pathway system. However, the worst offenders were the Sydneysiders streaming from their corporate offices (Sydney's workforce makes up nearly 20% of the national total) to restaurants with their heads buried in their smartphones oblivious to yet another wayward tourist (2015 tourism statistics).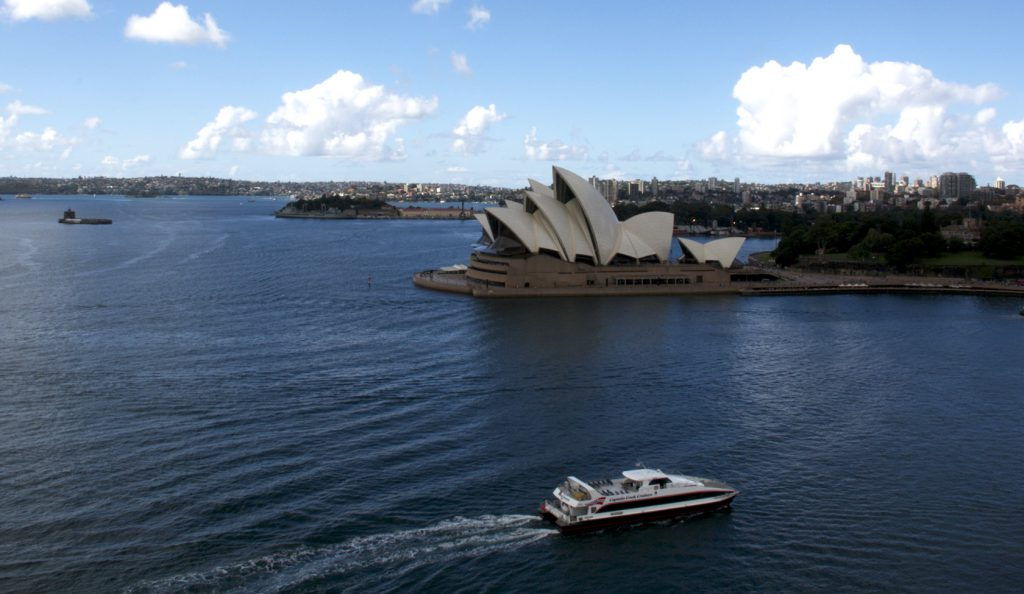 G&N cobbled together a "what to do in Sydney" list from suggestions they had received from friends, into manageable targets for three days. Their shortlist was then "buttered up" by a friendly Air Canada flight attendant who recommended a few additional stops. The following are some highlights for a short stay in the capital of New South Wales, an amazing city that threads together beaches, fine dining, markets, city parks, shopping and an economic engine called tourism.
Day One – Arrival and Orientation in Sydney:
Their aim for arrival day in Sydney (or was it the middle of the night in Alberta?) was to try and stay awake as long as possible. "Don't give in to sleep." This mantra reinforced by a long waterfront walk, a little bit of getting lost, and a few flat white coffees. The first stop along Sydney's waterfront was Walsh Bay at Bar Cycle, for lunch and according to the restaurant's tagline "Coffee with a view." This cycle shop (repair, fitting and sales) and café is the baby of Alberto Talone (ex-pro racer from Italy). The place is bustling with orders for fresh sandwiches, wraps, salads and daily specials. Bar Cycle is worth a stop for food, people watching and a glimpse of the water.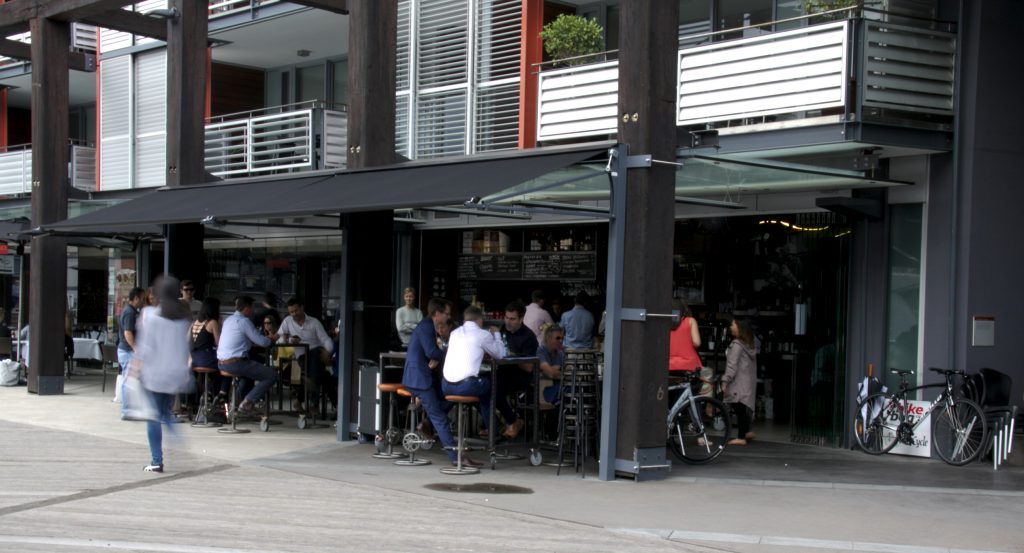 Sydney's waterfront is, for the most part, one continuous walkway, except where new high-rise office buildings, hotels, and other construction projects hamper the route. G&N walked to the famous Opera House and opted for the 3 pm tour, their guide was informed and enthusiastic about the iconic entertainment space. Designed by Danish architect Jørn Utzon the Opera House is austere yet warm, bright yet subdued all wrapped in 1-million perfectly balanced roof tiles.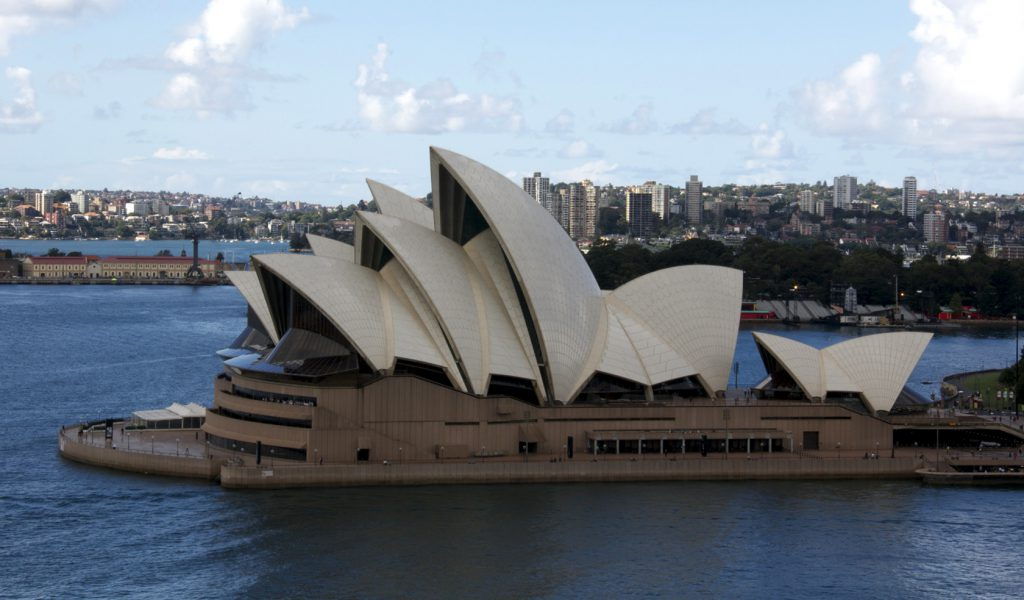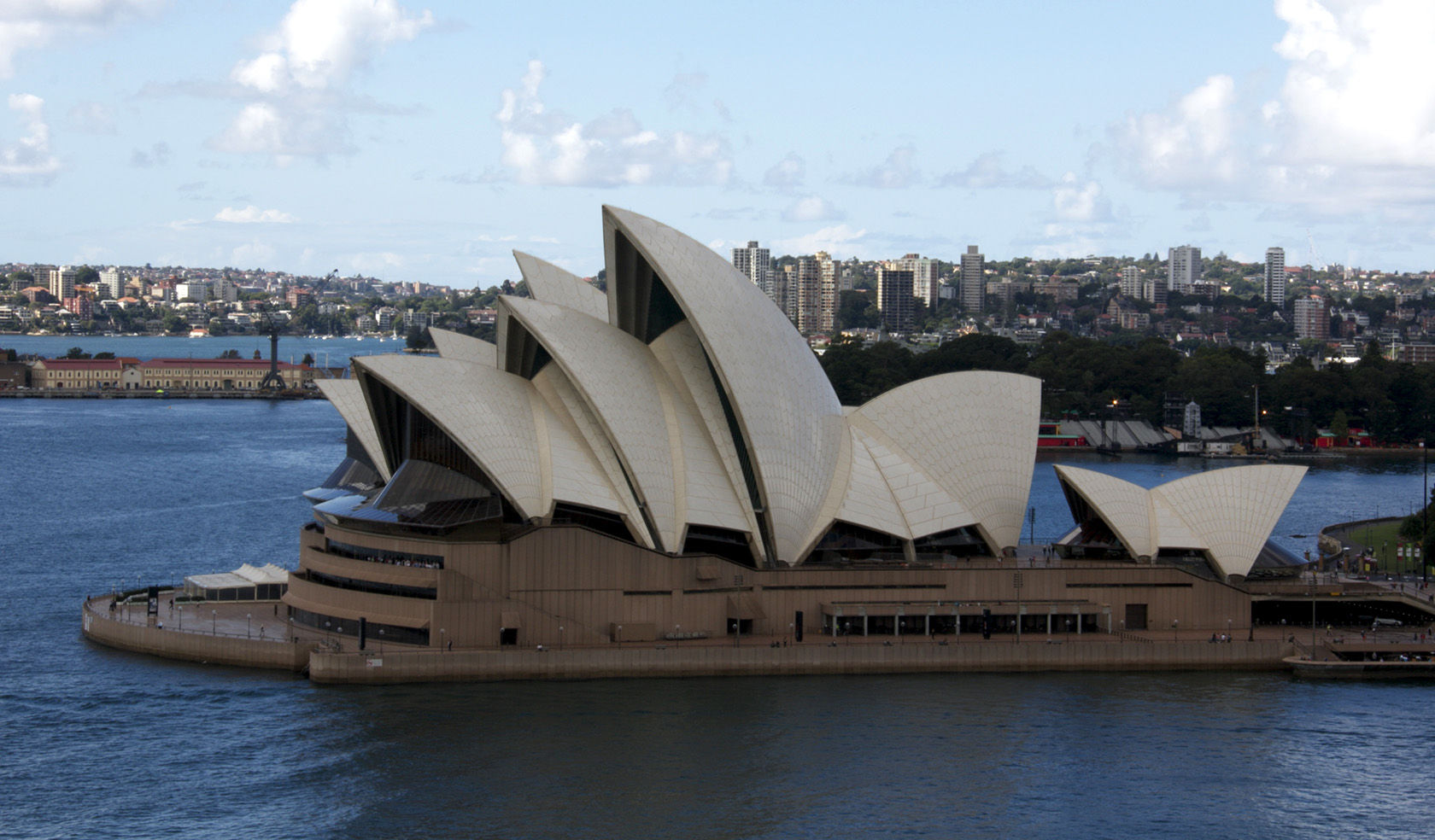 Adjacent to the Opera House is the Royal Botanic Garden that stretches from the harbour toward the city centre, this public garden is a green space of epic proportions. The gardens recently celebrated a 200-year anniversary (2016) with tree specimens that date from the beginning of that era and a strong reputation as a scientific institution (read more here). A must for a Sydney visit is to meander through the park admiring the giant trees and doing your best to avoid the noisy and somewhat angry cockatoos.
Exhausted and having certainly exceeded their 15,000 daily steps the twosome returned to their hotel the Ovolo 1888 and joined the bar crowd to indulge in the hotels' free happy hour. Sleep quickly after drinks and dinner.
Day Two – Downtown to Manley Beach:
Sydney's transit system is easy to master, and affordable, purchase an Opal Card and enjoy safe, clean travel to almost any part of the city. Their day started with a walk across the Harbour Bridge for fabulous views of Sydney's waterfront and Opera House. G&N followed recommendations that they did not need to pay for "Bridge Climb – Sydney", but rather just stroll across at deck level. It was a fabulous suggestion except it was only at the far end of the bridge that they discovered the bus they wanted for their next waypoint was only available back on the harbour side. Needless to say, G&N had an excellent look at the bridge that morning – a walk, a train ride and a bus ride.

They took the bus (#248) to Spit Bridge to begin their walk from there to the town of Manly an urban hike of roughly 10km. The trail hugs the coastline, crosses green spaces, enters rainforest zones, leads to aboriginal sites and skirts several Sydney neighbourhoods. There were two significant discoveries along the walk, #1 this is NOT a flat coastal path, but be prepared for some rolling hills along the hike #2 there are essentially few opportunities to buy food or drinks along the way.
The trail remains blessedly natural, but you should be prepared (water, snacks, sunscreen, etc.). The route is signposted; there is quite a bit of shade, a few chances to swim and many spots for photo-ops. The walk from Spit Bridge to Manly is a must!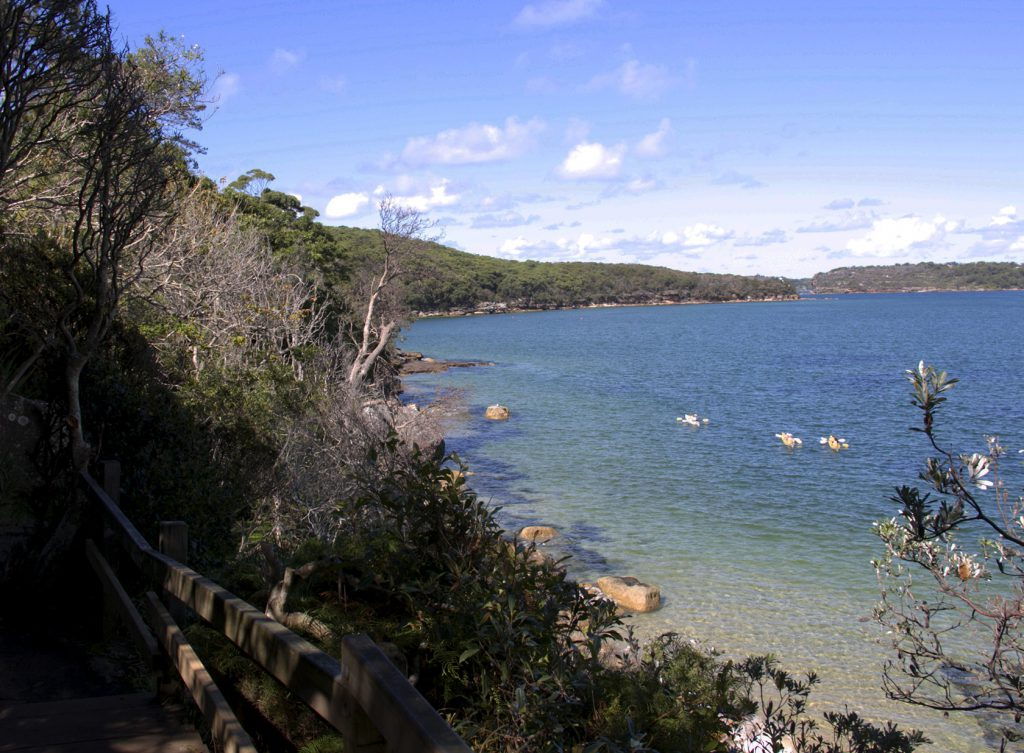 The twosome who had shared a stale granola bar during their hike were happy to arrive in Manly and its choice of restaurants. They had a late lunch at Hugos facing the sparking water – cold beer, pizza, and salad, followed by a ride on the Ferry back to the city centre. It was a perfect afternoon.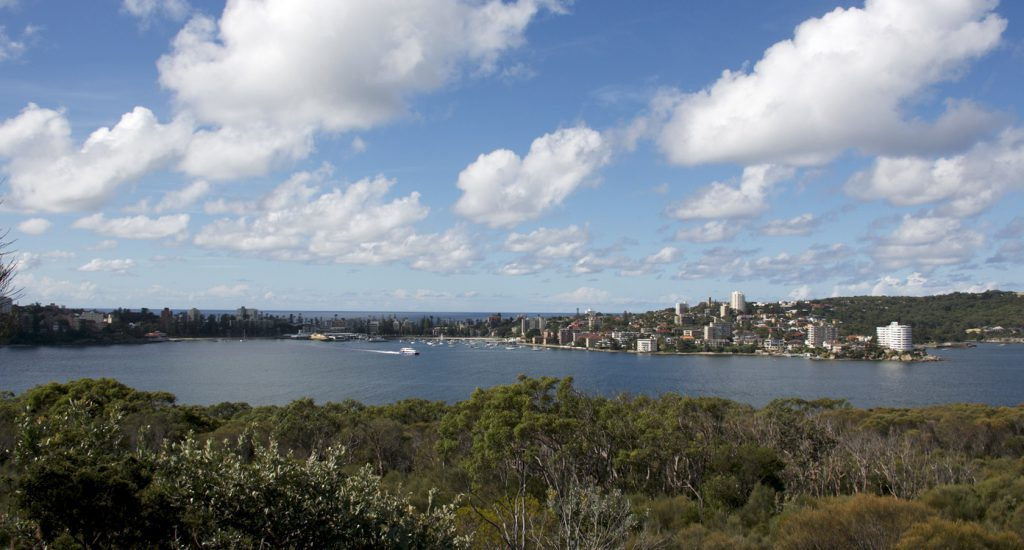 Dinner, on the other hand, was disappointing. Darling Harbour is surrounded by big hotels, a soon to be finished convention centre and large, loud, impersonal restaurants.
Day 3 – Beach time at Bondi:
G&N decided to head towards the illustrious Bondi Beach to see how Sydney's surfers handle the waves. With transit balances left on their Opal Cards, they took the bus to Coogee Beach and strolled the headlands trail to Bondi. Including photo stops, the walk was roughly two-hours long and although not flat it was certainly not difficult. A friend had suggested lunch at Bondi Icebergs Club a surf and swim club with a prime location on the beach. The menu offers something for all tastes, with daily specials and traditional fare such as fish and chips. The view at Icebergs is unbeatable.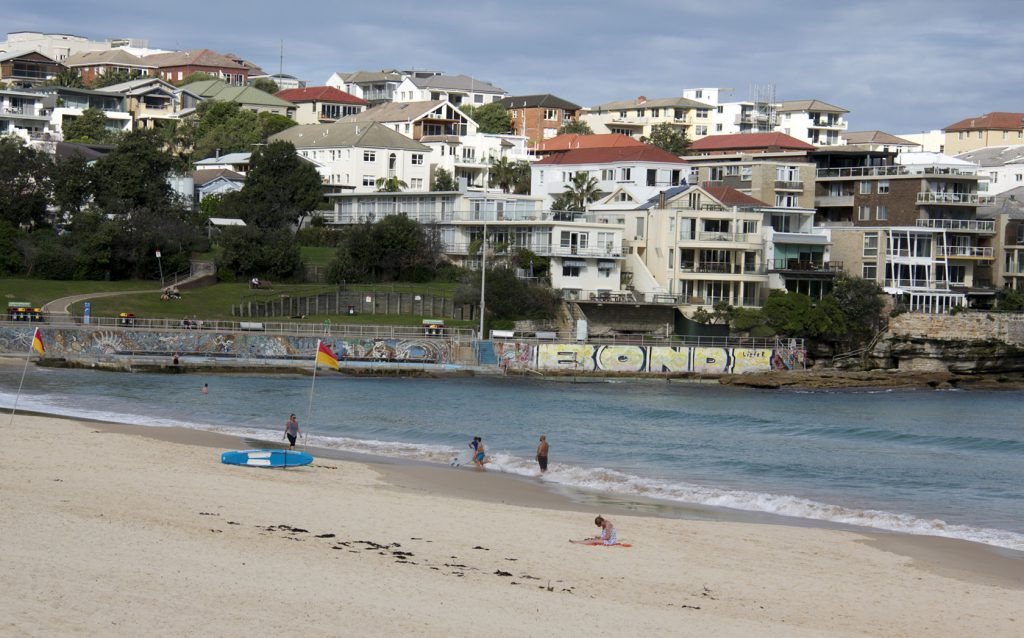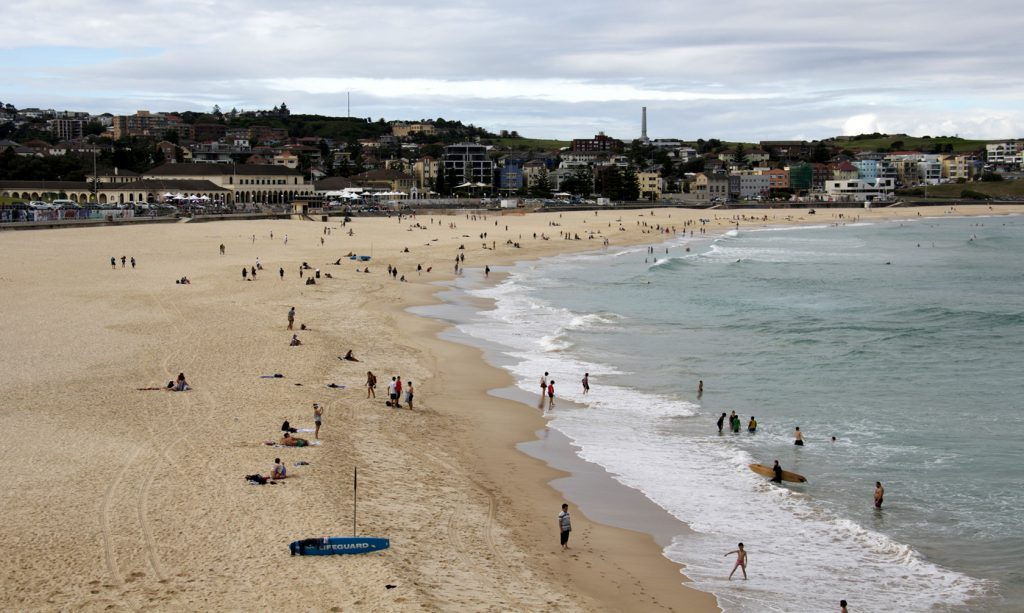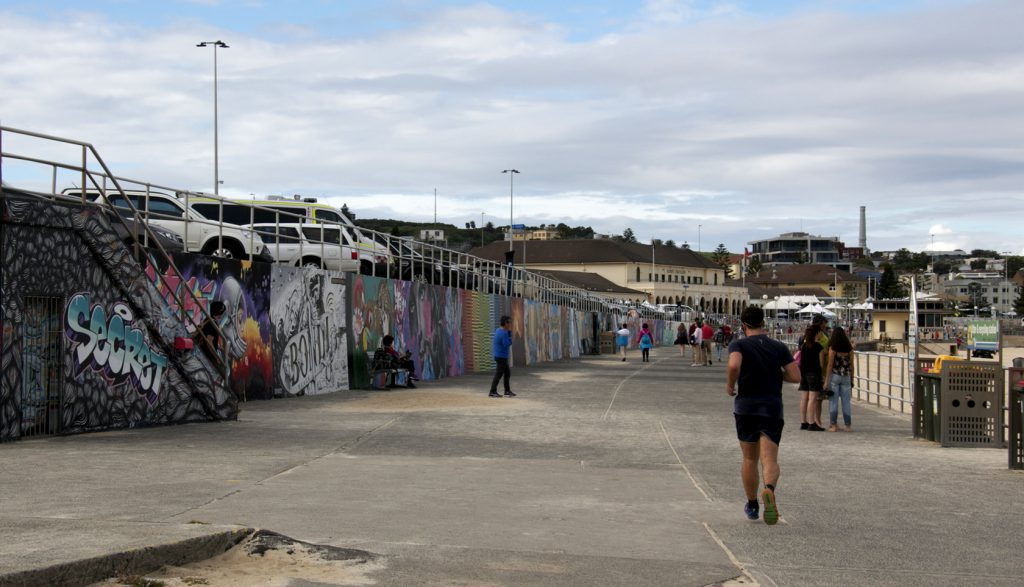 After lunch and a stroll along Bondi's main street (not remarkable) G&N took the bus to Watson's Point and then a ferry back to the city.

Three days was enough to get a "taste" of Sydney and vow that it would not be their last visit.
Key contact Info:
Sydney Visitor Information Centres
*** SPECIAL GIVEAWAY FOR GINGER AND NUTMEG FOLLOWERS ***
For a limited time from May 1st to 7th 2017, you can be upgraded for FREE when you download the GPSmyCity app to get GPS-enabled directions to a beach town visit in Key West, Florida. Simply download the app here.
Food Travel Tags:
Hiking, Manly, Opera House, Sydney, Transit, Travel Tips, Urban walks