"Give me Brisbane Any Day"
After driving nearly 3000 km from Sydney to Adelaide, G&N were happy to hand over the rental car keys. Virgin Australia winged them from cool, rainy Adelaide to sunny and slightly humid Brisbane City. (Enjoy this guide on your smartphone too, skip to the bottom to find out how)
Nutmeg was in semi-tropical heaven.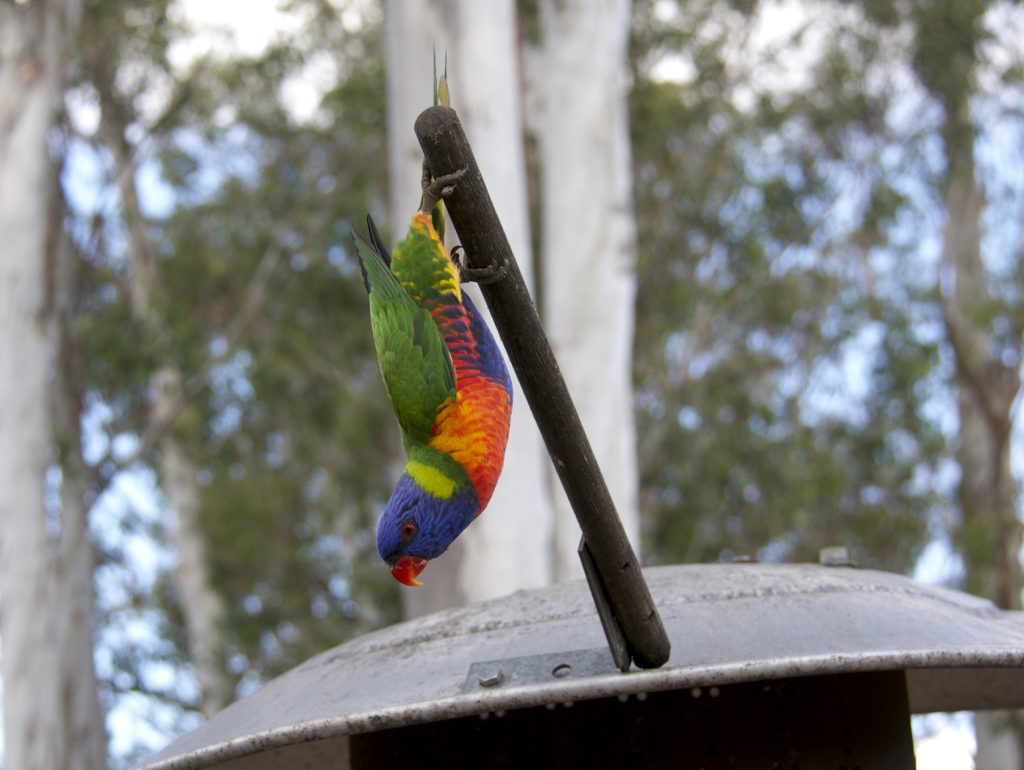 "Brissy" invited G&N to explore her neighbourhoods starting with Brisbane's South Bank. On a sunny Saturday afternoon, this lively venue is where the playground collides with the bar scene. Restaurants compete for clientele on their umbrella sheltered patios and kids' laughter, from the swimming area, slices through the odd break in the bar music.
Day 1:
A heavy tropical downpour masked the sky at dawn, and the forecast for the 1 pm Brisbane Lions vs. Sydney Swans match at the Gabba was worse. For G&N's first Aussie Rules football game, they (read he) were determined that a little Noah's Ark weather was not going to stop them. Besides, public transportation in Brisbane is free – on game day.
It turns out that there are some benefits to sitting in "nose-bleed" seating, besides the obvious you can see the whole field (and barely make out the players' faces). At Gabba, the upper seats are also covered, which is a nice bonus when it's raining. And, as Ginger discovered you can also enjoy a pint (or two) in the cheap seats, which is not the case at field level.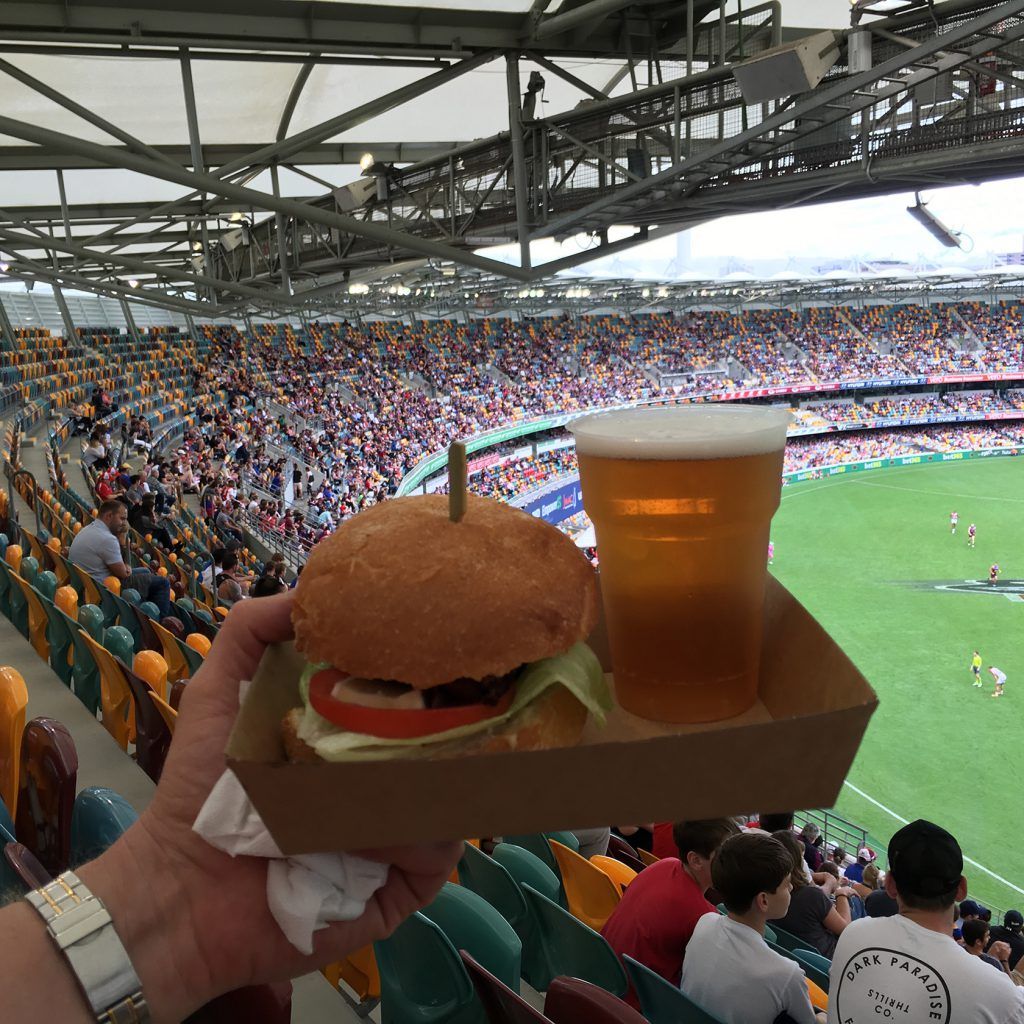 The game was fun, Nutmeg is now an Aussie Rules fan, although she has no idea how it really works. Here is a link for some history on the game, and here to get an overview of the rules.
Day 2:
Was a brilliant blue-sky day, perfect for exploring neighbourhoods along the Brisbane River. The Brisbane tourist office produces an exceptional visitor's guide, a small booklet with a snapshot of each area, a map, key sights and a few recommendations on places to eat and drink.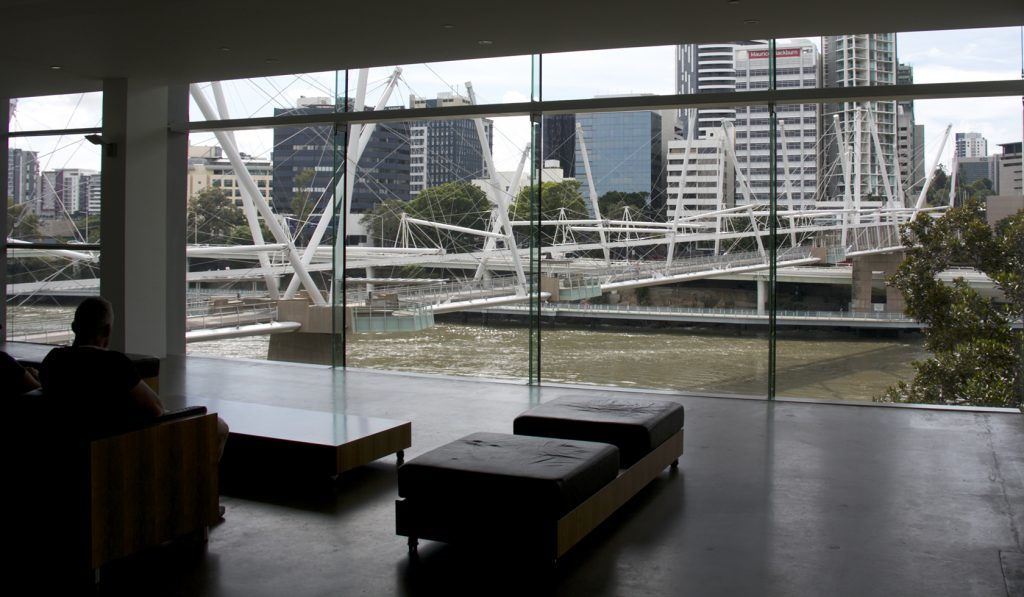 First stop was QAGOMA a mouthful for the Queensland Art Gallery and Gallery of Modern Art. GOMA is a joy for architectural fans; the building is designed to showcase views of the river and the geometric Kurilpa Bridge a $63-million (AUS) pedestrian/cycle connector. Unfortunately, GOMA was in the process of changing artworks from the last major exhibition, permanent collection pieces remained, so large empty spaces were left begging for the next show to start. Regardless, admission (all museums) is free as was the short, guided tour by a friendly docent.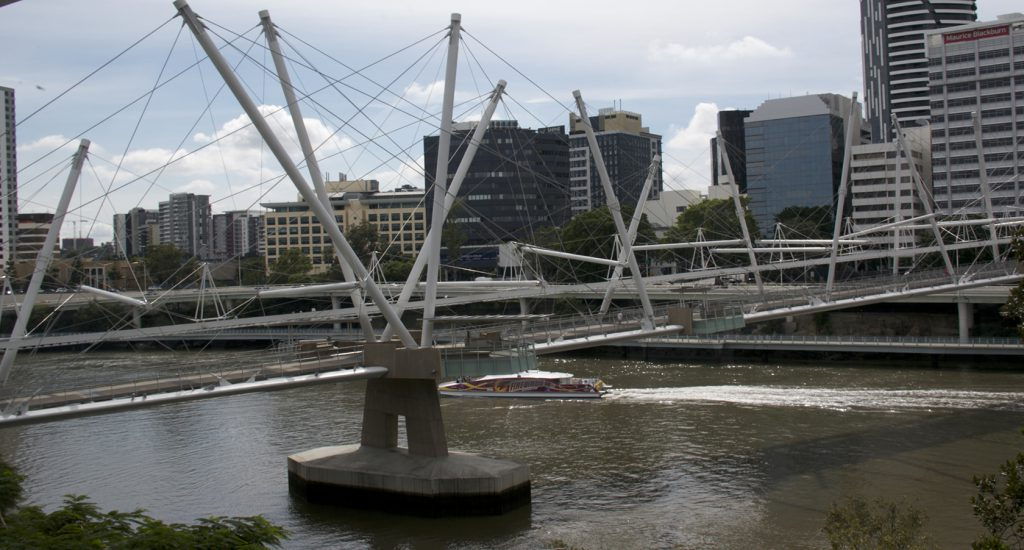 QAG is equally attractive, with an extensive permanent collection of Australian art. There is also a shaded outdoor café and small museum store. QAG is well worth a visit.
Mid-day hunger drove G&N away from artistic culture and propelled them towards the West End an eccentric mix of Asian grocery stores, tattoo parlours and pastry shops. Nutmeg following her guidebook was intrigued to explore "The Home of Retro-Modern Fusion." Ginger was just hungry. When Morning After (apparently THE place for food) was closed, and it was too early (well not really) for a brew pub they settled for an average meal at a nondescript restaurant.
After lunch, Nutmeg was on a mission to visit at least one of the 10 best coffee shops in Brisbane. They arrived at Blackstar Coffee Roasters minutes before the 2 pm closing time, where Ginger gave a thumbs up to the cold brewed coffee.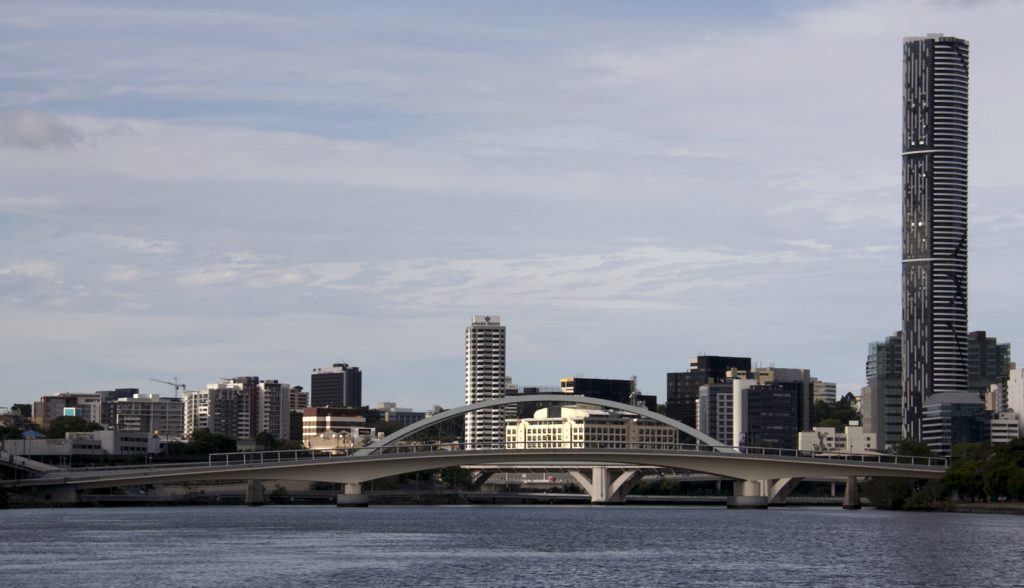 Caffeine-fueled, G&N meandered their way to the river, a feat not as entirely straightforward as one would think between construction sites and dead ends. Happy to sit for a while and let the ferry driver handle navigation they finally disembarked from the "City Cat" in Teneriffe about 60-minutes later, treated to great views of Brisbane and her bridges along the way.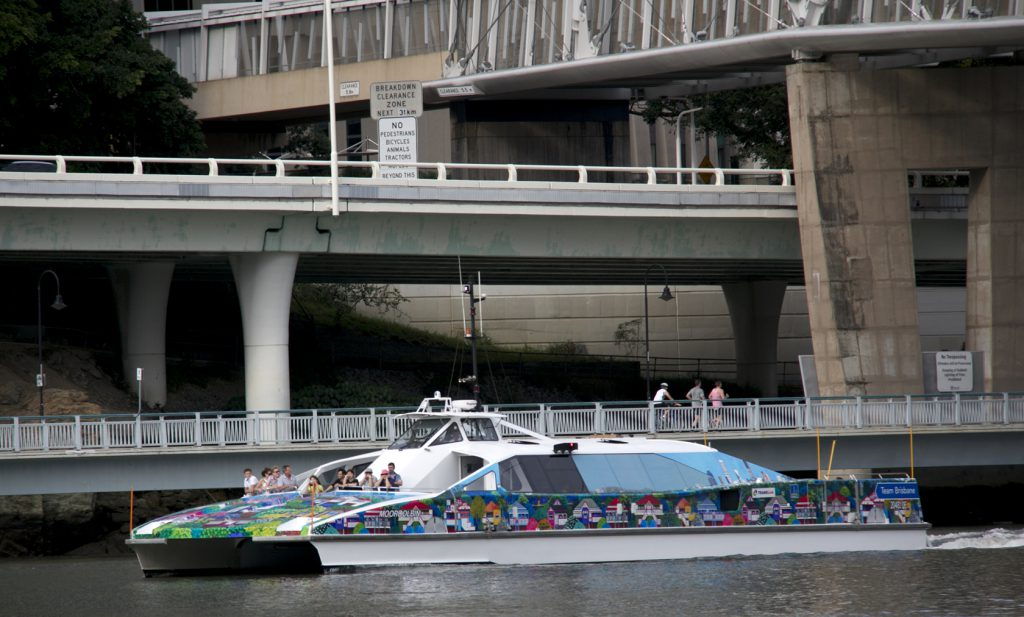 Teneriffe was almost a bust.
Late Sunday afternoon, the streets were quiet and the condo construction sites even more so. As their distance from the ferry dock increased, the urban scenery degraded to busy thoroughfares. Fortunately, a single right turn dumped them into the heart of urban foodie heaven with a fishmonger and Sourced Grocer. Mission accomplish they procured food for dinner, and got to see Brisbane's lights on the ferry ride home.
Day 3:
Urban biathlon day!
Starting with a hike through Spring Hill and coffee at Monk & Grind.
As lunchtime loomed, they rented bikes from CityCycle and rode to Fortitude Valley. The CityCycle concept is similar to that in many large urban cities – you use the bikes for as long as you want and park them in a docking station to stop the "clock." However, the game is that the first 30-minutes are free…you can imagine that Ginger thought that was brilliant.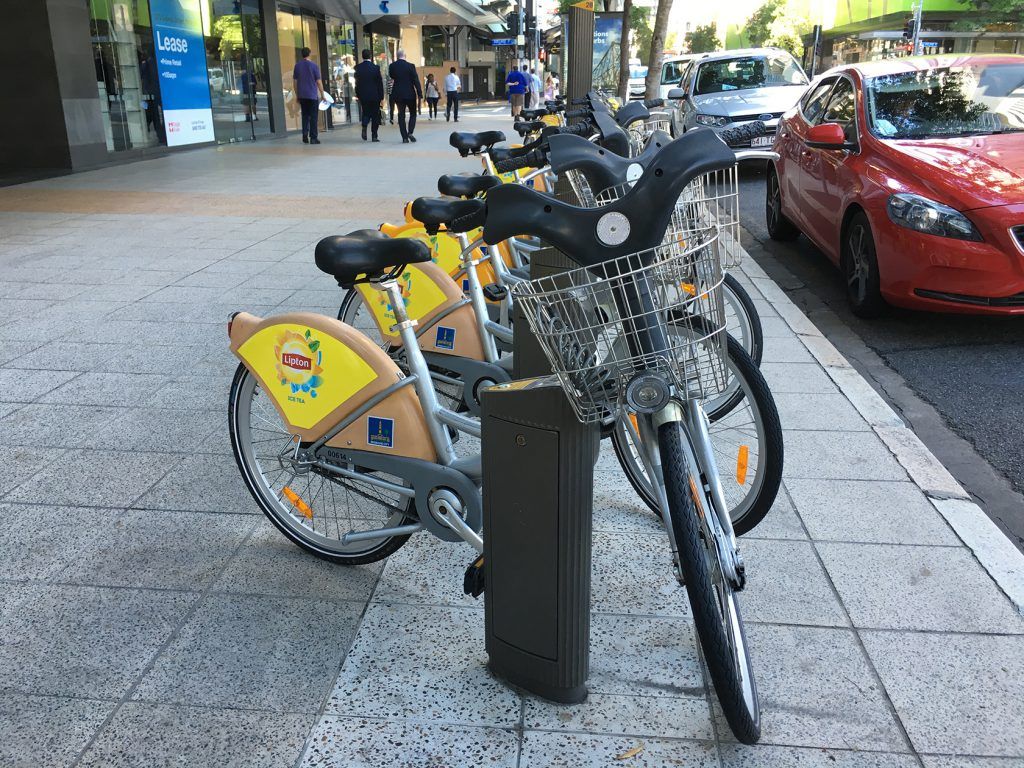 Ok, they were starving, but Nutmeg still thinks the veggie burger she ate at Grill'd might have been the best ever. Window shopping on James Street and a bike back to the Botanical Gardens (in under 30 minutes).
Day 4:
The plan was to head to Mount Coot-tha to see the view from the tallest peak in Brisbane, but the City Market got in the way! The Brisbane City Market happens on Wednesdays 8 am to 6 pm in the plaza at the end of Queen Street. This energetic inner city market is where farmer's market stalls meet the food truck scene. Buy lunch or stock up for dinner or both.
The rollercoaster bus ride alone is worth the excursion to the Mount Coot-tha Lookout, and the guidebook was correct the view is almost a full circle.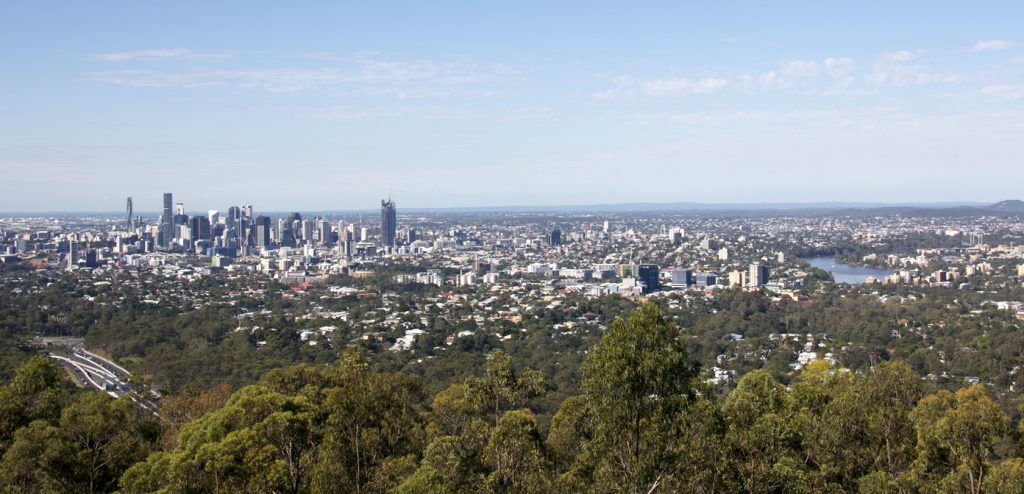 The only issue is attempting to avoid the selfie-snapping crowd. Luckily, there are several hiking trails from the summit, which quickly take you away from the hordes and onto mostly shaded trails. G&N sorted their way down the hill and managed to catch a bus back to the city centre.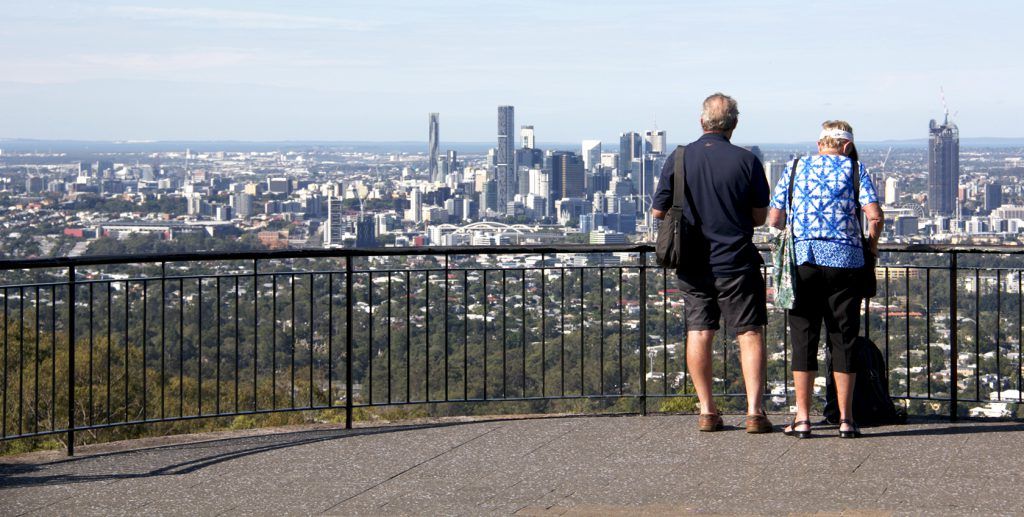 Dinner? Bugs from the market.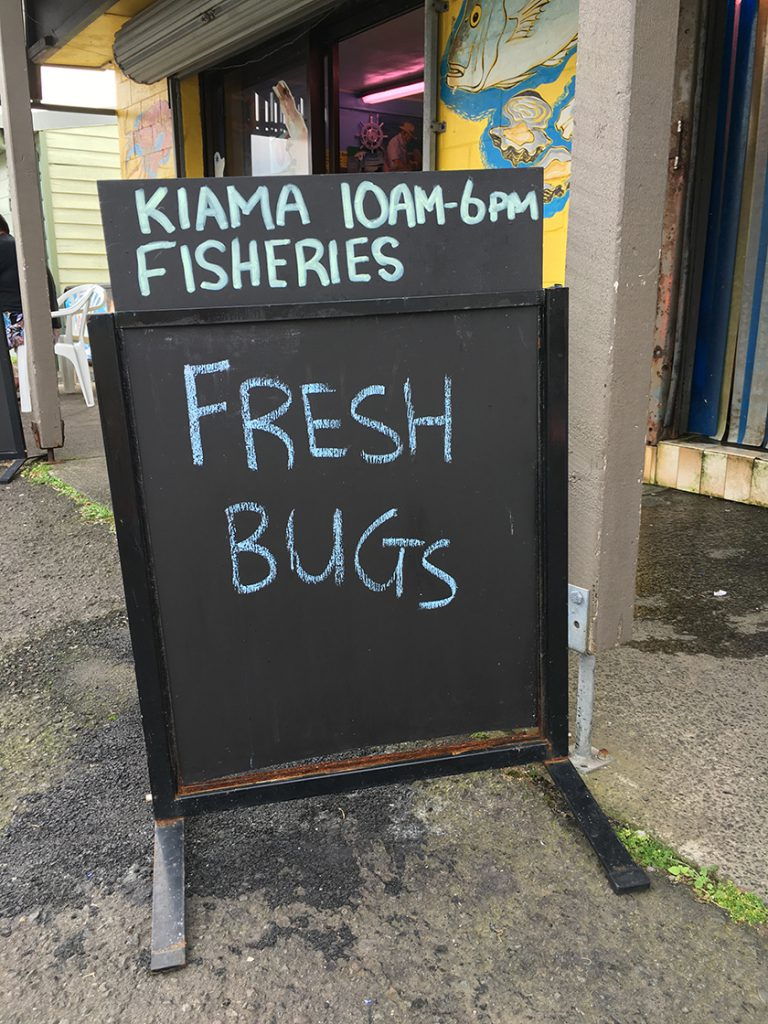 Day 5:
On a friend's suggestion, the Lone Pine Koala Sanctuary was on the agenda. The animal refuge opened in 1927 as a shelter for endangered koalas. There are koalas, kangaroos, birds, reptiles and more. The park is designed for kids, with certainly enough entertainment for all ages. You can have your picture taken holding a koala, which might sound cheesy, but do it! Lone Pine Koala Sanctuary also has "social" figured out with WiFi throughout the park and charging stations for your devices.
Day 6:
Their Brisbane city break was over it was time to head to the Noosa Headlands, but not before a game of how far can you CityCycle in 30 minutes. They managed four bike exchanges, however, did not quite outsmart the system – final tally $2.37 each.
To take this "taste" of Brisbane self-guided tour with you, download to your smartphone here.
Food Travel Tags:
Brisbane, City Cat Ferry, CityCycle, Coffee, Koala Sanctuary, Markets, Museums