Some time ago (number of years not to be disclosed here) Nutmeg travelled to San Sebastian, Spain via train. At that point, backpack travel was heavily influenced by "Europe on $20 a Day" and where your Eurail pass would take you. So, she and her travel companion spent a total of two hours in Biarritz and about the same in Bordeaux.
A visit to France's southwest was long overdue.
This time G&N are not travelling on Eurail passes or sleeping in hostels. They were booked on a six-day guided walking tour through the Pays Basque. Nutmeg convinced Ginger to visit Bordeaux, its famous vineyards and venture to the Atlantic coast for a few days before the walking trip started. As their available time shrunk, so did the itinerary. In the end, they decide on two nights in Bordeaux, two in wine country and two in Biarritz. Spain would have to wait for another time.
The drive from Provence to Bordeaux is a relatively painless journey on super-highways. Just over six hours later they arrived in Bordeaux's historic centre at the Mama Shelter. The hotel is close to shops, historic sights and it has a long cocktail list. What more do you need? G&N decided to go for a short pre-dinner stroll to orient themselves and do a bit of sight-seeing in the dying September daylight.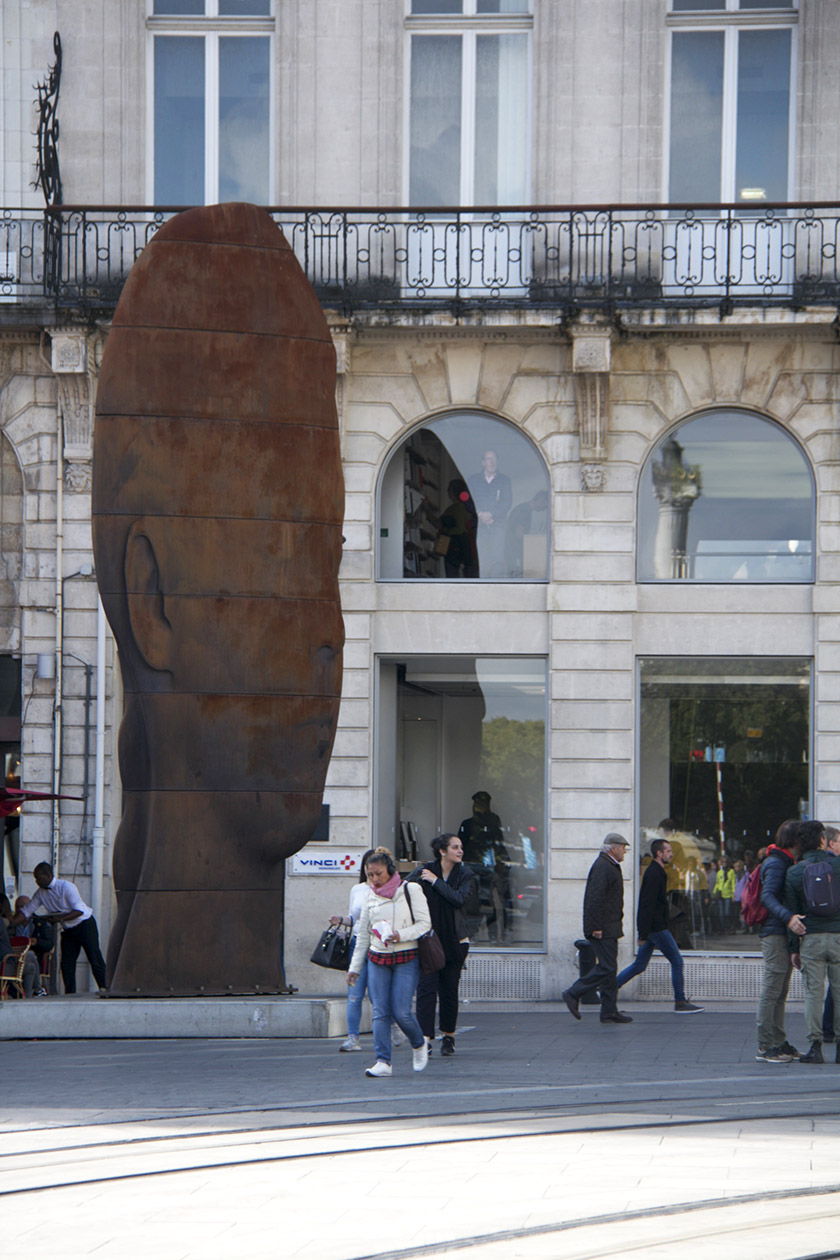 Beautiful Bordeaux
If you could fall in love with a city, it might be Bordeaux. A pedestrian-friendly walking and cycling path stretches the length of the milk chocolate coloured Gironde River. Along the way you see skateboarders, box lacrosse players, hip-hop dance moves and much more. Bordeaux has a young vibe thanks to its university (Nutmeg says, "Wish I had thought of that").

However, the city is not young. Traces of human settlement in the area date to the 6th century BC. Burdigala was the Roman name for Bordeaux an important trading post in the "the land of waters" – present day Aquitaine. We can all thank the Romans (not Robert Parker, but that is another story) for the birth of the wine trade in this region.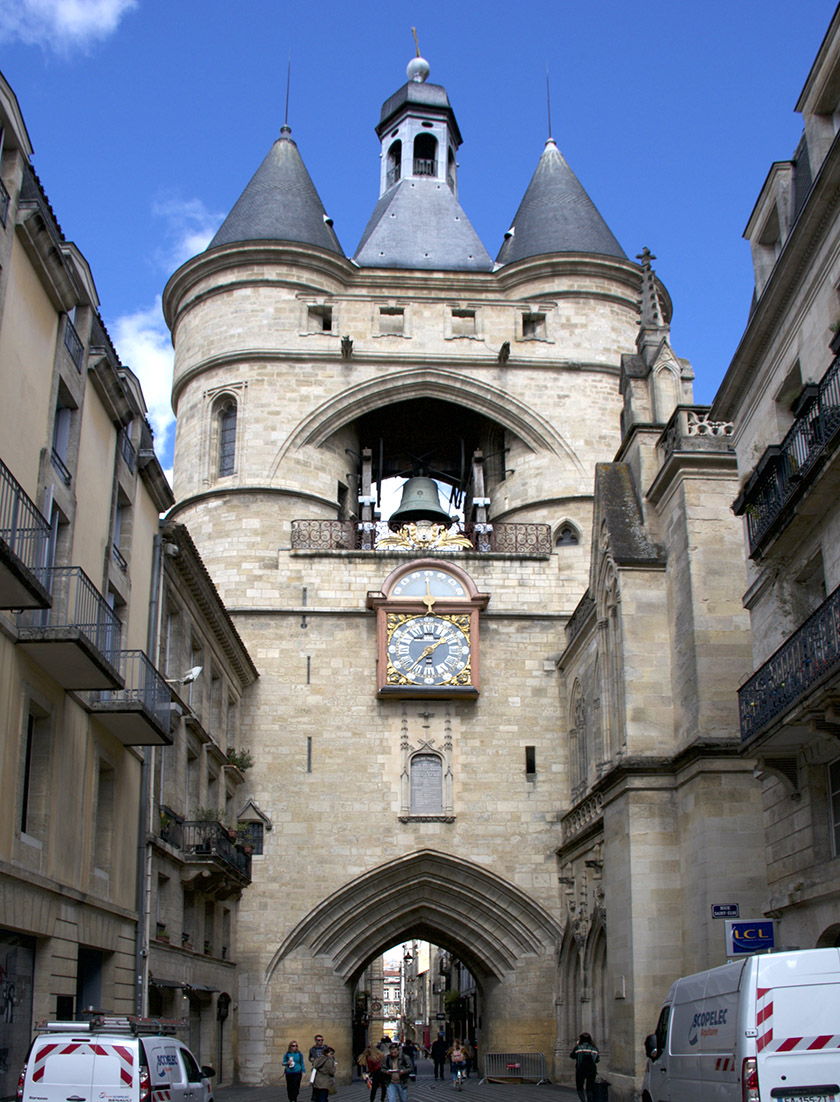 Other than the sweeping bend of a muddy river the first thing that struck Nutmeg upon arrival in Bordeaux was the gleaming limestone buildings. It is no wonder some call the city "little Paris." UNESCO awarded Bordeaux World Heritage status for its notable 18th-century architecture in both private and public buildings.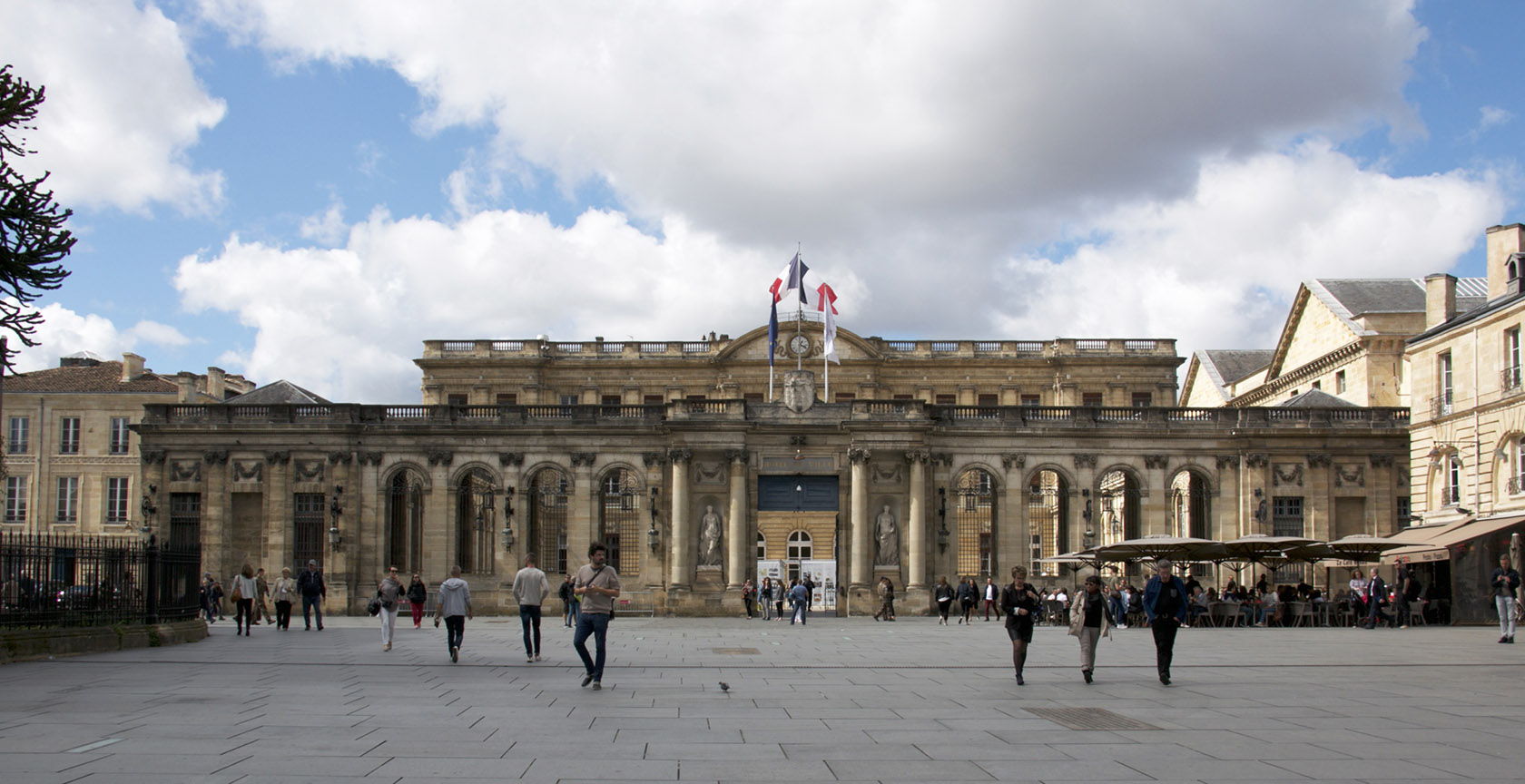 The next day dawned with a threatening sky, but the Weather Channel App challenged nature with a sunny forecast. The app was correct. G&N headed to the tourist office to purchase the 24-hour version of the Bordeaux City Card. Once activated the card allows for access to many historical sites, museums and the use of public transit. The only issue is on Mondays (the day they bought their passes) several places are closed. Buyer beware!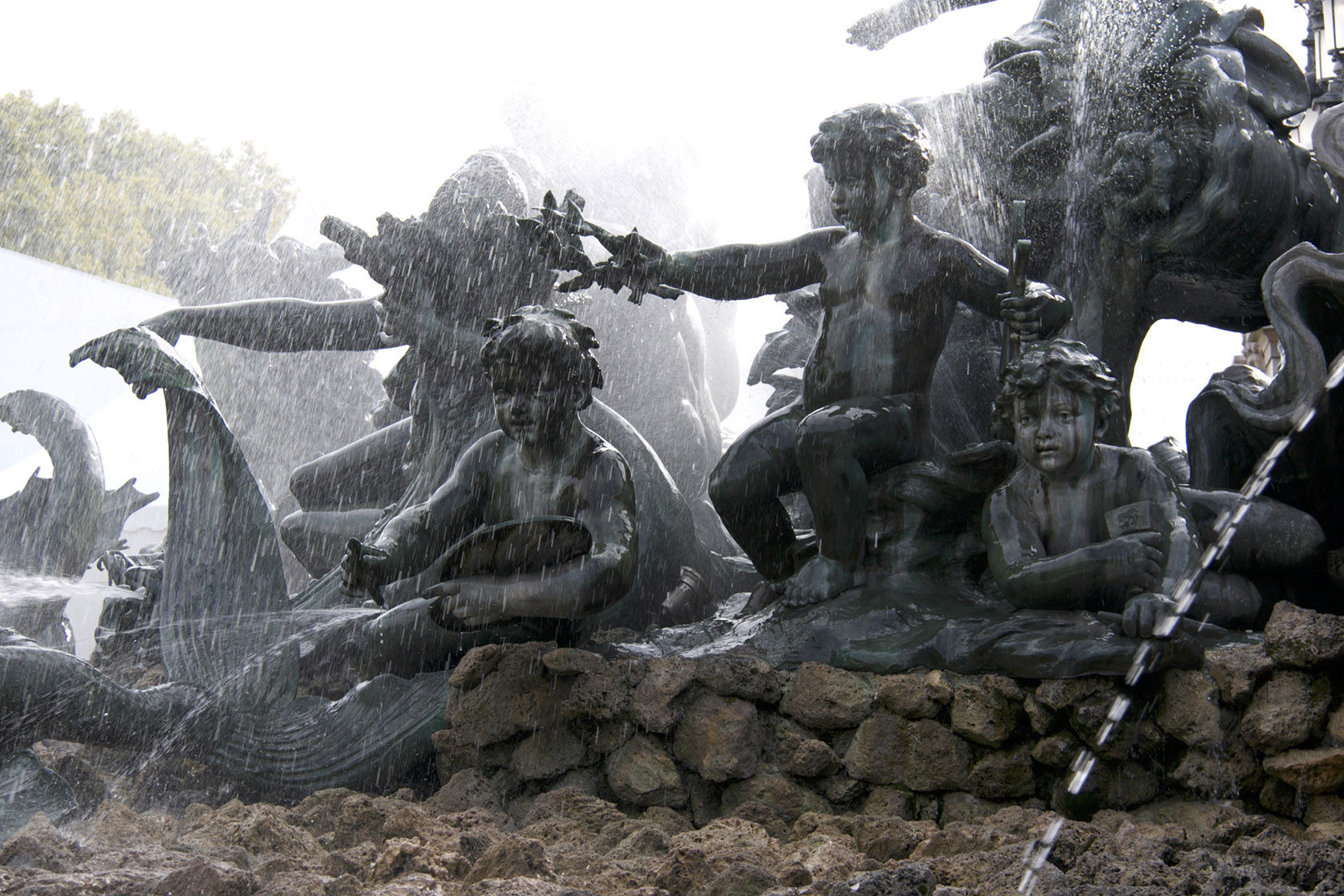 Their timing was perfect to join the 10 am walking tour which starts at the main tourist office. The tour (in English) lasts about two hours. It is an informative overview of some key events in Bordeaux's history and main sites. Highly recommended by G&N. However, the guide's lack of enthusiasm for her job was evident. Perhaps she wanted to do the French tour, or stay in bed? Who knows.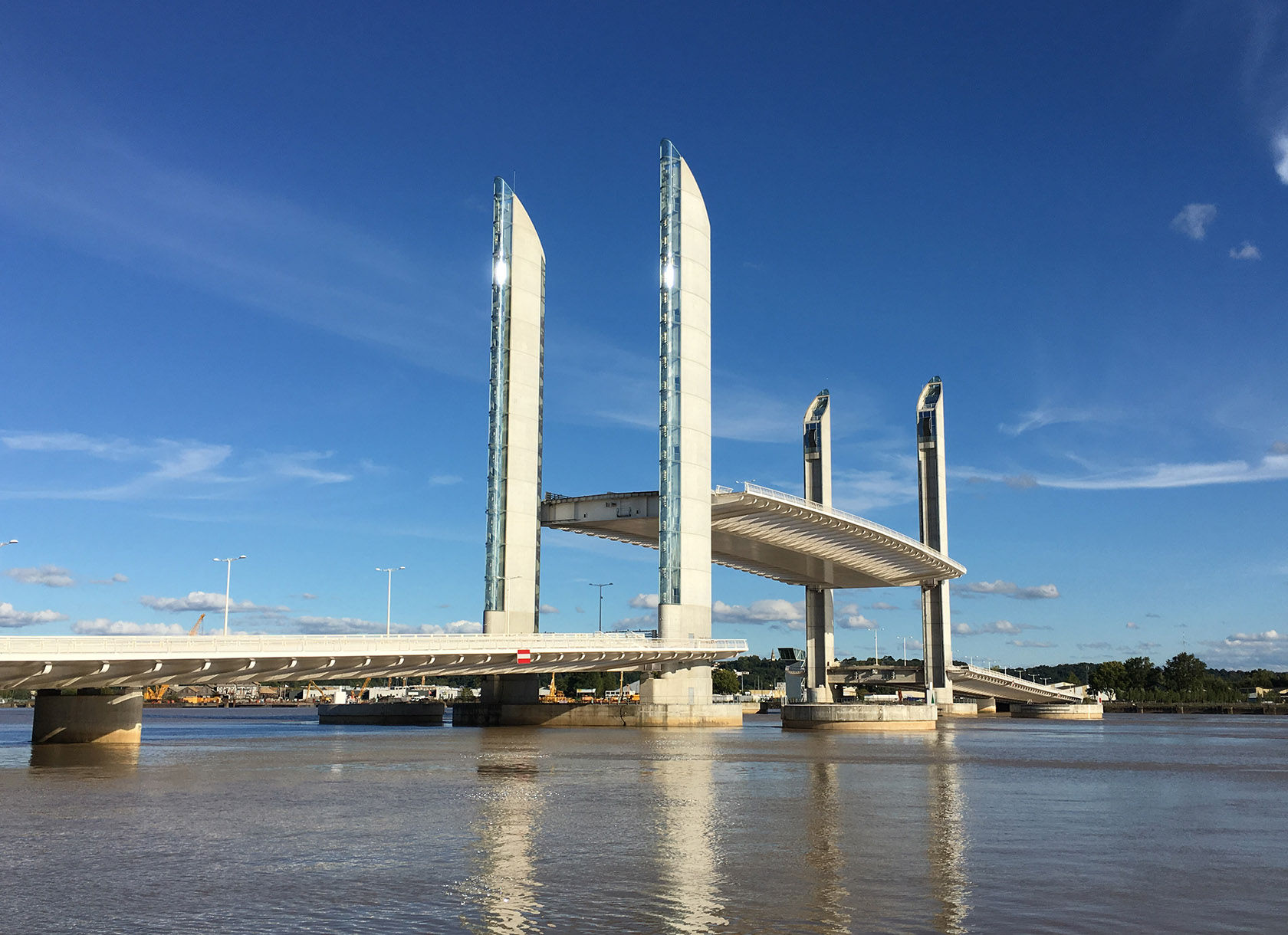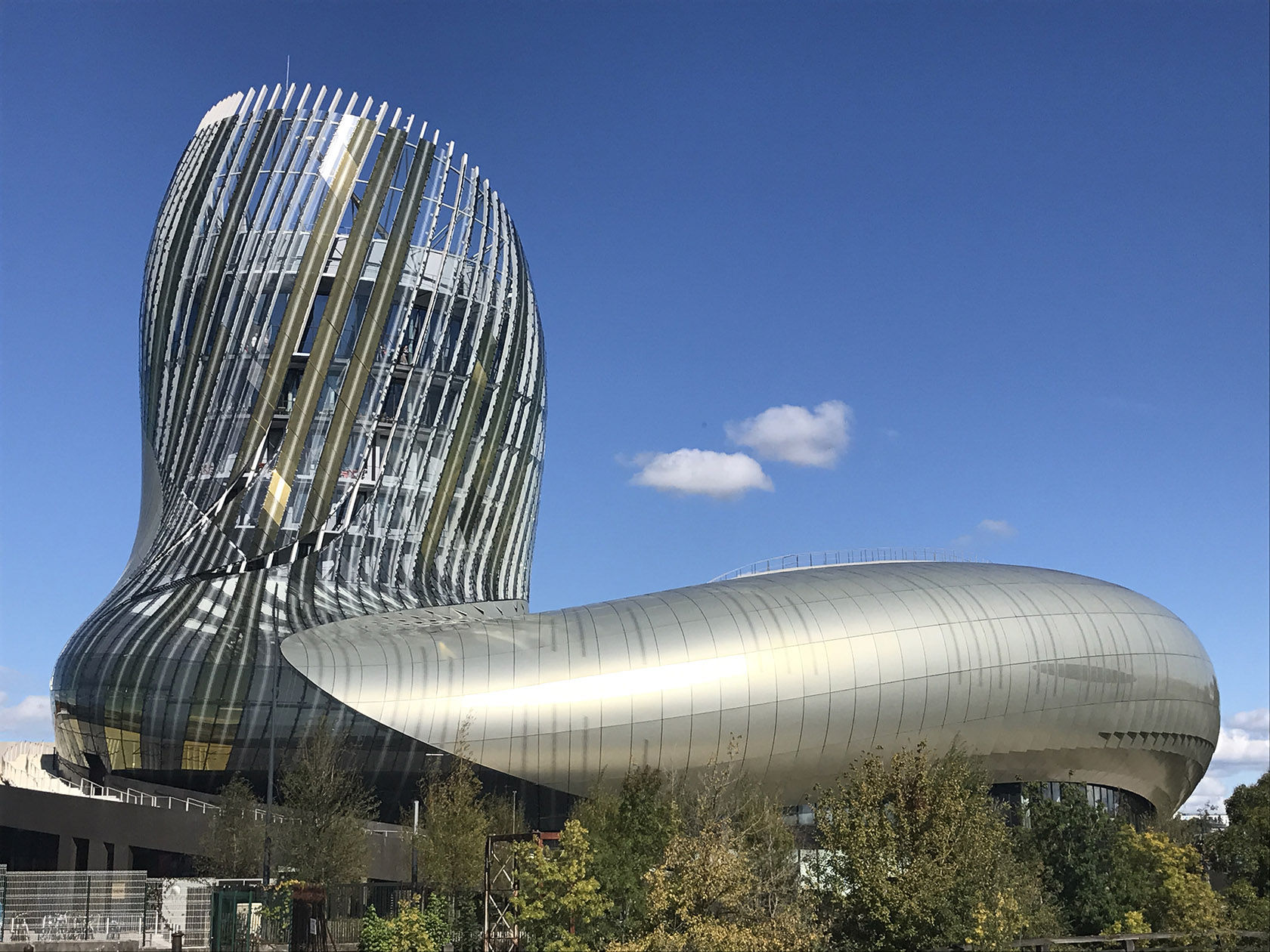 The balance of the day G&N walked and walked and walked. Although their phone logs disagreed, their total walking distance was between 17.8 and 19.5km. Certainly, far enough to justify the glass of wine that is part of your entry fee to the Cité du Vin (museum, shops, restaurants and exhibition space dedicated to wines of the world). And, the bottle they shared at dinner.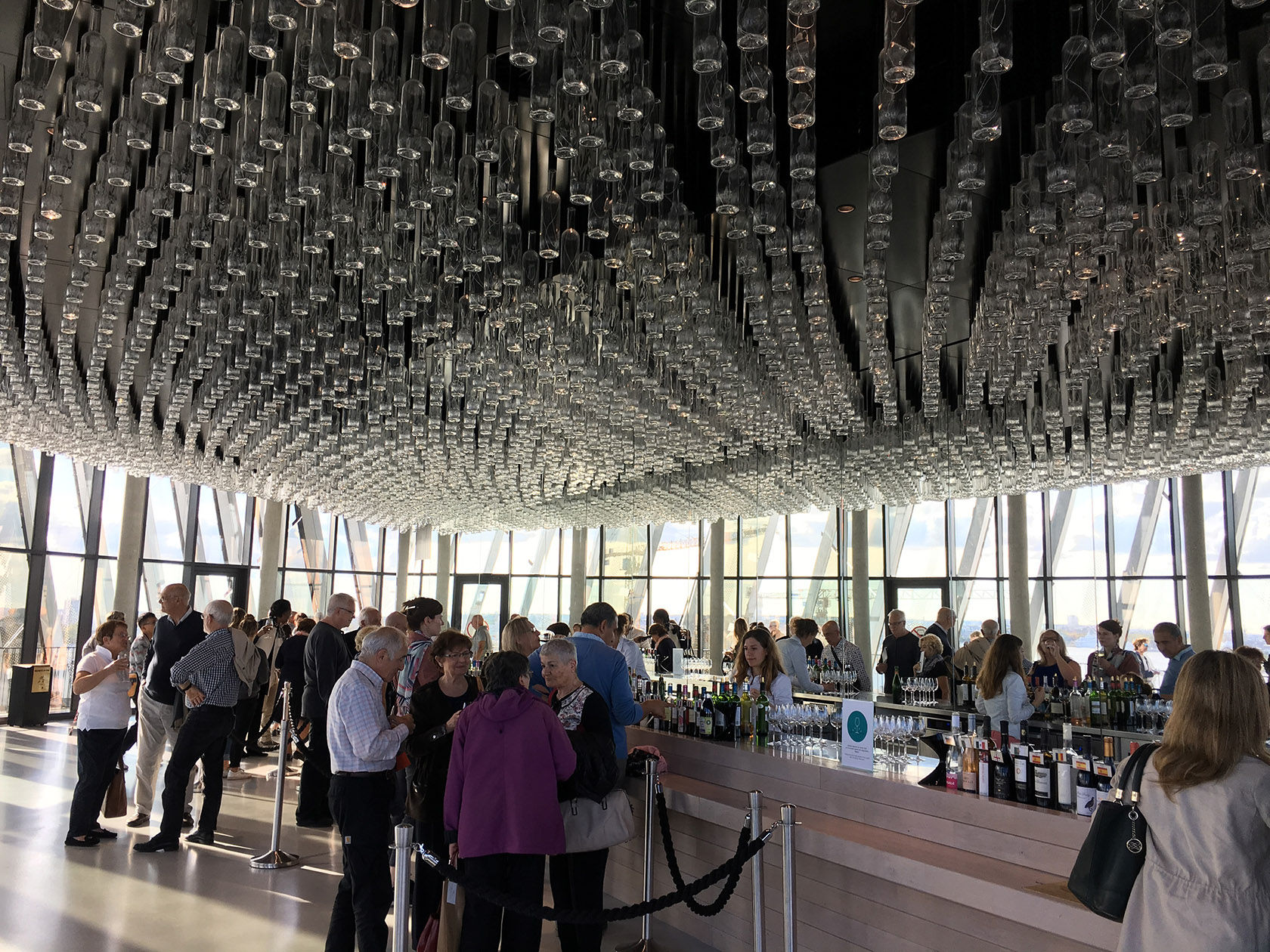 Exploring Bordeaux Wine Country
Day two. It was time to head to wine country, which is literally on Bordeaux's doorstep. Their first stop was Pomerol and then onto Saint Emilion. There were plenty of signs for renowned vineyards, but few indications that degustation (wine tasting) was welcome. The winemakers were in full harvest mode and hosting tourists to sample their wines was not a priority.
G&N had been warned that these wine country villages lacked charm, except for Saint-Émilion. Situated on a hilltop surrounded by stone terraces, the remains of rampart walls and this village oozes with medieval history. Saint-Émilion is also brimming with wine boutiques and other opportunities to part with some of your hard-earned cash. G&N arrived in time to join the guided "Underground Tour" which includes a visit to the monolithic church. In 90-minutes they had gained a better appreciation for Saint-Émilion's history – don't miss this tour. Tour details here.
Adjusting Travel Plans
Their dinner reservation at 20h left just enough time for a little wine shopping and relaxation. Thanks to Visa the shopping part was executed without any trouble. The relaxation part, however, took a turn for the worse, Nutmeg strained her knee (it's an old age thing), and basically, dinner plans were thrown in the air. What was to be a gourmet dining experience, turned out to be Ginger searching for pizza. Ever the boy scout he returned with pizza, grilled veggies and a bottle of Bordeaux red. Nutmeg was virtually immobile in the second story apartment that they had rented.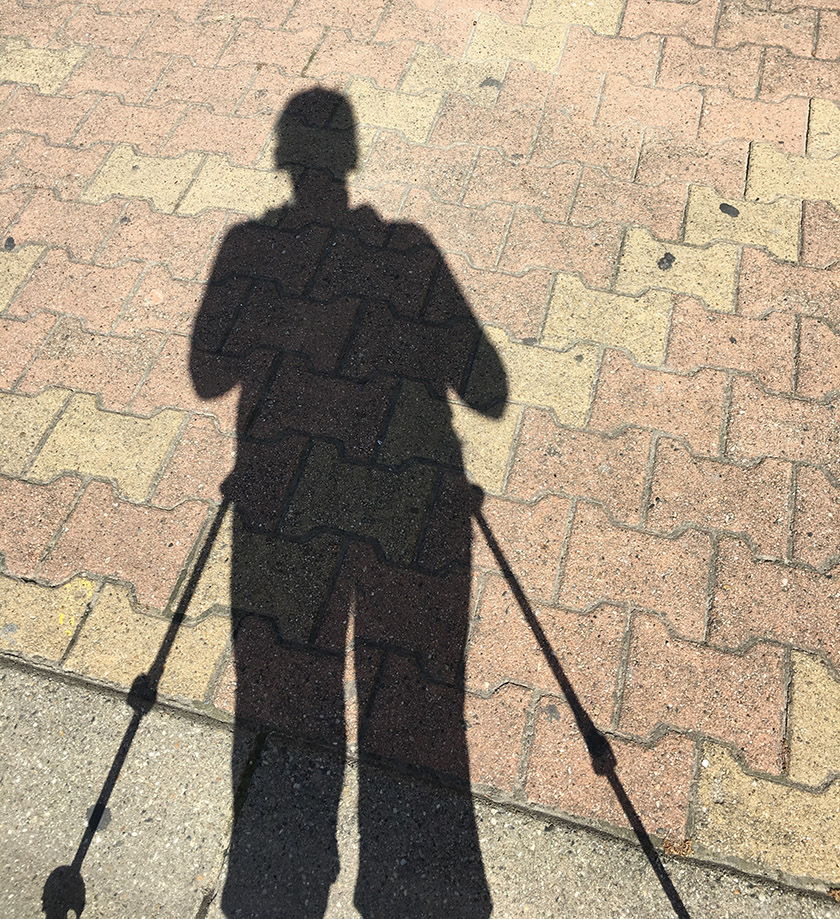 The next morning was bright and sunny but clouded by Nutmeg's immediate vision. How was the heck was she going to get down two long flights of stairs? And, then scale the uneven cobblestone street. Ginger to the rescue! He executed a masterful car-jockey move and managed to drive through the tiny streets during the morning delivery "window" and before the roads were closed to pedestrians.
Blaye Visit Cut Short
Nutmeg's virtual friend J.Christina suggested that they visit the citadel at Blaye before crossing the Gironde River by ferry. Unfortunately, walking more than 100 meters, even with hiking poles, and anything that looked like stairs was out of the question, so a visit to this remarkable site was not going to happen. The following is from J.Christina's original blog post "Blaye, France: Le Citadelle de Blaye."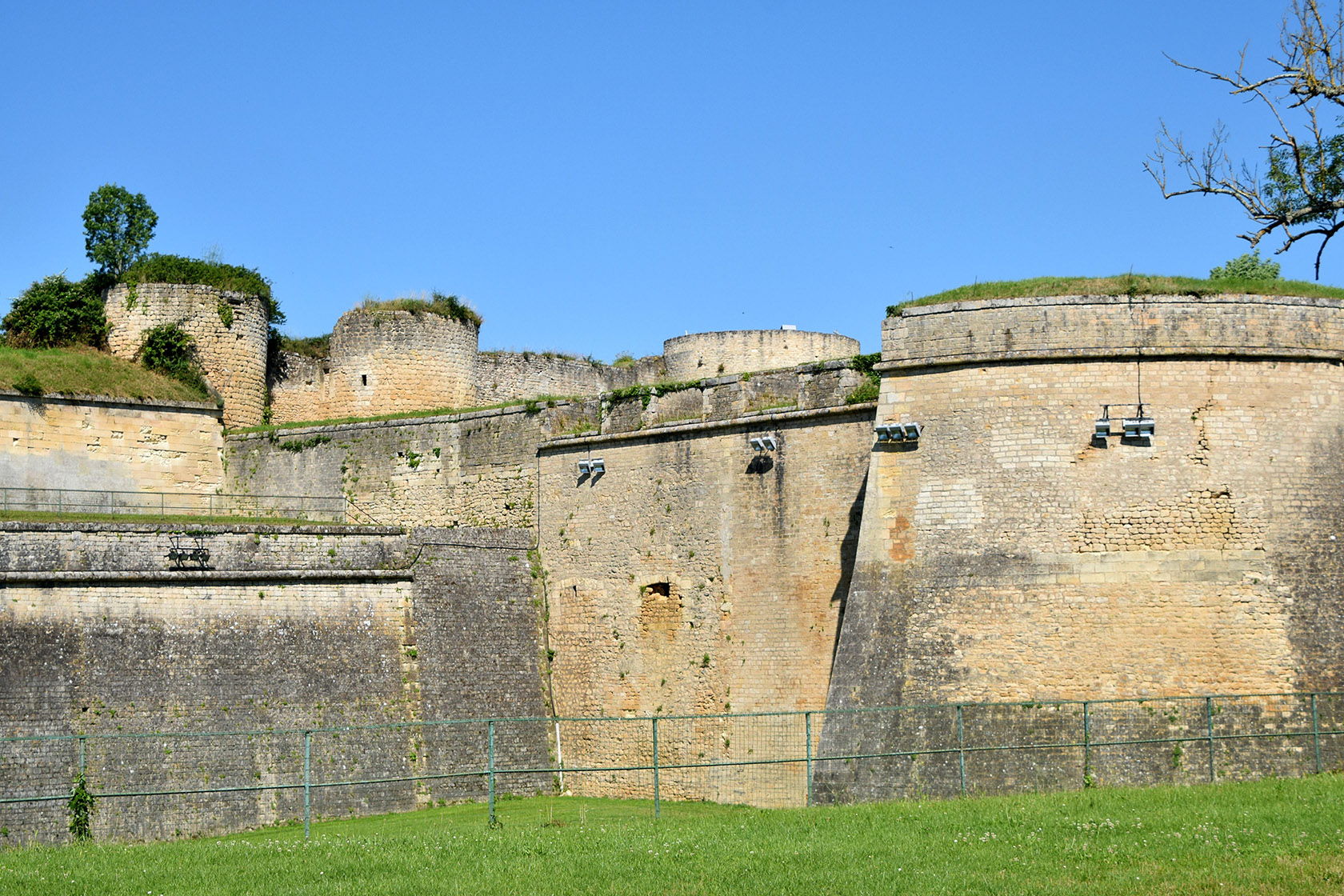 Let me introduce you to Blaye, France, a petite but mighty hamlet, sitting at the southern tip of the Gironde estuary, formed by the confluences of the nearby Dordogne and Garonne rivers. Blaye is a historical and powerful commune from medieval times, where the Citadel of Blaye and its military fortifications sit majestically over the waters of Western Europe's largest estuary.
Le Citadelle de Blaye, a medieval fortress, along with Fort Médoc and Fort Paté, formed a military defense system during the 18th and 19th centuries to protect the downstream port of Bordeaux from sea invasions and wars. It is a legendary example of engineering genius and Romanesque architecture designed and built by the famous engineer Vauban and named a UNESCO World Heritage site in 2008. A picture-postcard town, with scarred ramparts that bear witness to battles and conflict through this gallant maritime route.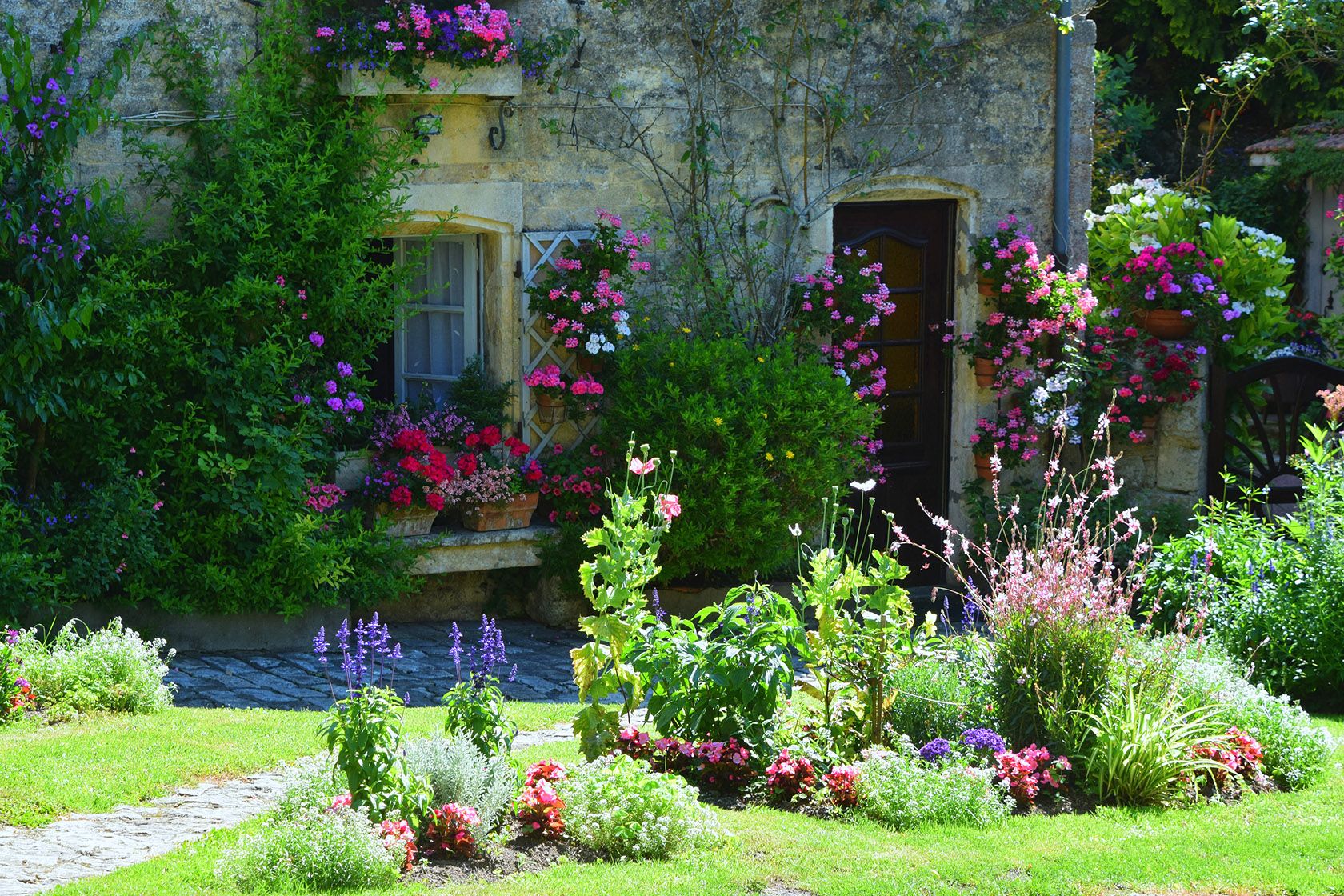 Nowadays, the citadel is a living monument, where inside the bastion, a warren of cobblestone streets, stone houses, artisan shops, cafes, and wine shops, still thrive. From atop the medieval walls of this photogenic Blaye Citadel, there are stunning panoramic views of the estuary and across to the famed Médoc. It's a place here photographers return time, and time again to catch a shot of the golden light that reflects on the estuary waters.
Please click here to read the balance of her post.
Crossing the Gironde estuary by ferry takes 15-25 minutes, depending on the tides. As described by J.Christina, at this point the Garonne and Dordogne rivers have joined, and the roiling, tan water is heading towards the Atlantic. The ferry captain must manipulate tidal forces and river's current to execute a sweeping crossing of the estuary. Once on the other side, the famed chateaux of Médoc are within easy driving distance. However, in most cases, an appointment (or guide) is required to visit these "temples" of wine.
Over the week, Nutmeg's knee got progressively better helped by many terrific wines.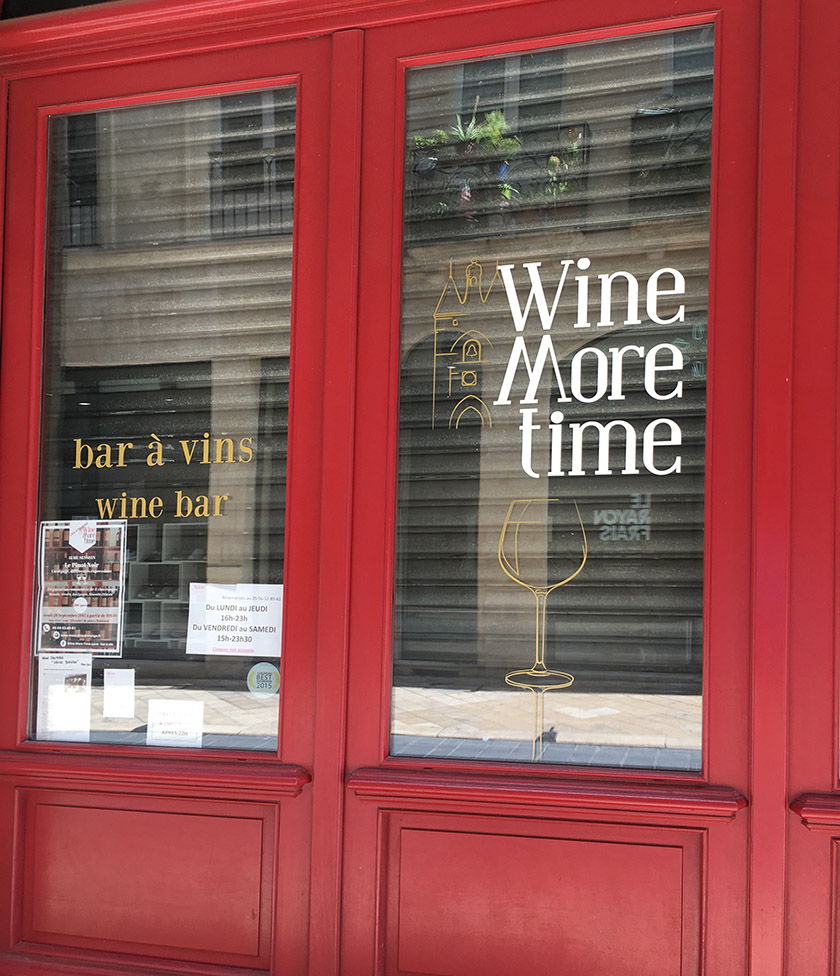 Image credits: Photos of Blaye citadel and street scene in Blaye by J.Christina
---
Key websites for trip planning:
Food Travel Tags:
Blaye, Bordeaux, Bordeaux Wines, France, Travel Tips