What are the ingredients for a great dinner party? According to Nutmeg this is the list: great food, interesting people and good wine (lots really good wine if the people are not interesting). Ginger would add a full iPod, cleansing ales, dark rum and ice cream as must haves.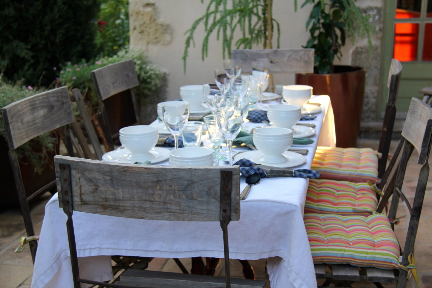 Curry Murray knows how to bring all the right dinner party ingredients together. On a cold, dark winter night she pulled together home-made pizza (roasted vegetable, pear-Gorgonzola, tomato mozzarella, meat lovers), four different red wines and a group of old and new friends for a cozy evening by the fire. All the right ingredients.
Serving pizza can be as easy or as complex as you want it to be. Easy: order in, buy store-bought frozen. Complex: buy ready-made crust and creative ingredients, or start from scratch and make your own crust. The choice is yours but Nutmeg does not really see the time-value in making pizza dough when someone else can do a great job. A pizza stone really helps if you want it crusty. If money and space are no object install your own outdoor pizza oven as this has the best results; although you might want to evaluate your pizza consumption.
Here is the twist, Curry decided the party would involve a blind wine tasting. The bottles were all-around $30, all red and all wrapped so no one (even Curry) knew what we were drinking. It helps to have an aspiring sommelier as a friend, we will call him Mr. Wine for now. Mr. Wine led the group through a brief appreciation session on clarity, colour, taste, finish. What a fun way to learn about wine and indulge at the same time. The results were four Pinot Noirs from four regions and interestingly no one was able to guess. Nutmeg's party rating: two thumbs up!
If you have some ideas/ingredients for a great dinner party, please comment.
Food Travel Tags:
Dinner Parties, Food and Travel Blog, What are the ingredients for a great dinner party