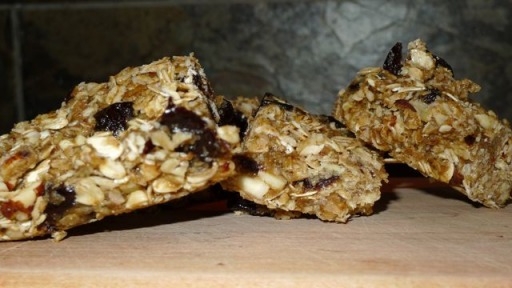 As the kids head back to school and everyone gets back into the post summer routines, including work or work-outs you may need something for an extra energy boost. Do you workout in the morning?  Do you have a mid-morning crash after dropping off the kids, doing groceries and cramming in a workout?  Do you need a snooze after lunch?  If any of these scenarios sound familiar you may need a healthy pick me up snack.  Of course you should balance these little treats with adequate fruits, vegetables and fluids.  These Nutty Energy Bars are delicious, easy to make, do not melt in a lunch box and last for a couple weeks in a sealed container (if you can restrain yourself).
Nutmeg has adapted this recipe slightly, you can play with the ingredients to use your favorites – so far almond, dried cherry is the winner.  Check out the recipe for Nutty Energy Bars and enjoy.  No more energy lows.

Nutty Energy Bars
Recipe type:
Dessert or Snack
Enjoy these easy to make, high protein (6 grams) snacks. Remember that endurance sports such as cycling are won or lost by fractions of a second, you may need the energy boost.


Ingredients
½ Cup Peanuts, chopped, I used hazelnuts and almonds
½ Cup Sunflower Seeds
½ Cup Dried Fruit, my favorite is dried cherries
2 Cups Oatmeal, old fashioned or instant
½ Cup Natural Peanut butter, or your preferred kind
½ Cup Brown Sugar, packed
½ Cup Light Corn Syrup
1 Teaspoon Vanilla Extract
Instructions
In a large bowl, mix together the chopped nuts, sunflower seeds, dried fruit and oatmeal
In a microwaveable bowl, combine the nut butter, brown sugar and corn syrup
Microwave for 1-2 minutes, add the vanilla and stir until well blended
Pour the nut butter and sugar mixture over the dry ingredients and stir until well coated
Spoon the mixture into a lightly greased 8 inch square pan and press down firmly
Let stand in the fridge for at least an hour or overnight
Cut into squares
Food Travel Tags:
healthy snack bar recipes