Nutmeg has a very dear friend Sassafras.  They have been friends for several decades and even though they live quite far apart, they usually manage, to get in a ski or bike or hike weekend here and there.  So a bit about Sassafras (besides the great name). She is so smart she has two university degrees because engineering was not hard enough.  She loves the open water, craves mountain vistas, has a great laugh and generally embraces live.  Sassafras also loves to cook and has decided that she will help Nutmeg out and provide a few of her favorite recipes for all of you to try.  So as Nutmeg is digging out her puffy down jacket, the rest of the country is still experiencing summer, so Sassafras's first recipe is a cool summer soup:  North African Spiced Tomato Soup.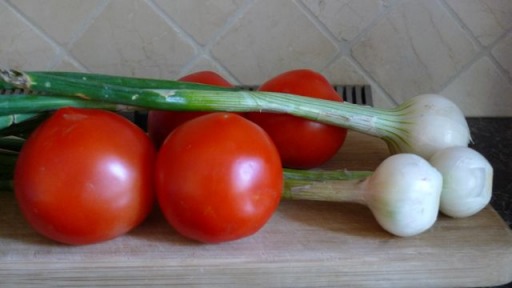 What the heck is Sassafras?
It is actually a small deciduous tree that grows up to 20 meters in height and about 60 cm in diameter.  The tree is native to eastern North America (just like Nutmeg's friend).  The tree is often cultivated for it's unusual leaves and aromatic scent.  The wood is very durable and was used in the past for posts, rails and small boats.  Sassafras was considered a benefit for medical uses, as it improved the flavour of other medicines.  It is still used, as an essential oil in soaps and perfumes.  Sassafras is even said to be a good insect repellent.  The root bark of the tree is used to make tea and at one time was added to root beer (before commercial additives that are likely really bad for you).  Dried leaves from the tree are ground to make file powder – a thickener for Cajun and creole cooking.  Next up from Sassafras maybe a recipe for gumbo.
For now enjoy the cool summer soup.

North African Spiced Tomato Soup
Prep time:
Cook time:
Total time:
This soup is easy to make and very refreshing. You can season to suit your taste. It can also be served warm or cool.


Ingredients
1 small onion, chopped
2 Tablespoons Olive Oil
1 Teaspoon Paprika
¼ Teaspoon ground Ginger
¼ teaspoon ground Cumin
Scant ¼ Teaspoon ground cinnamon
6 fresh Tomatoes (about 16oz), coarsely chopped
2 Cups Chicken Broth
2 Teaspoons Honey
2 Tablespoons chopped fresh Parsley
2 Tablespoons chopped fresh Cilantro
½ teaspoon fresh Lemon Juice, or to taste
Instructions
Cook onion in oil with spices in a saucepan over moderate heat, stirring occasionally, until onion is softened and begins to brown, 4 to 5 minutes.
Coarsely chop tomatoes and add to onion mixture with reserved juices, broth, honey and 1 tablespoon cilantro, then bring to a boil.
Turn heat down to simmer for 20 minutes.
Emulsify with hand blender.
Stir in lemon juice
Salt and pepper, to taste
Then stir in parsley and remaining cilantro.
Food Travel Tags:
North African Cooking, Quick and Easy Soup, Recipes for Tomatoes, Vegan friendly, Vegeterian Recipes