Nutmeg is a "greeniac" (just ask Ginger)… she turns out lights before she leaves a room, recycles everything, uses the rain barrel to water her plant pots,  faithfully composts greens and browns, buys eco-friendly cleaning products – but she does NOT believe in global warming!  On August 29th, Ginger and Nutmeg awoke to slightly above freezing temperatures and a very clear view of snow a third of the way down the nearby mountain peaks.  Yes it is true, the rest of the country, and possibly the world is suffering with heat stroke, water restrictions and cool blended drinks.  Al Gore be damned according to Nutmeg, there is no global warming in Southern Alberta, it is soup time! So out comes the Corn and Crab Chowder (check out the recipe below).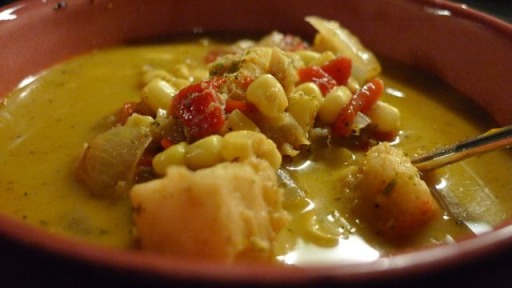 Corn and Crab Chowder
Prep time:
Cook time:
Total time:
This recipe is very easy and very tasty. You can play with the spices to your taste.
Ingredients
2 Cups Corn fresh, canned or frozen
1 Cup Onion, chopped
1 Cup Roasted Red Pepper, diced (you can buy them in a jar to save time)
2-3 Cups Chicken Broth, use low-sodium variety
1 Can (8oz) Coconut Milk, low fat version
2 Teaspoons Black Pepper, ground
1 Teaspoon Salt
2 Cloves Garlic, crushed
2 Tablespoons Cilantro, chopped
2 Teaspoons Cumin, ground
2 Teaspoons Coriander, ground
2 Teaspoons Chili peppers, dried and crushed
2 Cans Snow Crab Meat, drained
1 Tablespoons Olive or Canola Oil
Instructions
Heat oil in a heavy bottomed pan
Add the chopped onion and brown for about 5-10 minutes
Add the garlic and all the other spices, except the cilantro, let the spices sweat in the pan for about 2-3 minutes
Add the chopped peppers
Add the stock
Add the coconut milk
Add the canned crab
Allow the ingredients to simmer together for about 20-30 minutes
Top with fresh cilantro and serve with crusty bread or quesadillas
Food Travel Tags:
Corn and Crab Soup, Food Nutritional Facts, Seafood Recipes, Soup Recipes