This is a RE-POST.  Technology as you know can be a benefit or a curse…  So in case you missed this the first time.  🙂
Nutmeg is not directionally challenged (that she will admit) although it is possible that she may not always consider the directions exactly.  She was pretty sure that she knew exactly where to find this market.  Well not quite – after battling rush-hour traffic and circling the whole of Market Mall she realized that the Google Map instructions would have been helpful… In any case she arrived and it was fun despite the cold weather.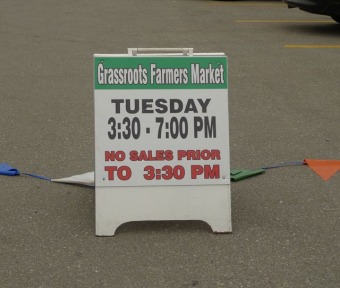 On Tuesday afternoons in the summer months there is a farmers' market at Northland Village Shoppes (5111 Northland Drive NW).  The market is officially called the Grassroots Farmers' Market, a name that is reflective of the fact there are some honest to goodness vendors selling really fresh produce, a lot of which is Alberta grown.  There are about 30-35 vendors, mostly produce, prepared foods and baked goods.  There are a few stands with crafts and hand made jewelry.  There are some unique stands and some repeats with other city/local markets.  Here is part of the list:
Michelle's Market, from Brooks – fresh vegetables, good root vegetable selection
Pick N' Pack, from Lacombe – great tomatoes, peppers, cucumbers etc.
San Vito Coffee – fair trade and well priced
Bee Prepared  – this might be obvious… they sell honey and associated products
Noble gardens
Barbara's Polish Catering
Jam goddess – does not need any further explanation…
Ukrainian Fine Foods – cabbage rolls and perogies
Dor Bel Fine Foods – flash frozen seafood
My bread baking
Tim's Gourmet Frozen Pizza
Blush Lane Organic Produce
Buffalo Meat  – self explanatory
Highwood Valley  Ranch – beef
Sugar N' Spice Gluten Free Baking
Prairie Bread Company
Wright Veggies, from Taber
Route 40 Soup Company – Ginger and Nutmeg tried the Chicken Chorizo Corn Chowder (to die for!) and at least 20 flavors in all
Twisted Basil – great baking
Crusty Bread Farm – Ginger is trying the multi-grain bread (and really happy about it…)
So Nutmeg's review: great selection, good parking, easy to find (if you follow the directions).  However, it is very urban so…..close your eyes and pretend for a few moments you are not at a shopping mall.
[tfb username='GingerandNutmeg' count='true' lang='en' theme='light']
Food Travel Tags:
Alberta Farmers Markets, Alberta Organic Produce, Northland Village Market Calgary, Travel Alberta