Ginger used to think Alberta Taber corn was pretty good, then he moved out east to work in the "big smoke" aka Toronto and realized he was mistaken.  He would often borrow Nutmeg's car and drive to Buttonville airport for flying lessons.  On his way back home, he would stop at a farmer's road side stand and load up with the freshest seasonal corn and tomatoes.  The corn (peaches and cream variety) was literally fresh picked that day and the tomatoes were to die for.  So dinner was easy…peel the corn cobs, boil until just right and serve with sliced tomatoes.  Yum!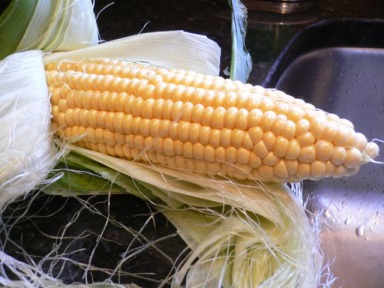 Corn like many crops has a long history.  Corn is the English translation for maize, it is a grass that was domesticated in what is now Central America, during prehistoric times. Initially cultivated by the Aztecs and the Mayans, it later spread through much of the Americas by 1700 A.D..  Explorers carried maize back to Europe and introduced it to other countries through trade.  Corn (Maize) is widely grown in the Americas (combined US and Canadian production is the largest in the world).  The use and cooking methods vary here are some:
Italy – Polenta
Mexican – Masa for tortilla
Africa – Mealie Pap
Popcorn
Cornbread
India and Pakistan – Makki di roti
Kellogg – Cornflakes
Peru – Chicha (a drink)
USA – Hominy or grits
Corn on the cob
etc….
Corn is rich in phosphorus, magnesium, zinc, iron and vitamin B.  It has traces of other minerals and vitamins.  There are no particular health benefits although it is good for digestion, low cholesterol and skin care.
Sugar is Nutmeg's sister in law.  She loves all things Mexican and corn in particular.  Here is one of her recipes for  Corn and Black Bean Salad.

Corn and Black Bean Salad
Prep time:
Cook time:
Total time:
This is a super easy salad, very tasty and good for you. Serve as a side on a summer barbecue night.


Ingredients
1 Can (14 oz) Black Beans, drained and well rinsed
2 Cups Corn Kernels, frozen and thawed
1 Jar (14 oz) Roasted Red Peppers, drained and diced
1 Small Red Onion, diced
1 Medium Tomato, seeded and diced
2 Teaspoons Ground Cumin, or to taste
1- 2 Teaspoons Hot Pepper Sauce, or to taste
1 Whole Lime, juiced
2-3 Tablespoons Grapeseed or canola oil
Salt and Pepper, to taste
Instructions
Heat a skillet with a little bit of oil and add onion, cook until softened and starting to brown
Remove onion an put in a large bowl
To the same skillet add the corn and allow to toast a little bit
Put the corn into the same bowl and add black beans, tomato, red pepper
In a separate small bowl, mix oil, lime juice, cumin, pepper sauce, salt and pepper. Mix well and taste to make sure the dressing is to your liking
Add the dressing to the salad ingredients and allow to sit in the fridge for a few hours to absorb the flavours
It's corn season get out there and enjoy it!
Food Travel Tags:
Corn, Corn and Black Bean Salad, Healthy Salads, Mexican Recipes