Thanksgiving, it certainly feels like fall in Southern Alberta and in parts of France.  The mornings are crisp and more clothing layers are required for dog walks.  Nearby mountain peaks have some early season snow at the higher levels, and the leaves on the trees are starting to turn their autumn hues.  Nutmeg is not really a fall person, although she has many friends who embrace the transition season between summer (her favorite) and winter (skiing, second favorite).
The actual autumn months depend on your geographic base (Northern or Southern hemisphere) and which calendar system you are following (astronomical, meteorological or the Asian lunisolar).  According to the astronomical system the first day of autumn in the Northern Hemisphere is September 22, 2010, it changes slightly on an annual basis to line up with the solar equinox.  The Irish national meteorological service, Met Éireann defines autumn as September, October and November.  In the traditional East Asian solar calendar, autumn starts on or around August 8th and ends on about November 7th.  In the Southern hemisphere, where the seasons are not as strictly defined as in the north, the seasonal calendar is not as relevant to climactic conditions.  In Australia, fall officially starts on March 1st and ends on May 31st.
So what is one to do as the weather starts to change and the days get shorter?
Get out to your favorite local farmers market and enjoy the sights, smells and colors of fall.  In particular, the root vegetables are coming into the height of their seasonal best.  Look for carrots, potatoes, turnips, rutabagas, beets, parsnips and others.  In recent years the heirloom and hybrid varietals have grown and you can find all sorts of interesting small lot produce such as candy cane beets, yellow carrots and purple potatoes. The photo below is of some carrots at the Whistler market.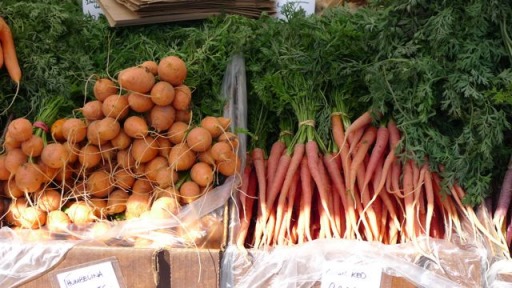 Root vegetables are typically pretty hardy and in most cases can last for a few months in cold storage, although the flavors may wane slightly.  From a nutritional standpoint root vegetables provide a good source of fibre, typically low in calories, a good source of complex carbohydrates and in some cases like carrots an sweet potatoes a very good source of beta-carotene.  In addition, root vegetables are friendly to those who are following a gluten free diet.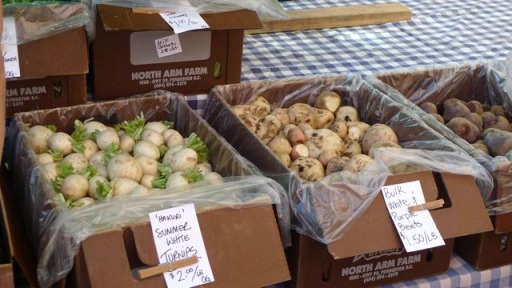 So as the weather turns and cool summer salads are no longer appealing, our tastes move to warmer and heartier meals.  Here is a tried and true recipe for a Sweet Potato Gratin, it is simple to make, strong on the nutritional scale and a really good alternative to the classic potato gratin.
As an interesting note, the French do not celebrate the Thanksgiving holiday (Canadian nor US dates) – either they are very thankful or not at all, but we will toast our North America friends with a nice bottle of French wine (for which we are very thankful).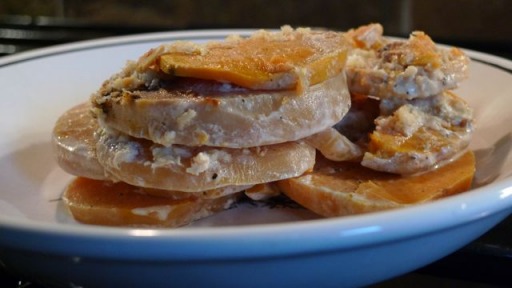 Throw on a sweater and enjoy the season!

Sweet Potato Gratin
Prep time:
Cook time:
Total time:
This sweet potato gratin has all the flavour, it is easy to make and much better for you than the traditional recipes.


Ingredients
2 Large Sweet Potatoes, peeled and sliced
2 Medium Onions, skinned and sliced
4 Medium Turnips, skinned and sliced
2 Cups Chicken or Vegetable stock. low-sodium
½ Cup 18% cream
⅓ Cup Breadcrumbs
⅓ Cup Parmesan Cheese, grated
Instructions
Preheat the over to 350 degrees Fahrenheit
In a large glass baking dish layer sweet potato, onion and turnip
Pour stock over the vegetables until about halfway up the baking dish
Add cream
Mix the breadcrumbs and Parmesan and sprinkle over the top
Bake for about 35-45 minutes until bubbling and the potato is cooked
Food Travel Tags:
Alberta Farmers Markets, Alberta Organic Produce, Easy Casseroles, Food Nutritional Facts, Recipes with Potatoes, Vegeterian Recipes