Hot Sauce (Nutmeg's Mum) loves bananas, she grew up in the West Indies on an island that produces bananas for export, so it was best to love them…
Bananas are considered a super-food:
Potassium-rich; studies show foods with high levels of potassium can reduce the risk of stroke by as much as 40%
High levels of the antioxidant phenolic compounds work to detoxify cancer-causing agents
Although not specifically high in calcium can help in the absorption of calcium
They reduce stomach acidity and in some cases may even reduce nausea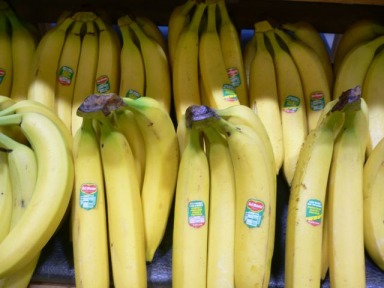 In North America, we generally see one variety of bananas in our grocery stores, the Cavendish.  However, bananas come in a whole variety of colors (yellow, red and purple) and sizes.  Most bananas are of the sweet "dessert" varieties although in many areas of the world the plantain is used as a starch as it is not sweet.  Bananas grow on large plants (not trees), these plants can grow as high as 20-30 feet. World-wide production is 72 million tonnes, almost 22 million of which grows in India.
Banana cultivation has been traced as far back as 5000 BCE in the Highlands Province of Papua New Guinea.  Southeast Asia has the most diverse varieties of bananas.  Africa also has a long history of cultivation and is a producer of multiple varieties.  By the 10th century the banana starts to appear in texts from Egypt and Palestine.  It is believed that the Portuguese sailors brought bananas to the Americas from West Africa in the 1500s.
Southern France is a good growing area for peaches, plums, pears, apples and of course grapes.  Nutmeg has discovered that there is even some limited kiwi cultivation but not bananas.  So much like in Canada, we need to find them in the grocery store and they are either green or pretty darn ripe.  Ripe is of course good for making banana bread, however Nutmeg is without her normal tools of the trade for baking.  OK she will admit she is spoiled by her lovely kitchen at home, and she is missing her food processor, however the reality is this oven (see photo below) is a bit terrifying.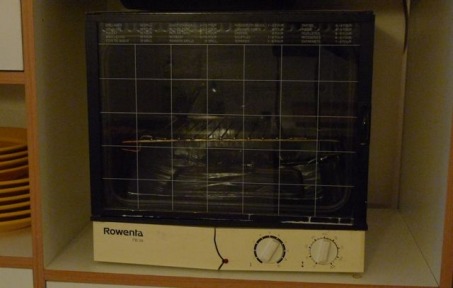 So eat some bananas they are good for you!
Or even better enjoy this banana bread and think of us – we are eating croissants instead.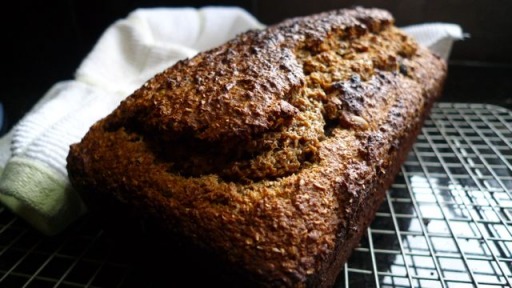 Homemade Banana Bread
Prep time:
Cook time:
Total time:
An easy time-tested recipe for banana bread.


Ingredients
1 Cup Butter softened
1 Cup Brown Sugar
2 Eggs
3 to 4 Ripe Bananas
2 Cups of Flour
½ Cup Wheat Germ
1 Teaspoon Baking Soda
A Pinch of Salt
1 Cup of Milk
Squeeze of Fresh Lime Juice
1 Cup Frozen Blueberries optional
Instructions
Preheat oven to 350F
Cream the butter and sugar together
Add eggs and blend well
Add bananas and beat until mashed
Add flour, baking soda, salt, milk and lime juice, mix until just combined
Fold in blueberries
Pour into well-greased baking loaf
Bake for 1 hour and 15 minutes, or until your tester comes out clean
Food Travel Tags:
Banana bread recipes, Easy baking recipes, Easy healthy snack recipes, Food Nutritional Facts