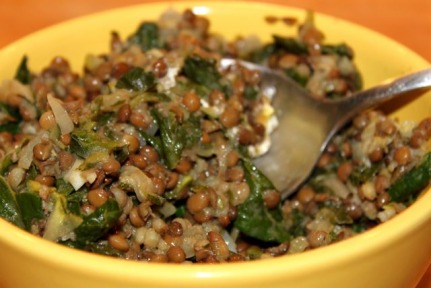 Nutmeg is not superstitious by nature.  That being said, she is not foolhardy either; there is no good reason to spend to much time with a black cat or walk under a ladder or generally tempt fate.
It is a tradition in Nutmeg's family to eat lentils on January 1st every year.  In many nationalities, eating lentils on the first of the year is supposed to bring you prosperity through the coming months.  The round shape of the lentil is similar to a coin, and thus in theory the more you eat the more wealth you will gain.  Given the fact that Ginger and Nutmeg are living, eating and drinking in France without paychecks, a bit of prosperity would not hurt.
Lentils are actually a pulse, part of the legume family.  They grow in a pod on a bushy plant that is typically about 35-38cm in height.  The lentil plant has been part of the human diet for over 6000 years. It is thought to be amongst one of the first plants ever domesticated.  Lentils are nutritional winners as they are very high in protein, iron, amino acids, fibre, folate and vitamin B.  This plant is drought tolerant and are grown world-wide.  The lentil forms an important part of many vegetarian diets in places like India, Nepal and Ethiopia.
India leads worldwide production at about one third of the total, Canada and the North West US are also producers.  French cuisine features lentils and in particular the Puy lentils, grown in the volcanic soils of Velay.  These lentils are known as the "pauper's caviar".  Nutmeg was not surprised to learn that in France to ensure there are strict quality controls for "Lentille Verte du Puy", 88 communes in the centre of France are authorized to grow the lentils under the mark of the Appellation d'Origine Contrôlée (AOC).
Nutmeg has a strong Hungarian background, and she was not going to pass up the chance to have some lentils on January 1st.  Her sister-in-law Sugar, saved the day with this new recipe for Lentils a la Saison (see below).
Wishing you all lots of prosperity for 2011!

Lentils a la Saison
Prep time:
Cook time:
Total time:
This recipe came from Sugar, Nutmeg's sister in-law. She had convinced a local Italian restaurant to part with their secret. You can play with the ingredients to your taste. Note:
the original recipe called for carrot instead of zucchini, so feel free to experiment. It also called for three tablespoons of marscapone, which we did not have and likely would be a yummy addition.


Ingredients
1 tablespoon Olive Oil good quality
1 whole Zucchini finely grated
1 small whole Onion finely diced
1⅔ cups Brown lentils. Use the canned, cooked variety to make it easy. If you insist on using dried, rinse well and double the volume of liquid below.
1 cup Chicken Stock
1 cup White Wine
1 pound Spinach
2 tablespoons Cumin ground
2 cloves Garlic crushed
Salt and Pepper, to taste
⅓ cup Goat Cheese
Instructions
Saute the zucchini, onion and garlic until soft
Add the cumin and lightly toast in the pan
Add lentils and cook for a few minutes
Add the chicken stock and white wine
Cover and simmer for approx 20 minutes
Add the spinach until it just wilts
Add Goat cheese
Salt and Pepper, to taste
Food Travel Tags:
food info, French Food, Recipes with Lentils, Travel in France, Vegan friendly, Vegeterian Recipes