It is close to impossible to buy Ginger a present.  He loves sporting equipment, electronics, airplanes, wine and other expensive things.  He is diligent about doing the research on a product, and ensuring that he is getting it at the right price.  Ginger is also has very good taste, so these new toys have a tendency to raise the Visa balance to new levels.  Nutmeg often struggles to find the right gift.  This year with a bit of help from a friend, she landed on the perfect Christmas, Anniversary, Valentines, Birthday gift (read: $$$..).
Black truffle plants, ten of them. Nutmeg decided that the white truffle version he will have to buy for himself.  So yes, he is the proud owner of some 2010 variety plants, they should bare "fruit" in about seven years.  Ginger's plants are very fortunate to be located on a plantation, in the well drained soil on the Valensole plateau in Provence.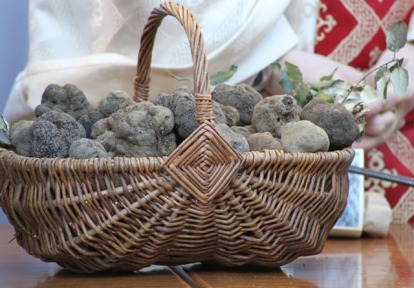 The black truffle is at times referred to as; "the black diamond", "the diamond of the kitchen", "black Périgord truffle" or more technically in Latin, the Tuber (lump) Melanosporuma. Bottom line a truffle is a part of the fungi family.  The truffle grows underground very close to tree roots (mostly oak).  The fungi develops a close, intertwined relationship with their neighbours, the trees.  The truffle benefits from the tree's root system with a consistent supply of carbohydrates.  The tree benefits by technically having a larger root surface and as such more ability to absorb minerals and water.
There are actually hundreds of types of truffles. This type of tuber has been a recognized as an exclusive gourmand food since the 18th century in France. It is also popular in the cuisines of Spain, Italy and some other southern Mediterranean countries.  World-wide production is almost all from Europe.  French production has dropped considerably over the last century, although it is still the leader at approximately 45% of the global total.  Within France the southeast (Provence, Dauphine and Languedoc) make up 80% of that total. The truffle grows all year but generally they are harvested and sold from November to March. Truffles are big business, depending on region, month, size, smell, weight and many other factors these gourmand ingredients can trade for hundreds of Euros a kilo.
The third Sunday in January is a very auspicious date in Provence.  This is the day is the Fete de Saint Antoine or Messe des Truffes.  Aforementioned getting up early is not Ginger's forte, however he agreed that witnessing the blessing of truffles in a church ceremony, followed by a public auction might just be worth it.  On January 16th, they headed to Richerenches to see what it was all about.  The congregation donated a total of 4.5 kilograms of black truffles.  These gourmand treasures were then auctioned off at the Hotel de Ville for over 5000 Euros, all donated to the church.  It was quite a show, you can check out Ginger's newest video on YouTube (click the link).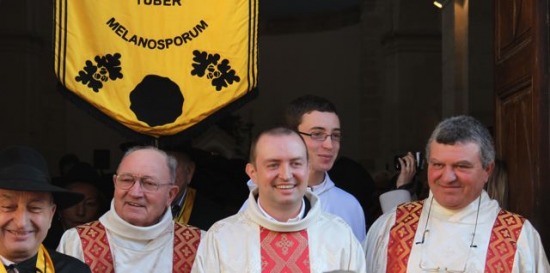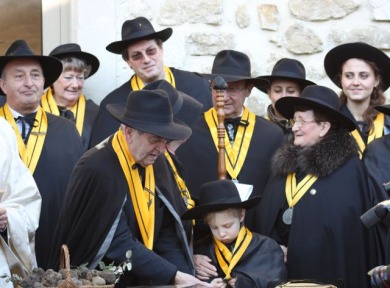 So Ginger and Nutmeg now have a better understanding of the coveted black truffle, and they look forward to seeing Ginger's plants in person.
One final note: the black truffle has nothing to do with the chocolate (candy) that is found in some of the world's finest chocolate shops.  These sweets simply get their name from the similar appearance to the tuber.
Food Travel Tags:
French Food, Provence Travel, Travel in France, Truffles in France